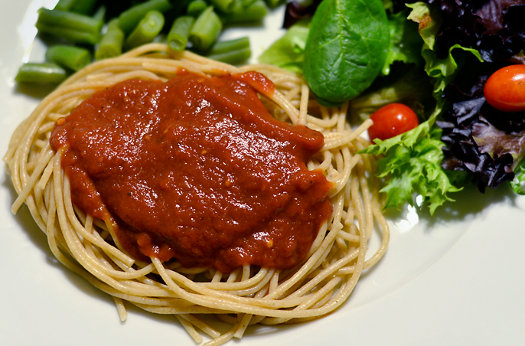 Normally, I make pasta/pizza sauce on the stove top.  It's pretty yummy, if I do say so myself.  But, with weekly pasta and pizza nights (and with the warming temps here in Houston), I've been trying to figure out a way to eliminate time spent in front of the stove.
The blog Life as Mom gave me the inspiration for the changes I made to my recipe — this brilliant mom makes her red sauce in the CROCK-POT!
Sheer genius . . . why had I not thought of this before? I love my crock-pot and have no qualms using it for ANYTHING.  Making batches of red sauce/marinara sauce in the slow cooker, and freezing the sauce in divided portions, solves so many of life's problems.
Well . . . my life's problems, anyway.
Once thawed, this sauce can be used for pretty much everything; I've added cooked Italian sausage and mushrooms for an easy pasta night.  We've spread the sauce on homemade pizza dough and I used it last week in a goat cheese lasagna.
Perfection each and every time.
[print_this]
[/print_this]
Linked with Eat At Home