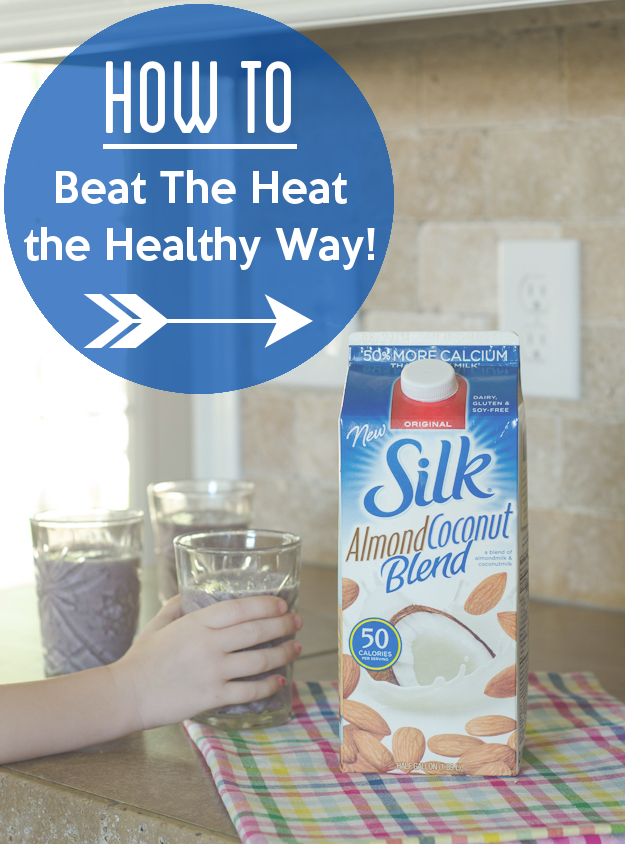 Last week, during our vacation to Estes Park, the Kidlets and I enjoyed the. most. amazing. summer weather: nighttime temps that settled into the low 50s and sunny highs that never got above 81 degrees.
Y'all — I felt I'd reached heaven on earth.  This Mama was NOT meant to be hot and sweaty.  I get cranky — incredibly grumpy — during even the briefest moments of being hot.
But, Cranky Mama never showed her face in Colorado.  I was calm, cool, and collected .. and happy.
Then we returned home.  To Texas and 99 degree days.
I think I cried inside when we made our first pit-stop near Amarillo, TX.  It. Was. HOT!!!!!
I wasn't the only one who noticed the heat; the Kidlets turn down my offerings of "outside time," turning to their playroom and toys instead of breaking a sweat under the Texas skies.  Such will be our life for the next two months.    It's officially time to find ways to cool off  . . . without always resorting to the ice cream Mama seems to be always craving.
Seriously, ice cream is really the only thing I want.  Mounds of homemade vanilla completely covered in deep red strawberries.  How can you NOT want that during the horrid summer heat?
But, avoid it I must and there IS a plan.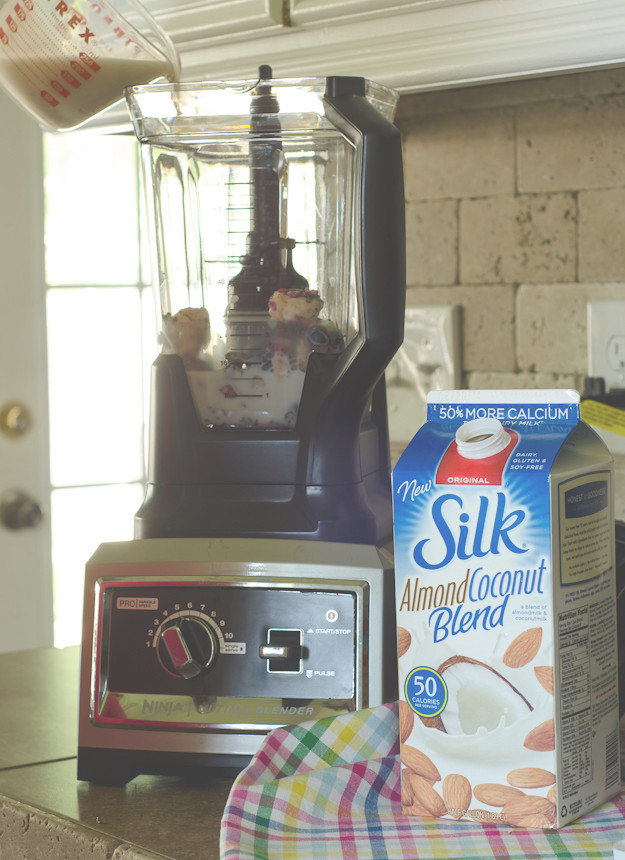 How To Beat The Heat The Healthy Way
Step One: Shut the freezer door and ignore the ice cream calling your name.
Step Two: Raid the fridge for your son's favorite drink — Silk Almond Coconut Milk Blend.
Step Three: Close your eyes, open the freezer, and try to find the frozen stash of fruit (do not look at the ice cream!).
Step Four: Add 2-cups of frozen fruit (any mix of bananas, berries, apples … or even veggies like small carrots and kale) and 1.5 cups of Silk Almond Coconut Milk Blend into a blender.
Step Five: Smile at yourself as you watch the blender pulverize the frozen fruits.  You have avoided the ice cream!
Step Six: Pour the ice-cold smoothie into glasses and admire the texture that is nearly is as thick as ice-cream.
Step Seven:Enjoy the delicious flavor while you let the healthy fruit smoothie cool down your core temp!  (But don't drink it too quickly or you'll get a blistering brain freeze.  True story.)
Silk Almond Coconut Blend
This isn't the first time I've shared Silk products here on the blog; Mr. Boy — who dealt with milk sensitivities until he was 3 — only drinks Silk Almond milk. What started as a choice due to allergies has become a choice due to taste. Almond milk — and now the new Silk Almond Coconut Blend — is what Mr. Boy loves and wants.
And, Mama approves.
Wanna give it a try? Visit the Silk Facebook Page for a coupon and then head to the grocery store!!!!
This is a sponsored conversation written by me on behalf of Silk. The opinions and text are all mine.