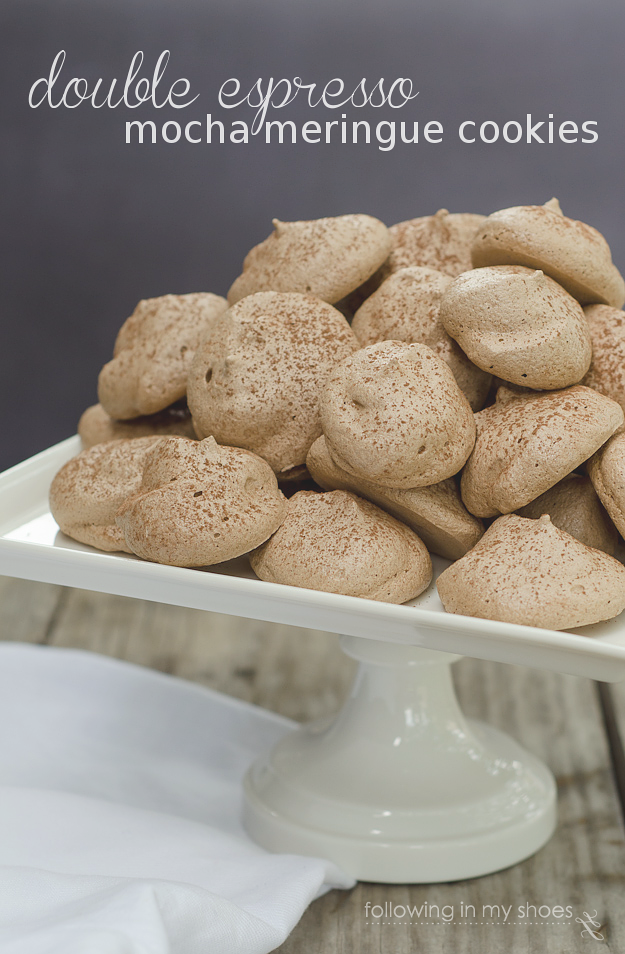 The past 3 days have been a flurry of packing and list-making and reservation-checking … all sandwiched between answering the every popular question, "Is today the day we go camping," 525,600 times.
GAH!!
Vacations are wonderful — once you are actually THERE — but, the time leading up to it are nothing but stressful.
And, don't even get me started on the actual driving to your destination.  Our kids may be the execption but they do NOT travel well.  Not. At. All.
So, how do I deal with the stress of it all?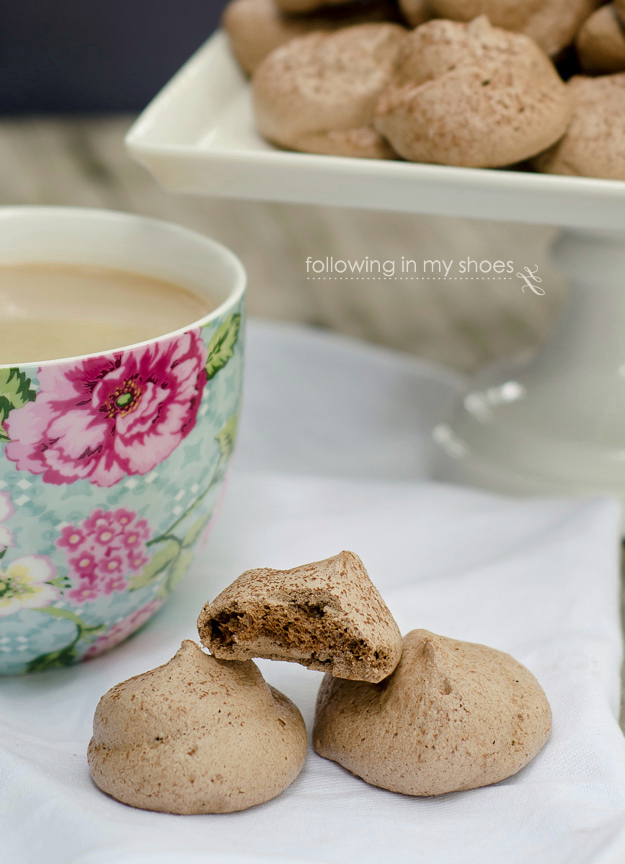 Coffee and Chocolate.  The answer to all life's problems.
These Double Espresso Mocha Meringues were inspired by a treat I discovered the last time I road-tripped.  My Mom found Cafe Au Lait Meringues at her small Oklahoma grocery store and together we enjoyed them way. too. much.  With each creamy, chocolately, coffee filled bit of goodness I popped into my mouth, I vowed I would recreate these airy but crunchy, "melt in you mouth" cookies.
Meringue cookies, with their stiff, shiny egg-white meringue base, sounded daunting.  After all, the last time I worked with a meringue base, I found myself wanting to say some not-very-nice-things to the person who invented macarons.
But meringue cookies — unlike the macaron — are soooooo easy.  Practically fool-proof!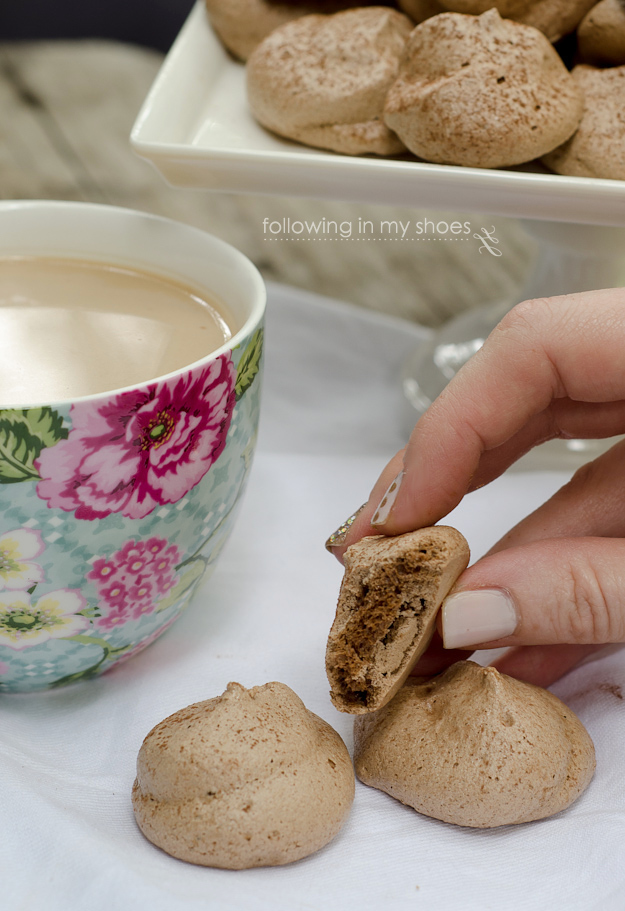 The key is to use 1/4 cup of sugar per egg-white and then whip them into a very stiff, glossy state.  Once you've done that, it's simply a matter of choosing your flavor.
My flavor was a mix of instant coffee, dutch-processed cocoa and (simply because I adore it in pretty much any chocolate recipe) a wee bit of cinnamon.
My husband — with a display of genius — wanted a batch that also had his favorite creamer mixed in: International Delight Founder's Delight.
The boy definitely has his moments.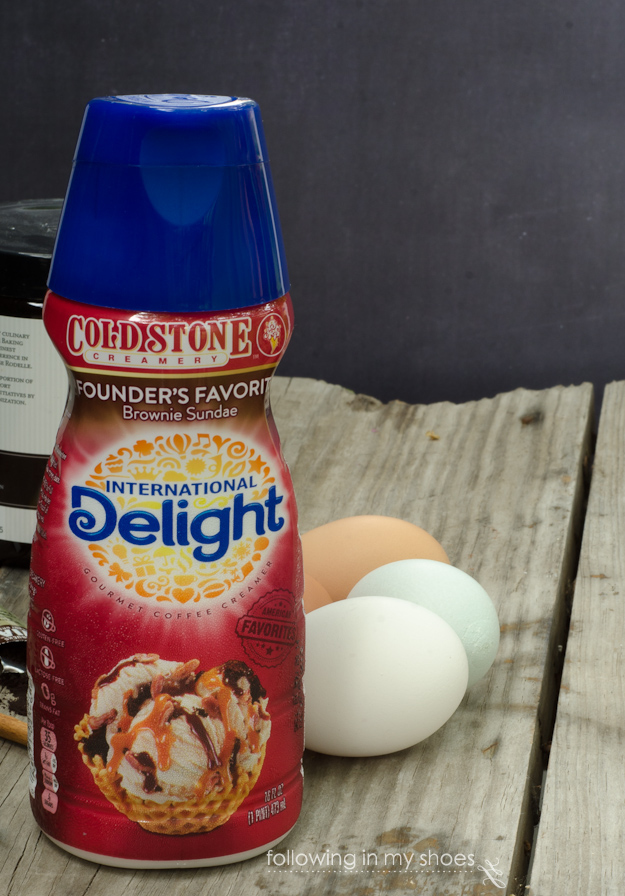 Double Espresso Mocha Meringue Cookies
Ingredients
4 Large Egg Whites, room temperature
½ tsp Cream of Tarter
1 Teaspoon of Vanilla or flavored creamer
1 cup Sugar, ground*
3 tablespoons Dutch Processed Cocoa
2 teaspoons Dark Roast Instant Coffee**
½ teaspoon of Ground Cinnamon (optional)
Instructions
Preheat your oven to 200 degrees; set your oven racks into the bottom half of your oven (ready to accommodate two cookie sheets).
Line two cookie sheets with parchment paper and set aside.
Using a stand mixer, begin whipping the egg whites (on a high speed) in a clean and dry mixing bowl. Once they have started to get foamy, add the cream of tarter and vanilla (or flavored creamer). Continue whipping until the eggs became a soft meringue.
Begin adding the ground sugar into the mixture, a tablespoon at a time so it can dissolve into the meringue. Once all the sugar is in the meringue, allow it all to whip at high speed until the meringue is stiff and glossy.
Turn off the mixer and stir in the cocoa, instant coffee, and (if desired) ground cinnamon until completely mixed in and of even color.
Fill a piping bag (pre-fixed with your desired medium-large tip) or a large ziplock bag with the meringue. If using a ziplock bag (which is what I do), put the meringue in so that it fills a bottom corner of the bag and then cut off the corner so that the meringue can be "piped" out.
Pipe out the meringues -- roughly 1.5 or 2 inch circles. You can fit them closely together because they will not spread as they bake.
When both pans are filled, place them in the oven and let back roughly 90 minutes or until they are dry, firm to the tough, and able to be lifted easily off the parchment paper.
Turn off the heat and use a wooden spoon to crack open the oven door. Allow the meringues to remain in the oven at least 2 hours (or overnight) so they can completely dry.
Once they have finished drying, remove them from the parchment paper and store in an air-tight container for up to 2-3 days.
Or ... you know ... eat them all right away.
Notes
*You can use "Superfine" sugar or make your own by putting the 1 cup of granulated sugar in a blender and blending it for 30-60 seconds.

**I prefer a dark roast when making these so the coffee flavor really comes through; the Starbucks Via packets are exactly 1 teaspoon each.
This is a sponsored conversation written by me on behalf of International Delight. The opinions and text are all mine.