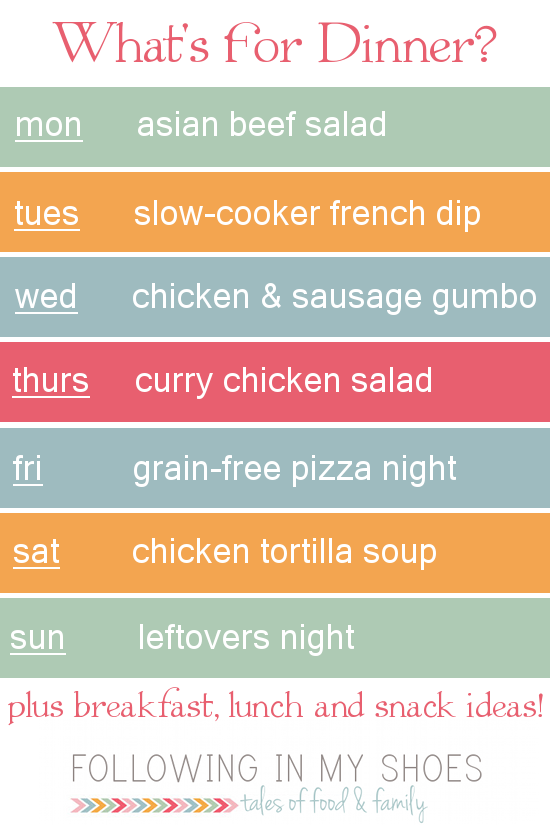 One thing that has been challenging since we removed grains is the fact I have scores of personal recipes in my arsenal  — recipes that, in many cases, use different grains, pastas, flour, or breads to help make them delicious.
My French Dip Sandwiches.  The Curry Chicken Salad Sandwiches that to this DAY are one of my husband's favorite meals. Muffins.  Oh…. and soft, chewy, gooey, decadent Cinnamon Rolls.
(excuse me …. I think I need a moment to myself)
This week, due to (1) a stockpile of beef in my deep-freeze, and (2) the Husband craving some of our old favorites, I am going to attempt serving these family-favorite recipes in new ways.  And, oddly, I'm a wee bit intimidated … HOW will a French Dip Sandwich taste if it isn't a sandwich???  How will the balance of flavors in my Curry Chicken Salad hold up without the sweet Hawaiian bread?
Guess we'll find out!!!
What We're Eating This Week
Dinners
Lunches
Monday:  Aidells Sausage, Carrots/Peas, Cheese Stick, Strawberries, Cashews &Pistachios
Tuesday: Bacon Wrapped Chicken Strips, Babybel Cheese, Blueberries and Apples, Cucumbers, Carrots
Wednesday: Applegate Salami, Gluten-Free Pretzels, Cheese Sticks, Cucumber and Carrots, Blackberries
Thursday: (Leftovers for lunch) Roast and Cheese Quesadillas, Apples and Blueberries, Carrots and Bell Pepper Strips
Friday: (Leftovers for lunch) Curry Chicken Salad, Nut-Thins, Babybel Cheese, Mixed Fruit, Peas and Cucumber
Breakfasts
Snacks
Veggies and Homemade Ranch Dip
Apples and Almond Butter
Mixed Nuts
Leftover Muffins