Raise your hand if August is not only a seriously crazy and busy month for you but an expensive month to boot?
Between school supply shopping, new shoes for growing Kidlets, buying items for my classroom, and TWO back-to-back August birthdays (I'm looking at you, Mr. Boy, and you, Barney Kneeknuckles), it feels as thought August is nothing but a money-pit.

With all the green dollar bills and silver coins evaporating from our checking account, the Husband asked that I be especially frugal this month with our grocery budget.
Even though I am always careful, as someone who lives daily in the banking/investment world, the Husband can't help but think constantly about expenses and ways to shave down bills.
It's either a hobby or an obsession.  I'm not quite sure which …
He started sending me links to sites like Money-Saving Mom, started listening to pod-casts detailing ways to save money, and turned the  thermostat to an ungodly setting.
This Mama don't do hot … so I sat down with him and we talked about ways I could better help our family in the grocery and household expenditure arena.
I used to plan our meals according to what was on sale at the grocery store, but in past year or so, I stopped.  Instead, I went with what my taste-buds wanted or shopped according to recipe projects.  The weekly sales flyer?  I looked at it but didn't use it as a starting point.
Tsk, tsk, tsk.
This week, instead of letting my taste-buds hold the reins (ok … that's just a weird image), I kept the Husband's request in mind and looked for ways to make our meals more affordably.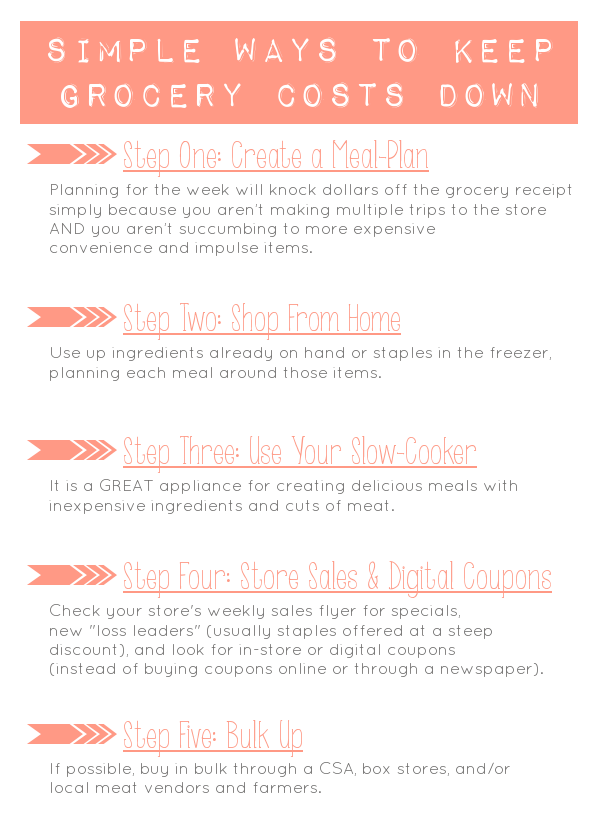 [exceptional-citing quoted="rachel" template="bubble-green-round" date="" ]What Tips Do You Have For Saving Money on Groceries?[/exceptional-citing]
What We Are Eating This Week
Monday:  Slow-Cooker Tortellini Florentine Soup (recipe in development), French Bread Toast Points
Tuesday: Pork Tacos (recipe in development), Roasted Broccoli, Black Beans
Wednesday:   Leftovers
Thursday:  Slow-Cooker Wings (recipe posting soon as part of the Meal Maker Challenge), Onion Rings, Oven Roasted Green Beans
Friday:  Pizza Braid Hamburger Calizone, Salad
Saturday:  Smoked Turkey Legs, Green Beans, Salad
Sunday:  Leftovers
[exceptional-citing quoted="rachel" template="bubble-blue-round" date="" ]Psssssst … if you're looking for more meal ideas, I have two new recipes for you: Grilled Sirloin with Corn Salsa and Whole Wheat Pasta al Pomodoro!  And, if you want to help me in my Meal Maker Challenge you can repin them directly from the pins shown below![/exceptional-citing]

disclosure: I am participating in the H-E-B Meal Maker Challenge in a recipe contest and could win a gift-card if I win…. if YOU would like to win too, you can get full details from the Meal Maker Challenge site.