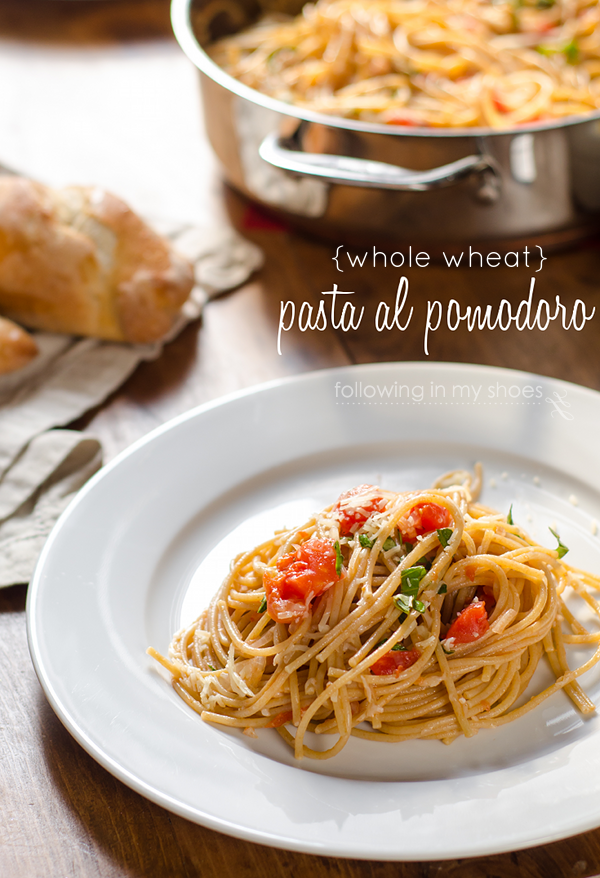 "Sgetti" is one meal I can always get the Kidlets behind — regardless of the sauce, my Kidlets will cheerfully eat when there are noodles to slurp.
(slurping — regardless of a Mama's pleas — is mandatory, it seems, when one is eating those skinny noodles)
When I don't have a stash of my Slow-Cooker Marinara Sauce in the freezer, then it's this Whole Wheat Pasta al Pomodoro to the rescue.  In 30 minutes, we have a delicious, healthy meal on the table … the perfect accompaniment for laughter and slurping.
Pasta al Pomodoro is a classic spaghetti dish — instead of the typical hearty red sauce that we are all used to, this pasta dish is lighter.  No thick tomato sauce in this pan — it's all about diced tomatoes, fresh basil, and freshly grated parmesan.  The classic flavors of Italy.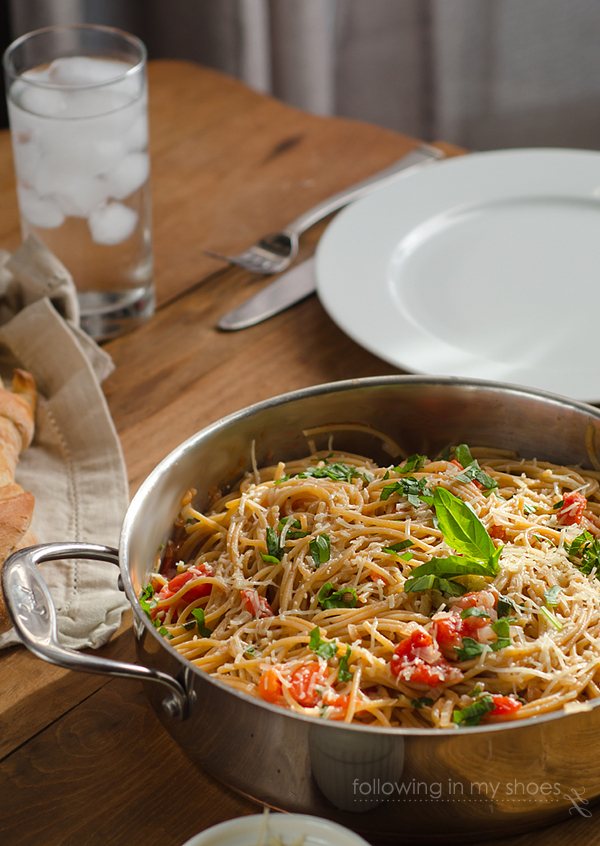 While fresh tomatoes are typical for this dish, I hate (HATE) dicing tomatoes, especially when I know I can use canned tomatoes and still have an amazing meal.  I prefer using the Hunt's Diced Tomatoes for this particular recipe because they have the freshest taste and firm bite. . . and they save me the time that would have gone into dicing a slew of tomatoes!
I love putting a healthy meal before my family and with this flavorful dish is one they all love — even the Husband (a Carnivore among Carnivores).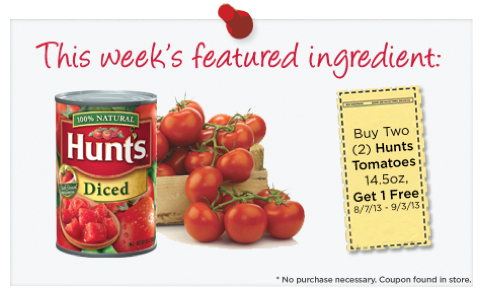 For this second week in the H-E-B/Con Agra Meal Maker Challenge, H-E-B has Hunt's Diced Tomatoes on sale — buy two and you'll get one free!  Sounds like the perfect time to stock up for those busy nights when you need a fast, family-friendly dinner!
Whole Wheat Pasta Al Pomodoro
Ingredients
16 ounce Whole Wheat Spaghetti
2 14.5 cans of Hunts Diced Tomatoes (do not drain)
1 medium White Onion
3 tablespoons Extra Virgin Olive Oil
⅓ cup basil leaves (6-10 leaves, depending on size)
2-3 tablespoons Grated Parmesan
Water (for the pasta)
Salt/Pepper to taste
Instructions
Prepare the pasta according to package instructions.
While the pasta water is heating up, finely chop the onion and cut the basil leaves into thin strips (chiffonade style). Set the basil leaves aside.
Place a large frying over medium-high heat and pour the extra-virgin olive oil in. When the oil has heated, place the chopped onion into it and cook until the onion is translucent and soft.
Once the onion has cooked, add the Hunts Diced Tomatoes and half of the chopped basil, stirring to mix everything. Sprinkle with salt and black pepper. Lower the heat to medium and allow to simmer until the pasta has finished cooking.
Once the pasta is al dente, use tongs to add the cooked pasta into the pan with the cooked sauce (it's ok if a little pasta water gets in there too as you add the pasta). Use the tongs to toss the pasta and sauce together.
Sprinkle with remaining cut basil and grated parmesan. Serve immediately.
p.s. Help a Girl Out … and (maybe) Win!

If you like my Second Recipe in the Meal Maker Challenge (or just like me!), you can "vote" for it in this challenge … simply by repinning it! Yes, it really is that easy and you don't have to live near an H-E-B to pin my recipe!
[exceptional-citing quoted="rachel" template="bubble-gray-round" date="" ]Head over to the Meal Maker Challenge page to get all the details on voting for this recipe, to check out all of the salsa recipes in the challenge, and to learn how — if you live in Texas — you can enter to win your share of $1500 in prizes.[/exceptional-citing]
disclosure: I have been compensated for my participation in this Meal Maker Challenge for H-E-B.