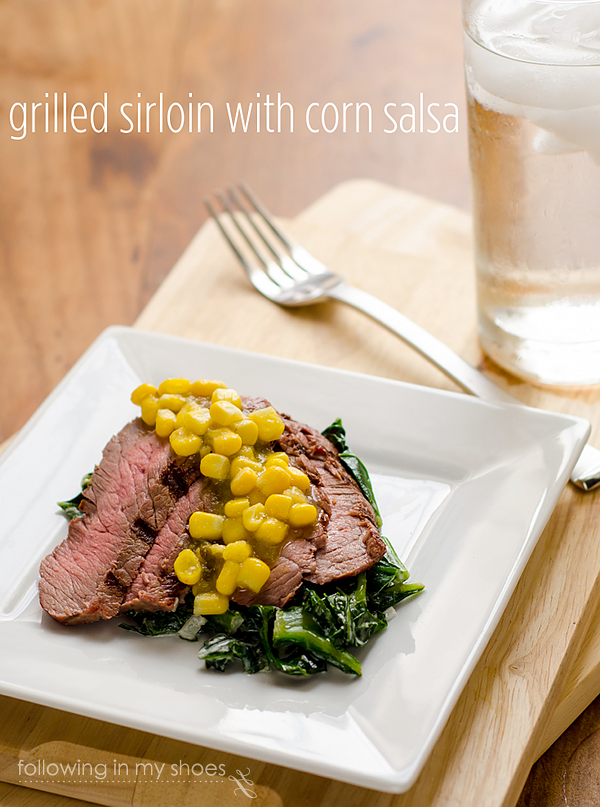 And, so it begins — the first week of the H-E-B Meal Maker Challenge! It's my fourth year to take part in this challenge and I'm just as excited to share recipes as I was in year One!
This week's featured ingredient is H-E-B Salsa, a favorite in this house both for the authentic flavor varieties and the affordable price!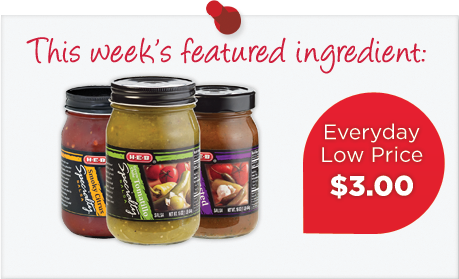 After learning that I could use one of these three salsas (Tomatillo, Fire Roasted, or Smoky Citrus) in a challenge recipe, I instantly — instantly, people — knew what idea I was going to work on: the Steak and Greens dish I had while dining at Austin's Foreign and Domestic during our "Kidlet-Free-Week".
The great thing about good food is that it is inspiring.  I may not have been able to include every ingredient or technique that Ned from Foreign and Domestic used for his recipe, but I created a darn. good. meal. that I was proud to set before the Husband and Kidlets.  That perfect dish from YOUR favorite restaurant?  I bet you can replicate it too; it's all about just diving in, making a mess in the kitchen, and experimenting with fresh ingredients and flavors.
The Perfect Grilled Steak Recipe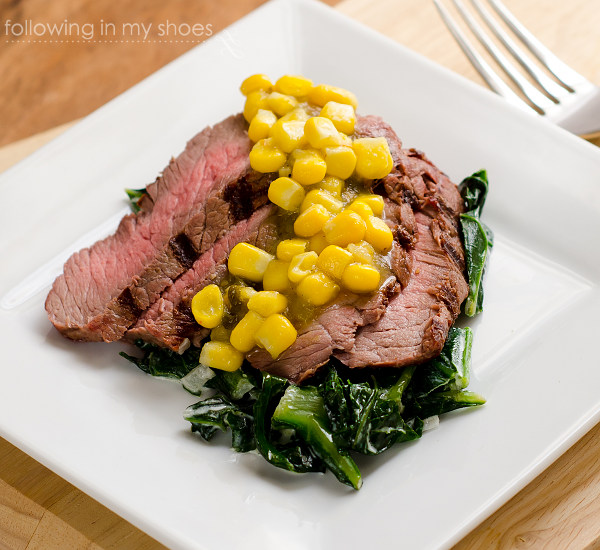 My version of my favorite steak dish — Grilled Sirloin and Creamed Greens with Spicy Corn Salsa — is a true 30-Minute Meal; in less than a single moment, the H-E-B Tomatillo Salsa transforms the corn into a full-flavored accompaniment, and then the rest of your time is spent on the greens and the steak.
Now … those greens.  I have to admit, before dining in Austin, I assumed I didn't like greens.  They weren't a staple in our home growing up, and for some reason — because, you know, I had never tasted them — I decided they weren't for me.  (silly, silly girl)
I WAS MISSING OUT!  Wilted, creamed, sauteed — it doesn't matter.  Collard greens, kale, spinach — everything leafy and dark green is scrumptious and healthy.
(I could go for a big bowl now)
After quickly wilting the greens, and reducing the delicate cream sauce — which I lightened up by using half-n-half instead of full heavy cream — it will be time to turn your attention to the steak.  You can grill it indoors or out, OR you can cook it under your broiler.  Regardless of the cooking method, thirty minutes after you start this recipe, dinner will be on the table.

p.s. Help a Girl Out … and (maybe) Win!
If you like the recipe (or just like me!), you can "vote" for it in this challenge … simply by repinning it! Yes, it really is that easy!
[exceptional-citing quoted="rachel" template="bubble-gray-round" date="" ]Head over to the Meal Maker Challenge page to get all the detail on voting for this recipe, to check out all of the salsa recipes in the challenge, and to learn how you can enter to win your share of $1500 in prizes.[/exceptional-citing]
Grilled Sirloin and Creamed Greens with Spicy Corn Salsa
In 30 minutes, have a meal that satisfies every member of the family ... without calling for take-out!
Ingredients
Sirloin Center Tip Steak (2-3 lbs)
1 cup Frozen or Fresh Cut Corn
H-E-B Tomatillo Salsa (3-5 tb, to taste)
1 16-oz package of Chopped Collard Greens (1 16-oz package)
3 tb Unsalted Butter
¾ cup finely chopped shallots (roughly 2-3 shallots)
¾ cup Half-n-Half
½ teaspoon Salt
¼ teaspoon Cracked Black Pepper
1 cup water
spray for grill/broiler pan
Instructions
Place a 12-14 inch skillet, filled with 1 cup of water, over high heat. Bring to a boil.
In a small bowl, mix the cut corn with the H-E-B Tomatillo Salsa. Set aside.
Wash, drain and pat-dry the chopped collard greens. Once the skillet of water is boiling, add them to the water and immediately cover with a lid. They will mound up but the lid will hold them down so they can wilt. Allow them to cook until they have wilted (dark green and reduced in size). Once they have reached the wilted stage, drain them in a colander and then place the greens on a paper towel.
Return the skillet to the stove-top, place the pan over medium heat. Add the unsalted butter. Once it has melted, add the shallots and cook until softened. (about 3-4 minutes)
Lower the heat slightly and add the half-n-half, ½ teaspoon salt and ¼ teaspoon of cracked black pepper, stirring to combine. Allow to simmer 10-15 minutes, until reduced by about half, stirring occasionally.
While the liquid is reducing, prepare the steak by seasoning each side with salt and pepper. Spray your heated grill (or, if cooking indoors, grill pan or broiler pan) with cooking spray. Place the steak on the grill or grill pan or place it under the broiler, cooking each side 4-6 minutes or until desired temperature/color is achieved. Remove and let rest, covered with foil.
When the half-n-half has reduced, add the cooked collard greens to the pan and stir to combine. Allow to simmer together another minute and then remove from heat.
To Plate:
Slice the steak, cutting against the grain.
Place a portion of the creamed greens on a clean plate. Top with 4-6 slices of grilled steak and then garnish with 2-3 tablespoons of corn salsa. Serve immediately.