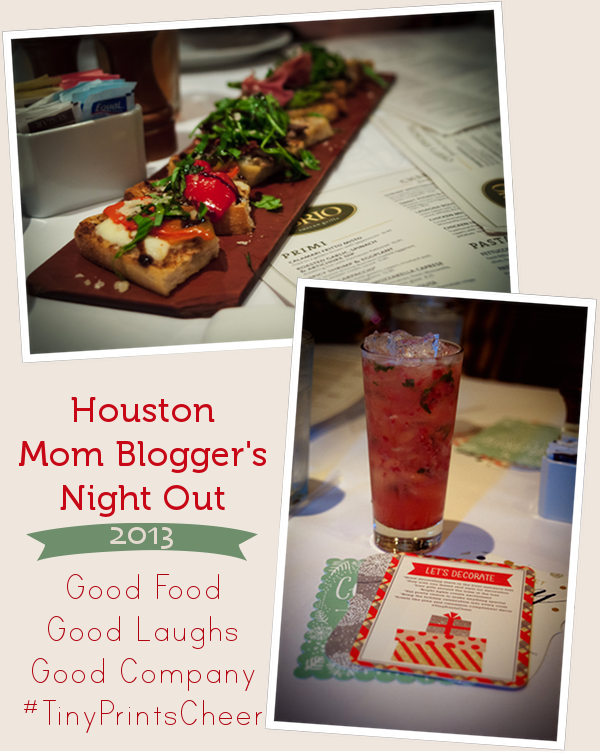 Sometimes, no matter what stage of life your children are in, you — Mama — need a night away from children.  A night of grown-up conversation.  A night where you don't have to ask, "Where's the kids' menu?".  A night where you can get all dolled up and not have to worry about someone wiping their nose on your pants, your shoulder, your cleavage, or your cheek.
It happens.  Trust me.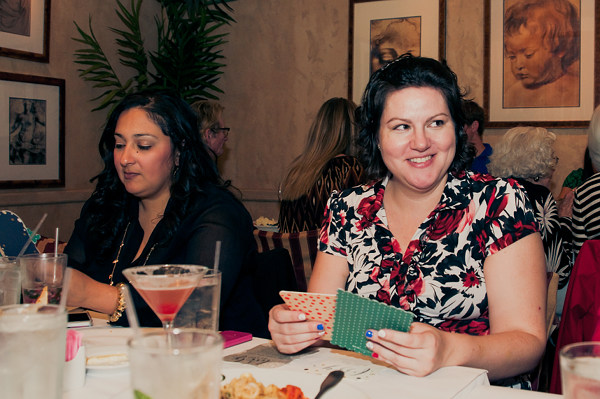 Sometimes, you need nourishment that goes beyond delicious food and sweet treats.  You need mental and emotional feeding from other women who "get it."  They know the sleep-deprivation caused by the pitter-patter of little feet who wake each and every night, needing this and that.    They know the stress of trying to be Mom and Wife, and meeting everyone's needs equally.  They know the crazy hours of a blogger — folks like you who stay up late researching, tweaking code, writing recipes, editing pictures, and trying to keep up with the frenzied world of social media.  They know the hard world of trying to balance being their for your children and being their for your job.
Sometimes — you need a Mom's Night Out.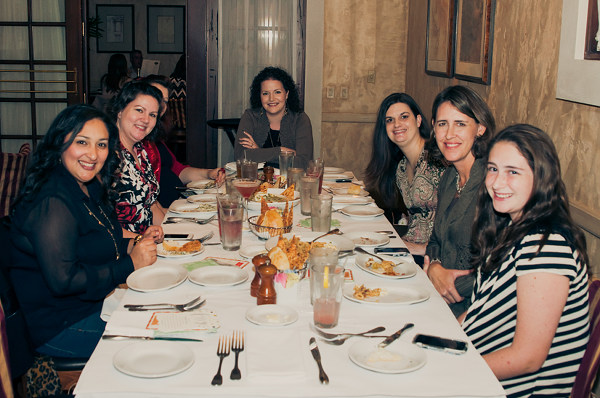 Last Friday, I joined other Houston area bloggers at the City Centre Brio Tuscan Grill for a night of laughter and chit chat and yummy food … and lots of Christmas talk!  It was the #TinyPrintsCheer party I was asked to host on behalf of Tiny Prints, an online card and gift company.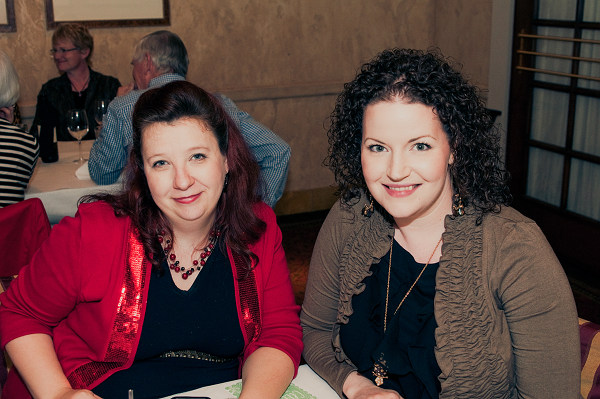 We talked about new babies and pregnancy (Lisa, from MileHiMama, was so beautifully pregnant and READY to be done … her lil' guy ended up coming just a few days after our party!).  We talked about the hectic schedules of our children and bounced ideas off one another about keeping the activities in check.  We talked about the new holiday cards that Tiny Prints released this year (of course), and … because every person in the room is a Social Media and Blogging junkie … we discussed apps, plug-ins, and made sure to Instagram and Tweet many moments from the night.
We're bloggers — it's what we do!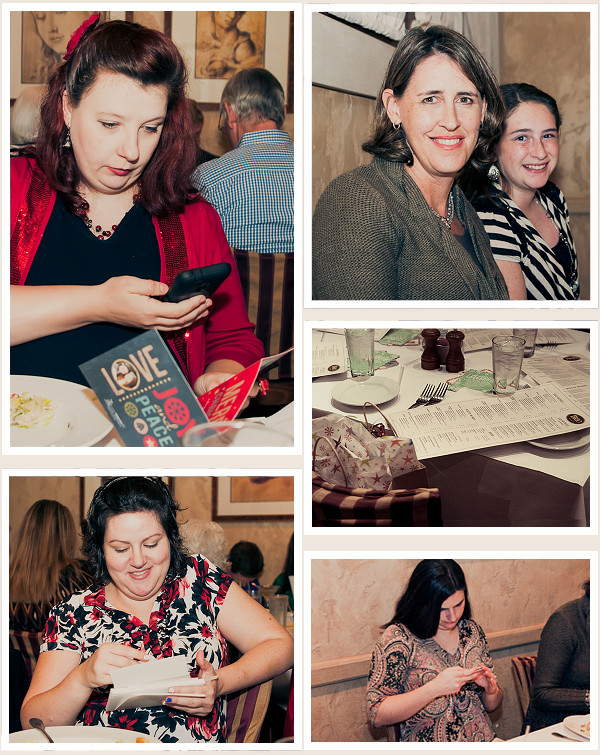 Oh, yeah — I brought lots and LOTS of samples with me … cards and envelopes that highlighted every card option, paper option, trim option, and envelope lining option!
Well, in true blogger form, my friends shared their favorites on Instagram.
Me? I Instagrammed and Tweeted EVERYTHING … the table, our conversations, the pretty smiles I kept seeing from new and old friends, and — obviously — our food!
What did the ladies think of the new cards? They were all in love with the pearl paper — a beautiful, delicately shimmered paper that adds the perfect "Holiday Magic" to a Christmas card. And we all agreed that the Ornament cut cards were TOO cute. Really, every card I passed out for them to see and feel got numerous "Ooos" and "Ahhhs." They were fun. They were festive. They were fabulous!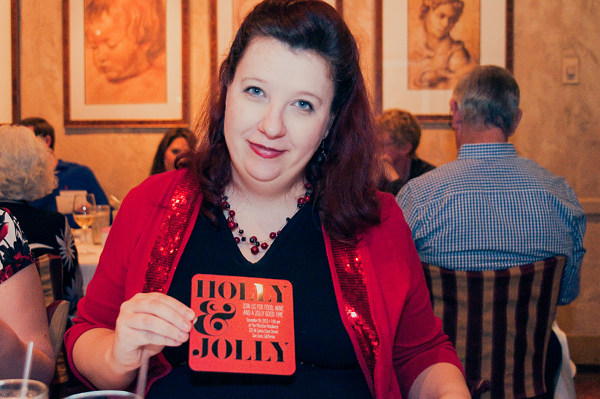 (the new clear-cut styled card — such a fun pairing of retro fonts and modern design!)
More than once, I heard each lady exclaim, "it's so hard to pick a favorite!". And, it's a true sentiment. The Holiday Card Collection from Tiny Prints is nothing but beautiful and each card — despite covering nearly every design style and preference — can pull at you till you don't know which to pick.
Much like the dessert tray from Brio, which left all of us in a tizzy!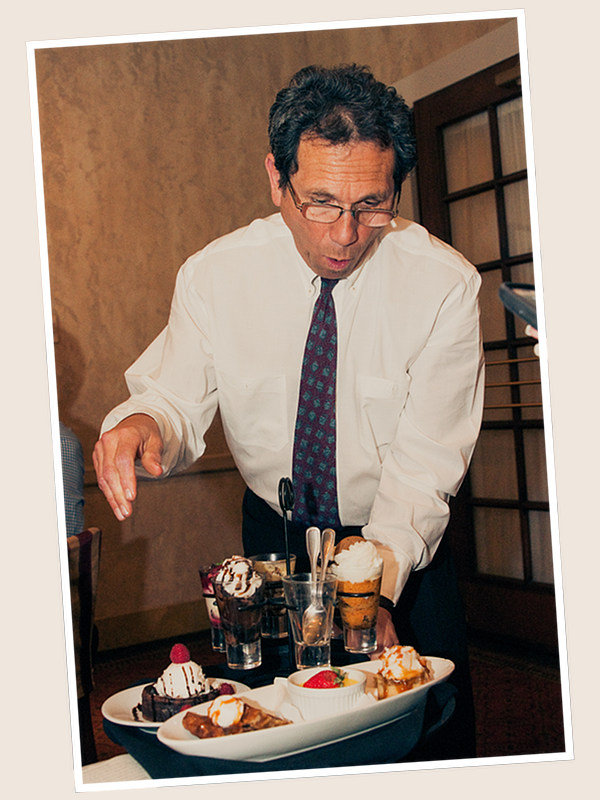 Just as Cinderella's night out came to end, so did our little escape from reality. As the hours grew later, we felt our mommy-clocks nudge us, reminding each of us that there were kiddos to bathe and bed and tasks to be completed before our own heads could hit pillows.
But, before we went our separate ways, each blogger got to take a little gift bag of goodies provided by Tiny Prints (yup, they really are more than just cards!). Just a few little fun items to help the ladies get into the holiday spirit!
By the time I made it back to College Station, the Aggies had won their football game and my Husband had put each of the kids to bed.
In my living room.
In a TENT.
I guess a Dad's gotta do what a Dad's gotta do … when Mom's away.
P.S. THANK YOU, ladies, for attending and sharing your thoughts on the cards and ideas for celebrating the holidays: Sarah from Water, Water Everywhere (who was also the official event photographer and captured the fun pics used in this post), Lisa from MilehiMama, Sara from Family Appeal, Emilee from Pea of Sweetness, Angela from Angela Bickford, and Brenda from Meal Planning Magic. Two other Houston Bloggers, Lori from My Kinda Rain, and Rebecca from Bentos on the Bayou, unfortunately, had last minute family situations and illnesses that kept them from joining our table.
If you want to see more of what went on last week with the other Tiny Prints hostess, you can visit them! Each hostess had varying venues and even activities for their parties. There are a LOT of fun holiday ideas in their posts!
Chicago Area: Kris from Little Tech Girl
Los Angeles Area: Pauline from Club ChicaCircle
Miami Area: April from April Go Lightly
New York Area: Krissy from B-Inspired Mama
Disclosure: I hosted this sponsored event on behalf of Tiny Prints as a part of the Mom It Forward Blogger Network. All opinions are my own.