Ever since my Sugar Detox, I've been drinking coffee and lattes sans sugar.  No more flavored, whip cream towers of holiday flavors.  No more anything to sweeten my morning cup.
It's just me, my strong, strong coffee, and full-fat half and half.
The Husband, on the other hand, has NOT come over to the sugar-free side with me.  In fact, it's nearly been a "kicking and screaming" type of a situation anytime I suggest he make his coffee plain.
He'll give up a lot of things for me, but sweet coffee isn't one of them.  The Husband has always loved his flavored lattes and macchiatos, fully believing that life is just sad without full flavor syrups and caramel in his coffee.
In other words, he thinks I'm crazy for drinking plain ol' coffee.
Earlier in the week, I mentioned the new Green Mountain Espresso Roast Iced Lattes that will soon be in stores.
I think he pretty much started drooling right away.  It was darn near Pavlovian — as soon as said the words "Vanilla" and "Mocha", his taste-buds were aching for the stuff.
Then, he brought out the big guns … technique he learned from his manipulative Kidlets.
The Husband turned on the Big Eyes, pleading for this new treat.  "Um, you know," he said, clearing his throat, "if I can't make coffee taste good by myself, there really isn't a point to even trying …".  "
FIND IT FOR ME!", his eyes were screaming.
I waited.
He went on.  Whipped cream happiness.  Sprinkle-paved rainbows.  Mocha colored puppies.  He somehow saw a life of perfection if he could just. get. his. hands. on the Green Mountain Iced Lattes.
Then today … he sent me a picture of his sad lil' face (which, being a good and loving wife, I quickly Instagrammed).
Poor guy … he's got it bad.
I may just have to find a bottle for his stocking.  And put him out of his misery.
Coupon! $1 off your Green Mountain Iced Lattes.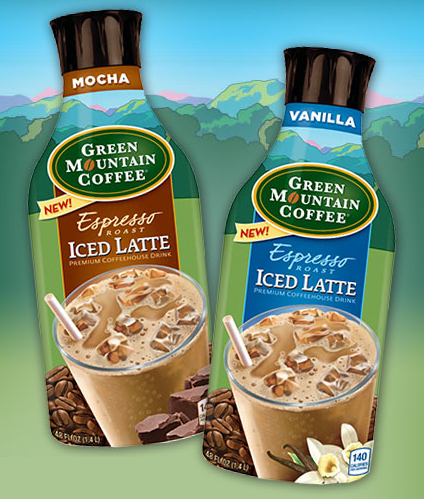 Are you feeling the same way as the Husband?  Does your life need to be improved by the addition of perfect Iced Lattes at home?  Here's a #1 off coupon for you to use when you buy the Green Mountain Iced Lattes.
This is a sponsored conversation written by me on behalf of Whitewave Foods, makers of Green Mountain Coffee®. The opinions and text are all mine.