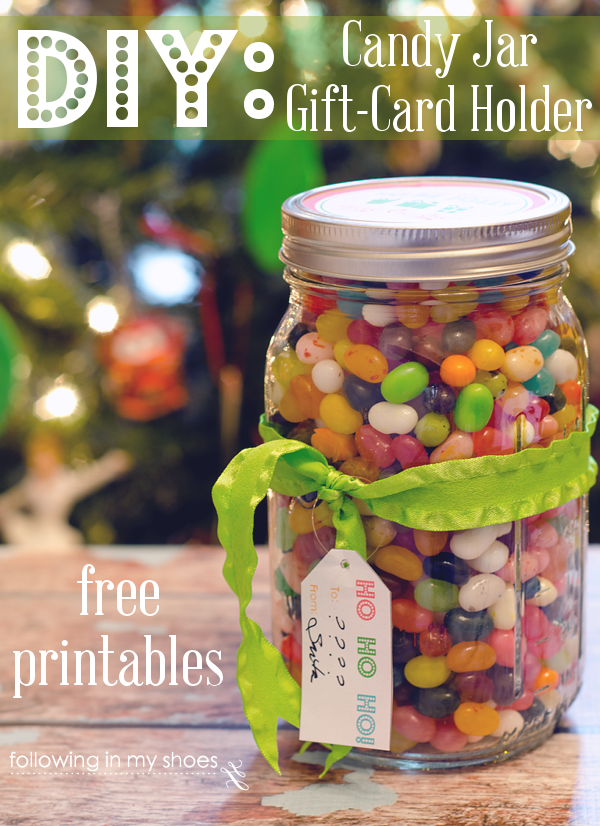 I've shared before that I am NOT a good gift-giver.  I desperately want to be, but it seems I often miss the mark, and so I offassionally turn to gift-cards as an easy way to allow my recipient to choose what they want.
Is that a gift-giving cop out????  Perhaps, but it saves both of us the frustration of giving and getting a bad gift.
This year, I had one person who was my "what in the world do I buy" person.  Half child and half adult, this friend rides a weird, awkward teeter-totter that goes back and forth between the simple wants of a kid and the complex desires of an adult.  WHAT do you give a pre-teen kiddo who is in that phase?
Yeah.  I'm clueless.
Enter Item #1:  the gift-card.  A Toys-R-Us gift-card to be exact.  It's perfect — there are little kid toys and big kid toys alike, allowing a kid to pick the perfect book or toy or electronic device that THEY love.
Win-win!!!
But … but … I'm a presentation person.  I like things to be fun and pretty and gifts are NOT exempt!  Giving a gift-card — especially to a child — needs to be exciting.  A chance to make the kiddo grin from ear to ear.
Enter Item #2: The Candy Jar Gift Holder.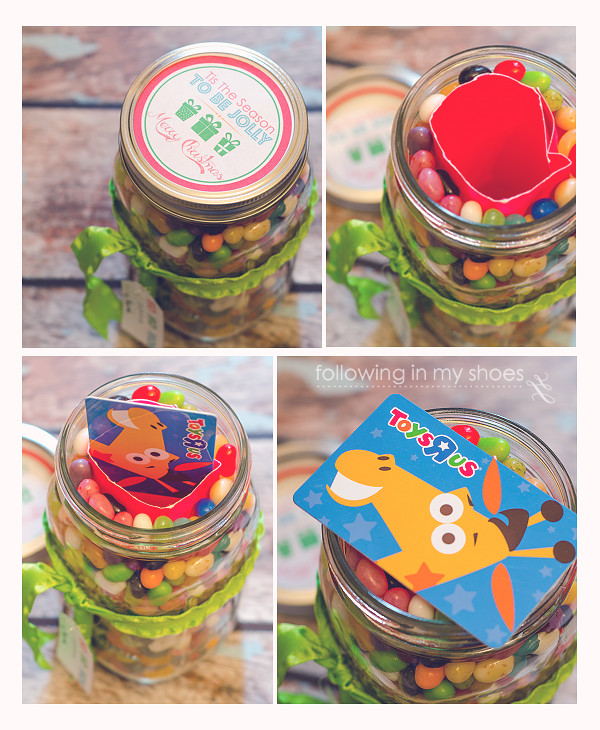 DIY CANDY JAR GIFT HOLDER
Supplies:
1 Quart Sized Wide-Mouth Mason Jar and Lid
1 17-ounce bag of Jelly Beans
1 8 x 10 Card Stock (any color)
Tape
1 Gift-Card
Jar Lid Printable and Gift Tag*
String or Fishing Line for the Gift Tag
Ribbon
Directions:
Roll the card stock and tape the edges.  TRIM any excess paper that rises above the rim of the jar..  Place it into the mason jar.
Holding onto the top of the rolled card stock so that it stays centered in the jar, carefully empty the bag of jelly beans into the jar, allowing them to fill the jar AROUND the rolled paper.  You may have to adjust the sides of the rolled paper to keep the jelly beans from spilling into the center.
Place the gift card into the rolled paper.
Tape (or use Glue Dots) the Jar Lid Printable onto the lid and then seal the lid.
Tie a festive ribbon around the jar.  Punch a hole into the gift tag and thread the string or fishing line through the hole and then tie it to the ribbon.
Give and enjoy the smiles!
* Print the gift tag and jar lid cover on 8 x 10 white paper or card stock.  
Holiday Mason Jar and Gift Tag Printables
I generally make my own Christmas Printables for Mason Jar gifts (like last year's DIY Cookie Mix Gifts), and decided to make a new set for this year's jar gift.  Feel free to use these for an easy way to add some festive cheer to your present!
Click on the images to view them full-size, and then right-click/save to print or save to your computer.
Kroger Has It All
The nice thing about making the Gift Card Holder is that everything can be found at Kroger grocery stores.  Yes, Mason Jars, Christmas ribbons, Kroger Private Selections Jelly Beans, paper AND the Toys R Us gift-card are available at Kroger. No need to drive all over town, fighting the crowds at craft and toy stores.  I was able to pick everything I needed to complete this project while I grocery shopped.
And, I ended up with an adorable gift that I am EXCITED to give.
Awesomeness.

disclosure: I was provided gift cards by Kroger to facilitate this post. Any opinions expressed are my own.