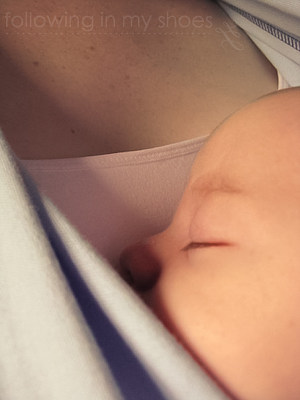 With the Little Lady, I missed out on the baby-wearing boat. . . I had no idea it existed in the haze of new motherhood.  We had rushed to finish our adoption process and my thoughts were consumed with it.  I focused on having a nursery decorated, a bed assembled, and bottles ready to go.
Wearing my baby?  I didn't see it as a viable option — the only carriers I had ever seen looked complicated and the babies just dangled.  How could that be comfortable.  Anyway, I was a first time Mama who wanted nothing more than to hold her baby twenty-four hours a day.
But, when Mr. Boy was born and he began demanding constant contact  and snuggles, something had to change.  I had two children — one of whom was a VERY active two year old — and sitting around with a baby was not the option it had once been.
This time, however, I researched and learned that safe baby-wearing goes beyond complicated contraptions and frog-legged babies.
Thanks to a community of online moms who were advocates of baby-wearing, I learned about carriers, wraps, ring slings.  I learned about proper placement of the baby, "kissable" distance, and carrying the baby facing out greatly increases the risk of hip dysplasia.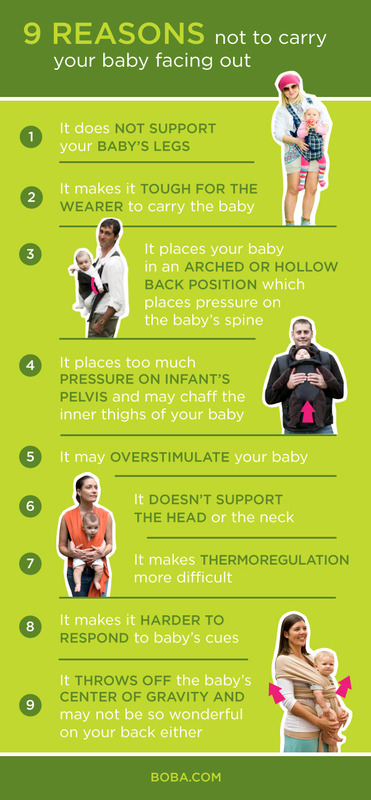 There are right and wrong ways to wear your baby … and within a few hours of getting my first wrap and putting Mr. Boy in it, I knew that safe baby-wearing was our perfect solution.  He was safe, cozy, and connected to me, and I could still parent my precocious Little Lady.
Freedom Together
Baby-wearing isn't just about convenience.  Studies have shown that it is critical to the continued cognitive development of human babies after birth.
Follow Rachel Lacy (Following In My Shoes)'s board Kids: Safe Babywearing on Pinterest.
To learn more about safe baby-wearing, you can visit my Pinterest board, check out the many articles on  Boba, a company dedicated to "thoughtfully-crafted products for active parents who want the time and freedom to create a real and caring bond with their child."  You can also follow them on Facebook or Twitter. 
This is a sponsored conversation written by me on behalf of Boba. The opinions and text are all mine.