Ahhhhhh …. the end of the winter semester and rushing around in the morning for school.  The last few days before Christmas when you're trying to make sure not a single gift has been forgotten.  Every moment is a mixture of peace and chaos.
DIY Family Pictures
Like many folks at this time of year, we got all dolled up in coordinating duds and snapped a few photos.  Because I'm a cheapskate frugal mama, I did them myself.  It just took a tripod and the ability to shoot in manual and use the timer function on my Nikon.  Oh, and patience.  LOTS AND LOTS of patience.
Look this way!  Smile!  Don't pull your brother's hair!  Don't step in deer poop!  GET BACK OVER HERE!  Smile!!  No, look at me — the camera!  DON'T MOVE!
It was also necessary for me to hustle: once everyone was smiling, looking, and standing the right way, I would press the shutter button and then attempt to run through the grass, skirting deer pellets, and get myself positioned in the photo before the timer went off and snapped the picture.
Oy.
The end results, though, were super cute and I was incredibly pleased with my FREE results.  Perfect?  No, but they also were not too shabby for a Mamarazzi shot!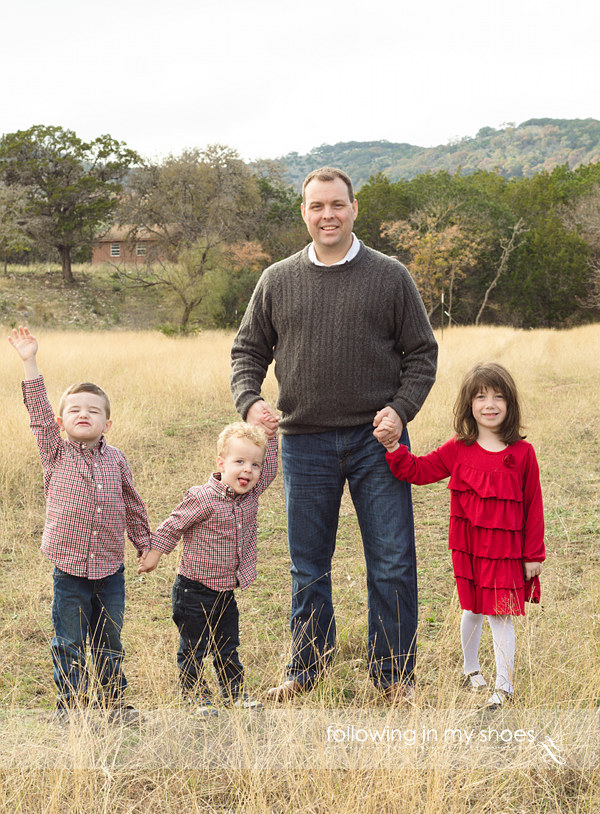 (just one little peak since the rest are Christmas presents for family!)
North Pole Breakfast
This year's NPB was a little bit crazy and delayed.  It was initially going to be held, as is our tradition, on the first Saturday of December.  But, both our family and that of a very close friend experienced deaths that week.  One — the passing of my Husband's Step-Grandfather — was expected, but one — the child of my Husband's best friend — was not. It was a horribly sad week that involved a lot of phone calls and travel through out the state.
We weren't sure when we would have our breakfast but, after a virus kept us from joining other bloggers last weekend for a trip to Moody Gardens, we decided to make it up to the Kidlets with an impromptu breakfast.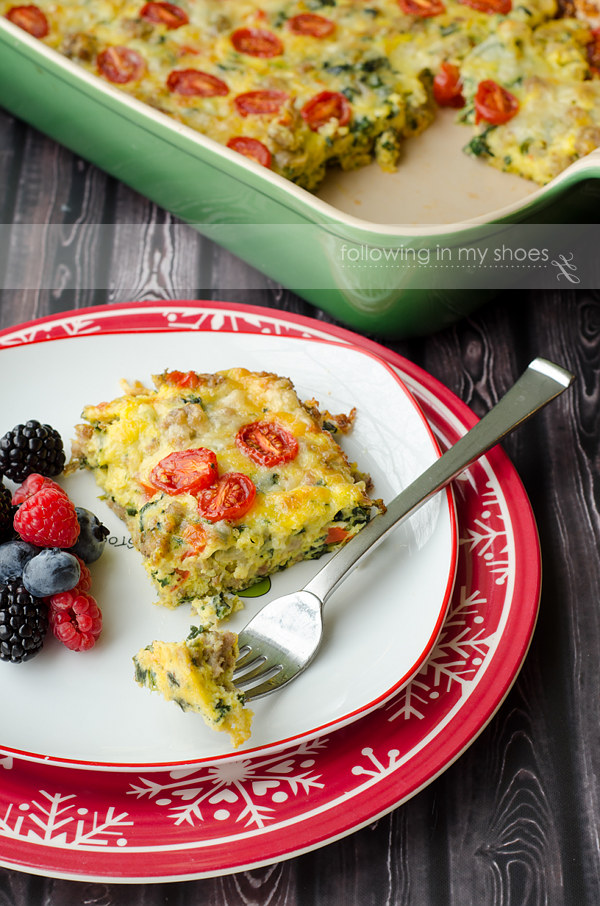 It was a simple morning with our family as the only participants.  I didn't go all out with craft projects or gifts.  It was just a breakfast centered around our favorite red and white tablescape, a few new grain-free recipes, and the smiles of the cutest three Kidlets ever.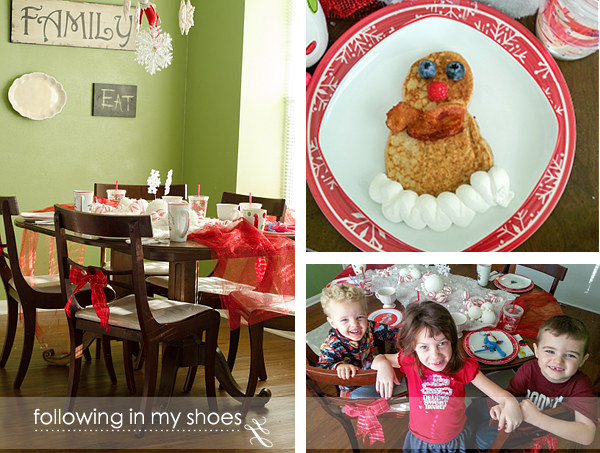 I Survived Preschool
Time for another AHHHHHH!  We wrapped up our last day of the winter semester on Thursday with a big class party.  All the sugar (and more) that 2 and 3 year olds could handle.
At the beginning of the school year, I wasn't sure if getting back into teaching — with an entirely different age group — was such a good idea.  But, as the school year progressed and I settled into a routine with my co-teacher (who let me handle all of the crafts and activities in our lesson plans), it grew on me …. and by Thursday, when I looked at all of the sweet lil' faces smiling and telling me, "Merry Christmas," I knew that teaching preschool was a good choice.  I don't know how long term I'll do it ('cause I DO miss teaching in high school and reading Romeo and Juliet and To Kill A Mockingbird), but for now …. life is good.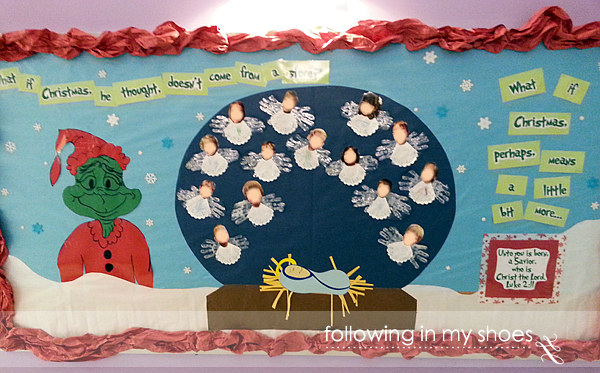 (my last bulletin board for the semester — yes, I have way too much fun creating these boards.  Oh, and forgive both the phone camera quality AND the faceless angels.  I promise they have really adorable faces in real life!)
Pinterest Stalking: Gingerbread House Parties
On the spur of the moment this morning, my Husband and I decided we are going to have some friends and their passel of kiddos over this weekend.  Now, how does one entertain 7 children (ages 2-11) this close to Christmas?  With a Gingerbread House Party!
So, if you follow me on Pinterest, you probably saw the flurry of Gingerbread House pins around 9 am.  Sorry for flooding your stream but I'm obsessed today with Gingerbread Houses!
Follow Rachel Lacy (Following In My Shoes)'s board Parties: Gingerbread House Party on Pinterest.
[exceptional-citing quoted="rachel" template="bubble-gray" date="" ]
How Is Your December going??????
[/exceptional-citing]