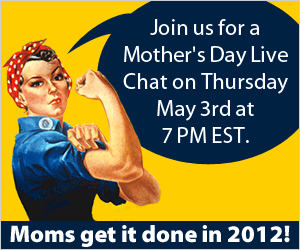 It's time for another LIVE CHAT with the Ebates Savvy Living Community!
Join us this evening (May 3rd) for a Mother's Day Live Chat.  I'll be hosting the chat on this blog (but you can also participate directly from the Savvy Living Community).  Just swing by around 6 pm (7 pm EST) and jump on in the conversation!
We'll be talking about the "best" gifts, giveaways, cool ways to celebrate "Mom" and everything else that comes with honoring and making all moms feel wonderful.
Join me and the other co-hosts — Kasey from Time2$ave, Fabulessly Frugal, and Kristin from Bon Bon Rose Girls — for a great time!

Hope to see you there!