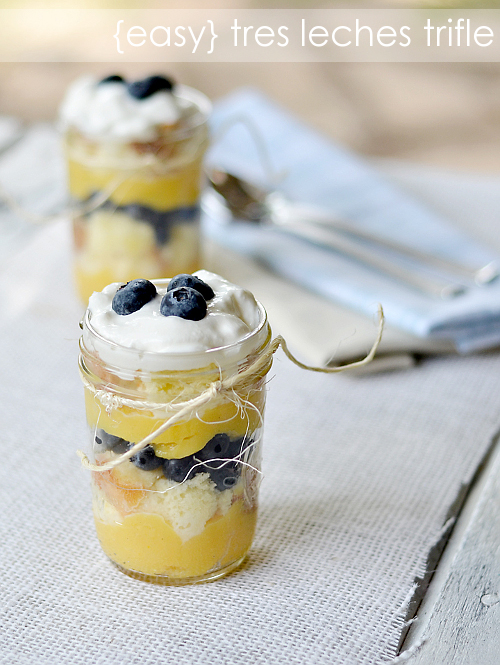 I couldn't end a series on Tex-Mex dishes without doing something on desserts.
And this is a dessert, y'all.  Oh, my heavenly SWOON.
Most Tex-Mex restaurants serve three dessert options: Churros, Sopapillas, and Tres Leches Cake.
Traditional Tres Leches is made by pouring the tres leches mixture (milk or cream, evaporated milk, and sweetened condensed milk) over a sponge cake.  It's rich and drippy.
I'll be honest — this Mama isn't a fan of drippy.  I adore the flavor of Tres Leches but I can't do soggy cake.  Just. Can't. Do. It.
Despite the sogginess, when I started brainstorming a Tex-Mex dessert, I just couldn't get the idea of Tres Leches out of my head.  So, I spent one Saturday afternoon talking aloud to the Husband, going through all of my ideas for the dessert.  And, in a moment of sweet genius, I hit on the idea of a trifle.
Trifles are every bit as decadent and rich as Tres Leches, but there is more texturally going on with a trifle.  And, I adore them — my mother make a variety of trifles (I suspect they are her favorite too) and they are always my favorite desserts.  There's just something about the pairing of cake, whipped cream and fruit.
Sigh ….
This trifle takes the flavor of Tres Leches and reinvents it as both pudding and cake, and — thanks to the pop and tang of fresh blueberries — even though it is rich, it never even comes close to being cloyingly sweet.
I "plate" this in individual serving sized jars — it looks amazing and gives everyone just the right portion.
The first time I made it, I served it the fourteen adults in our small group.  One man told me I was to make him his own "mixing-bowl" sized portion next time … while the Husband watched another group member all but lick his jar clean.
This is a winning recipe, folks.