Susan sent me some "blog love."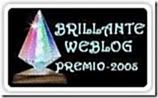 It was very sweet of her to do this and I really apppreciate the sentiment. You do need to visit her blog — she's an amazing mom living an amazing life!
I'm going to continue the cycle by nominating some more fantastic blogs as a "Brillante Weblog."
These blogs are all written by women who have been particularly encouraging to me this week and/or have written on topics that "hit home" for me. Thanks, ladies!
There are a couple of "rules" for those who receive this award:
1. Put the logo on your blog.
2. Add a link to the person who awarded you.
3. Nominate at least seven other blogs.
4. Add links to those blogs on your blog.
5. Leave a message for your nominee on their blog.
Here are my nominees:
1. Carrie, http://raisingworldchangers.blogspot.com/
2. http://ourcrookedtree.blogspot.com/
3. Lindsay, http://yoderlife.blogspot.com/
4. Laura, http://grocerymama.typepad.com/
5. Willow, http://apronstringsandangst.com/
6. Tricia, http://thefikesfamily.blogspot.com/
7. Hannah, http://hannahnoelh.blogspot.com/