No — I'm not a sadistic, cruel, evil, animal-hating person.
I just drive a car.
This weekend marked the passing of another small, helpless, creature due to my inability to react quickly behind the steering wheel.
Goodbye, Mr. Armadillo.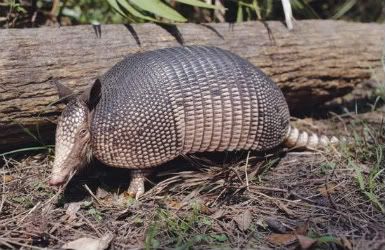 (I know this isn't your picture, Mr. Armadillo, but my tired husband wouldn't let me stop our car on Highway 16 at 2:15 am to take a photo. Not that I blame him — to be honest, you really didn't look that good. Of course, that's my fault.)

Honestly, I don't know how many animals have perished while I've been at the wheel. The first I remember was a small gray-brown squirrel in Tahlequah, Oklahoma. Poor thing — he was just scampering across the road with his brother/sister/lover/mistress/wife (you really can't tell the gender or role of a squirrel with just a glance), trying to find some nuts (squirrels eat nuts, right?). Then, I came down the road — the faded paint of my 1992 Mercury Topaz wanting to shine in the glare of that hot Oklahoma sun. I was 16 and the owner of a driver's license. There was nothing that could stop me or stand in my way . . as the squirrel, unfortunately, discovered.
The next major accident occurred two years later. I was 18 and a few months shy of graduating high school. The night in question had been the final night of my performance as Dolly Levi in (you guessed it) "Hello, Dolly!". I sang, pretended to dance, stage-kissed, and bowed my heart out that night; later, as I drove home down the dark, lonely gravel road, visions of Broadway grandure danced through my head. SURELY if the masses of Pryor, Oklahoma loved me, then New York would! (a girl can dream)
I learned, in the next few minutes of driving, that one should not let any visions dance while driving. It's not safe. Not for you or stray dogs that decide to run across the road. Well, it was just one dog. And, I don't know if he was a stray. I do know that he was ugly, not that it justifies his fate. I'm just "saying."
As far as Mr. Armadillo is concerned, it really was a sad affair. You see, I thought I was going to miss him.
Our family left Houston around 9 o'clock Friday night to head to the booming metropolis of Medina, TX, a town of roughly 2,900 people located on the other side of San Antonio. (facts checked by Wikipedia — I know how to research.) We shouldn't have left so late; it's a 5 hour drive from our house to that of my in-laws, but we did. I drove the second half of the journey, listening to my IPOD and trying to avoid the numerous deer out that night. I really do try to keep from hitting animals. Really.
As I skillfully manuevered around the curves of Highway 16, pretending to be a race-car driver (although a s-l-o-w driver since I had a sleeping husband and baby in the back seat), I didn't realize that another fatality would soon be added to my kill list.
Then, I saw him — metallic coat reflecting the bright light streaming from my headlights. He was right smack dab in the middle of the road, and he was frozen in fear. Well, I assume he was frozen out of fear; I would be if I saw me getting ready to drive over me!
I didn't know what to do — I have horrible reaction skills. There were only a few seconds to make a choice. Swerving away scared me. So, I decided just to aim the car, a speeding silver bullet of death, right over him so that the armadillo would go underneath, between the tires, and out of harm's way.
I didn't learn until after that decision had been made and "executed" that armadillos, in reaction to fear, stand straight up on all four paws. He made himself taller at the wrong moment. . . tall enough to be hit by my front bumper.
The dull thud woke my husband, and I had to admit that another helpless animal had fallen victim to my driving ability. The tragic news didn't cause him panic, heartache, or sorrow as it did me. He just mumbled something, blinked a little, and went back to sleep. He had a clean conscience. I had to be sad by myself.
Once again, goodbye, Mr. Armadillo. I'm sorry I killed you.