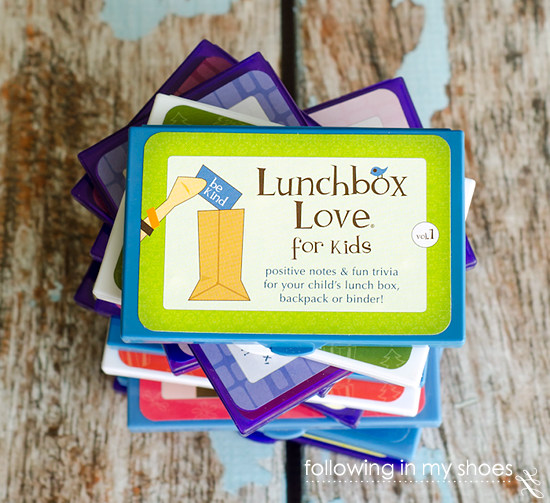 Last school year, even though the Little Lady and Mr. Boy couldn't read a single word other than S-T-O-P (which they liked to remind me each time we came to a certain bright red octagonal street sign), I sent a Lunchbox Love note nearly every. single. day.
Why?
Because I wanted them to remember — regardless of whether or not they were having a good day or a bad day — that Mommy loved them.
Huh?  But they can't ….
Wait — I'll explain.
You see, sometimes … even in Preschool … life is hard.  There are mean girls (yes, it starts young) and days where you don't get picked for Line Leader.  And, on occasion, you are having a bad day even before you set foot in your classroom because your socks aren't Hello Kitty Socks or your shirt is the wrong Superhero shirt or you had to drive in the rain and you know that THIS means there won't be any playground time.
Life is hard, yo, in Preschool.
But, every morning before we leave for school, I show the Kidlets the Note I've picked for each of them.  I read the message … "I Love You," "Be Kind," "You Are Awesome," or "I Have Fun With You."
I tell them why I picked that particular card and I hug them.
Yes, it takes a couple of minutes but it makes them smile and, even though they can't read the card for themselves, when it comes around to lunch-time, they see that note and remember our morning talk and our morning hug.
And they smile again.
[exceptional-citing quoted="featured-bento" template="bubble-gray-round" date="" ]Homemade Toasted Uncrustable with Turkey & Provolone; sliced Bell Pepper and homemade Ranch Dressing (in the green sauce container); Greek Yogurt sweetened with honey; Grapes.  (Stored in an EasyLunchboxes, with an EasyLunchboxes "Mini-Dippers" and a small sauce container; displaying a Lunchbox Love note)[/exceptional-citing]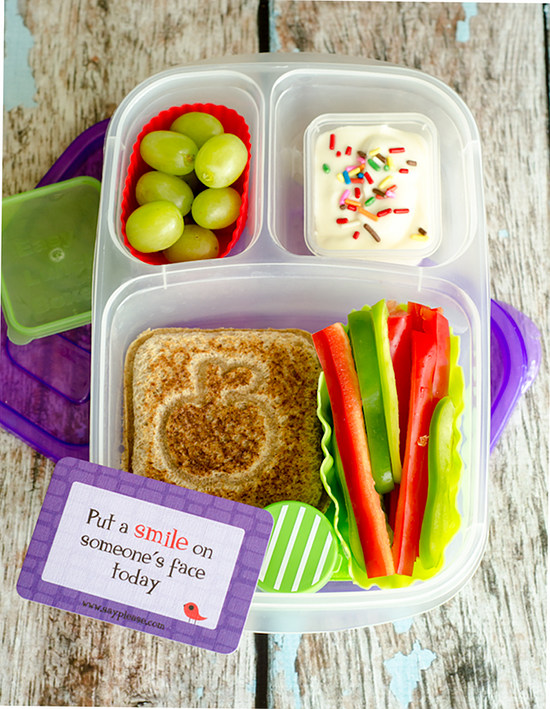 About Lunchbox Love Notes
The premise behind this Mom-Created product is simple: "Positive words can change someone's day, a life, and eventually the world."
Tired of seeing kid gear with messages that were less than wholesome, Judi Willard and Mary Fuller put their brains together and created positive, family-friendly cards that could be put in lunch-boxes, birthday cards or tucked into a gym-bag.
On the back of each note is a fun bit of trivia that is "cool."  At least, according to my daughter.  The trivia was so cool that,every day at lunch, her Preschool teacher would read the trivia aloud to the class.
For instance, did you know …. an Ostrich Egg Weighs 3 to 5 pounds?  Or that Identical Twins do NOT have Identical Fingerprints? Or that DIAMONDS can be made with Peanut Butter???????
See … a positive message and something educational all in one card.
There are also special occasion sets available: Birthdays, Holidays, and you can also order custom cards!
The cards can be found on their website (and, on occasion, a variety of online boutique shops).  I've also seen them recently at Hobby Lobby!  If you follow the Lunchbox Love Facebook page, they frequently offer great promotions for purchase through their site.  My most recent purchase was through one through a 50% off sales.  See? GREAT promotions!
Lunchbox Love GIVEAWAY
The Mamas behind Lunchbox Love have offered one of my readers their newest collection of Lunchbox Love: Volumes 49-56!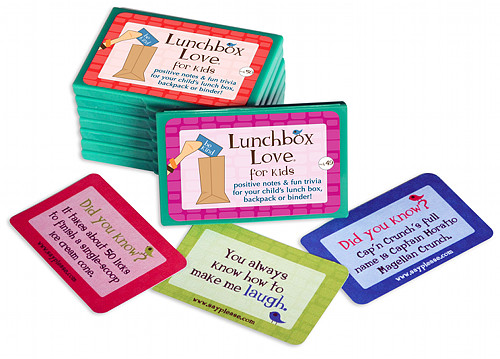 Each volume contains 12 cards–10 with different phrases and fun facts or jokes and 2 blanks so you can add a personal message.
2 volumes of jokes and 6 volumes of fun facts.
Price: $23.92
To Enter:
Like the Lunchbox Love Facebook page.  (simple!)
Bonus Entries
(the following options are completely optional; each option completed will give you one extra entry into this giveaway. You must leave a separate comment for any/all additional entries completed)
Follow Lunchbox Love on Pinterest
Follow Me on Pinterest
This giveaway will end August 29th at 10:00 am, CMT.  Open to residents of the U.S.  The winner will be contacted by email and must confirm his or her win within 48 hours from the time my initial email is sent.