Ok — this post might be proof that I'm going insane.
(or, maybe, a few kind souls will leave comments assuring me that they do the very thing I'm about to discuss and that I am not crazy at ALL!)
This past week, Mr. Boy, the Little Lady and I have all been sick. . . which everyone who follows me on Facebook and Twitter knows because I have whined about it all week.  No, I'm not exaggerating — I W-H-I-N-E-D.
The kidlets whined too, but since they are 3 and 1, their whining was probably a bit more socially acceptable than mine.
(sigh)
In addition to whining, we all spent our down time with various "minimal energy required" activities.
Mr. Boy practiced wiping his nose on my shirts — I did NOT encourage this.
The Little Lady worked on beautifying the prehistoric world– going through each page of her dinosaur coloring book and giving every ancient dinosaur a bright red pedicure and cotton candy pink lips.  They all look so chic now.
Since I didn't have the energy to think about writing a blog post, I started daydreaming about clothes.  Not my clothes . . . but the clothes I'll be purchasing when I have three kidlets.
Here's the deal — there are six times a year where I make SURE the kidlets have matching (or at least coordinating) outfits: Bluebonnet Season, Easter Sunday, Pumpkin Patch Time, Halloween,  Pictures with Santa, and (of course) Christmas Morning.
As I sat around nursing my swollen throat and pounding sinuses, I realized, starting with this year's Pumpkin Patch, my task of finding adorable, fun, photo-worthy outfits will be even more challenging.  It won't just be a matter of finding two outfits . . . now I"ll have to find THREE.
(eeeeeeeeeeeeeeeeeeeeeek!)
I decided to start focusing on the one set of outfits that will be the easiest to choose but hardest to create: Halloween costumes.
But … what does one do as a "theme" when you have three kidlets?  THREE of them . . . different ages, different sizes . . . oy.
Eureka!  It hit me . . .
Did you know March 2nd is Dr. Seuss's Birthday?  Yeah, it is — and as I multi-tasked and browsed for a few Dr. Seuss Activities to do with the kidlets, I realized Dr. Seuss created a trio of crazy characters PERFECT for my little trio.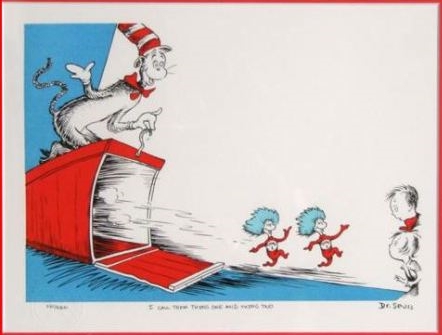 Ahhhh!  It's too PERFECT! The Little Lady and Mr. Boy will be Thing 1 and Thing 2 while Numero Three will be . . . the (teeny-tiny) Cat in the Hat!!!!!!!!!!!!!!
And, how EASY will it be to create these costumes?  Sure, I could just order them, but COME ON!!!!  These are some of the easiest costumes for a DIY'er like myself.  I even found a site with tons of homemade costume inspiration.
I'm so excited I can't hardly STAND it.
Now here is where I need your help . . . am I crazy for planning coordinating Halloween costumes (and this early in the year) or are YOU just like me?
(someone, please, reassure me!)