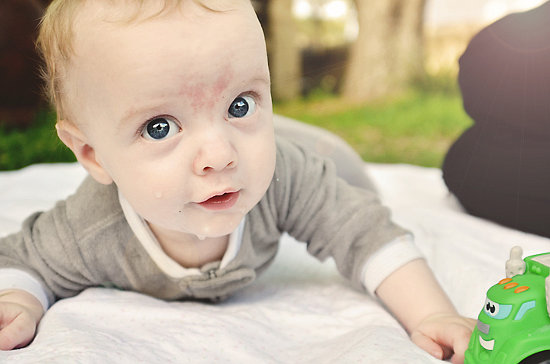 Sunday he turned 7 months.
Seven.
It seems such an old number, especially when coupled with his newly developed skill set.
Creeping.
Eating big people food.
Attacking my cheeks (and nose and mouth and forehead and ears) with open mouth and slobbery kisses.
Months 0-5 are so blurry.  I can barely remember how he stayed curled when I picked him up.  How he snuggled into the crevice of my chest as I held him.  How he chirped and squeaked with his new voice.
Now, he reaches for me, and lays his head on my shoulder, and screams in delight at the sight of his siblings.
He's a big boy.
And I'm a nostalgic mommy … proud of his new developments … laughing when he jumps and quivers in excitement over some random thing he sees … but sad that we are this much closer to the beginning of independence.
This much closer to growing up for real.
I wished away his newborn days, praying for sleep and peace.  And now I find myself full of regret for missed moments of taking in his newborn smell and cuddling (for just a few more seconds) his quiet sleeping tiny body.
It has all passed much sooner than I realized.
But, the next stage is good, right?
Three walking, talking little people in my house. . . nope, still can't get used to the idea.
(linked with Seven Clown Circus and Parenting by Dummies — Wordful/Wordless Wednesday)