When I was a young woman — single and fancy-free — I was a Dr. Pepper gal.  Everyone knew it and embraced the fact.  Later, when I was married and teaching, on stressful days in the classroom, students would bring me a Dr. Pepper . . . just to help me get through another day of introducing Romeo and Juliet to inner-city kids who couldn't get past the fact that Shakespeare wore "tights".
(sigh)
But, when I became a mother, something changed.  Drastically changed.
I went from being a Dr. Pepper addict to a coffee addict.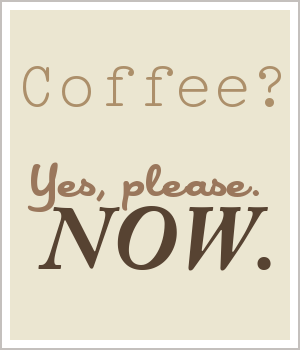 It was cheaper.  More readily available.  And I could have it an infinite amount of ways thanks to flavored creamers, mechanical frothers and other tools of the coffee trade.
Coffee became a part of my parenting philosophy.
Can't get your head to wake up after the two-year-old decides the day should start at 5:30 am?  Seek coffee.
Lost in a fog because the baby is teething and evil and wants to make sure you are awoken from a semi-deep sleep every thirty minutes ALL NIGHT LONG?  Coffee will save you.
Stranded during nap-time and in desperate need of something "adult" to help you find your way out of kiddie-mentality?  Coffee is always there for you.
Coffee is my liquid friend during the days when the majority of the speech leaving my lips bounces back and forth between, "DON'T put THAT on your sister," and "Stop trying to climb the wall."
I would like to pretend that my perfect coffee moments are had first thing in the morning  — mommy-mind clear, focused on my to-do list . . . organized and ready for the day ahead.
Pssst….does that Blueberry Cream Bread look yummy?
Guess what?  I made it with some International Delight Coldstone Creamer.
Yup.  True story.  You should check it out … it's perfect with a cup of coffee!
But, the truth is that coffee is drinkable sanity. An antidote for the crazy moments (and hours, days and years) of parenting little ones.  My perfect coffee moments are not spent at a desk, productively crossing things off of a to-do list.
My perfect coffee moments are those minutes when, amidst pirouettes and puppy dog races, I can breathe in the roasted, calming smell of my favorite friend.

Moments like these . . .
Your Perfect ID Moment Sweepstakes. . .
In honor of International Delight's new Coffee Creamer packaging (which you can check out on Facebook)!, I have an exciting opportunity to share with you all!
Enjoying a coffee at home will be even more special for 4 lucky winners! Enter to win $1000 toward your dream kitchen and an International Delight Coffee break Kit, by completing these two steps:
Re-pin my coffee moment photo on Pinterest (you can use the pin-it button under my "Anytime is Coffee-Time photo)
Come back! In the comment field below, tell me you pinned and share your special coffee moment.
This is a sponsored conversation written by me on behalf of International Delight June Sponsored Conversation. The opinions and text are all mine. International Delight Sweepstakes and Rules.