Have you ever had a dream that just wouldn't leave your head?  Always there . . . gnawing away at your mental to-do list, trying to get you to add it in.  No matter the time that passes, you just can't stop thinking about this idea.
THAT'S what it has been like for the past four years with me . . . and the dream of grilling peaches.
I blame Bobby Flay.  Him with his wiley, stone-fruit grilling ways.  Hmph!  If it hadn't been for watching him light up his grill years ago, I might never have been bitten by the grilled fruit bug.
But, if I hadn't watched him, I would have missed out on the summer's most perfect dessert: Grilled Peaches . . . resting on a soft pillow of homemade ice-cream . . . drizzled with a Honey-Cinnamon Caramel Sauce.
Oh, Bobby Flay!  Thank you, thank you, thank you for the notion of grilling fruit!  I'll say it again: THANK YOU!
It turns out, grilling peaches is easy.  Crazy easy.  Slice, pit, throw 'em on the grill.  That's pretty much it, and within minutes, you have the most delectable, fragrant fruit.  Seriously, the aroma alone is worth what effort it takes.  When the Husband pulled our peaches off the grill and brought them in the house . . . sigh.  I could have buried my entire nose in the center of them and been content the rest of my life.
(But then I realized that would be a bit of a hindrance on so many levels . . . and unsanitary.  So, I refrained.  Albeit, a bit reluctantly)
When I brainstormed this dessert, I knew I wanted a sauce of some kind — something that would hearken to the comforting flavors found in peach cobbler.  Those "soul-food" flavors of sweet cinnamon and vanilla . . . not overpowering in anyway.  Just a subtle enhancement and reminder of summertime, porch swings, and Grandma's house.
The Husband adores caramel, so I make it frequently to accompany desserts and baked goods.  But, my first attempt for this particular caramel, while it had the flavors I wanted but, it came out grainy thanks to my over-zealous adding of the cinnamon.  As I bounced ideas off of the Husband, he suggested cinnamon sticks to flavor and perfume the caramel.  Just two sticks, combined with one teeny teaspoon of ground saigon cinnamon, nailed it.  The perfect blend of cinnamon, honey and caramel.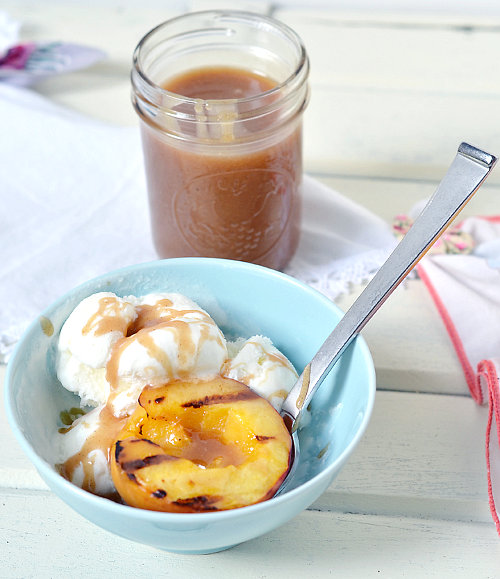 Now we have a new Summer treat.  One that is simple and satisfying.  And, I can now spend the rest of my life free from the nagging dream of grilled peaches.
How To Grill Peaches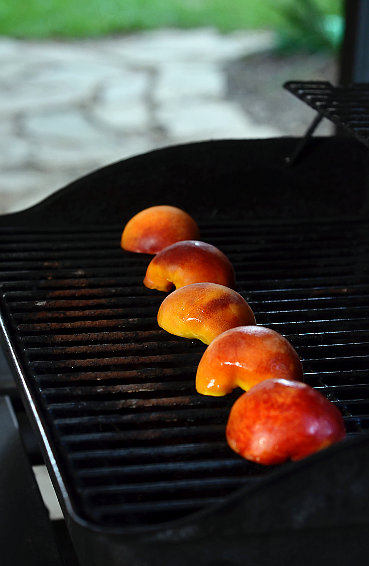 Cut clean, ripe peaches in half and carefully remove the pit.
Brush the flesh of each peach half with canola oil.
Place on your pre-heated and oiled grill (medium heat) and allow to cook (cover open) until you see those beautiful grill marks appear.
Carefully turn the peaches over, allowing the skin side to grill.
Remove when the peaches are tender.
Recipe: Honey-Cinnamon Caramel Sauce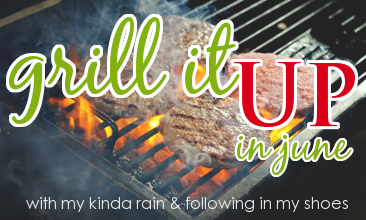 BBQ Chat Time
Like grilling and barbecuing your meals?  I have two ways for you to share and get tips today.  First of all — this Monday, I will be cohosting a Live Chat on the subject of BBQ!  The other cohosts and I will be sharing recipes, tips, ideas and just having fun chatting.  You can join us either here on my blog (there will be a post on Monday with the conversation widget in it)  . . . OR you can join in from the Ebates Savvy Living Community.  Either way, we'll have fun!
Now … on to our regularly scheduled programming.
Link Up!
Every Friday in June, Lori from My Kinda Rain and I will dishing up our new favorite grilled recipes, AND offering a linky so you can add or find other great recipes.
What recipes will you see here?
June 8:

Grilled Corn Pico de Gallo

June 15: Grilled Peaches and Honey-Cinnamon Caramel Sauce
June 22: Grilled Bacon & Blue Burgers
June 29: Grilled Sweet and Sour Chicken Kebabs
Alrighty — link up your favorite grilled recipes…

'); // ]]>