Bread has always, always, always been my weakness.  I know there are supposedly all kinds of things that says about me but it's true.
I puffy heart bread. . . especially homemade bread.
My mom used to make yeast rolls when we were kids and they were the best.  Soft, slightly sweet and if you piled them with butter?  SWOON.
I kind of think Mr. Boy is following in his Mama's shoes when it comes to bread; this little boy loves some "bwead."  Loves. It.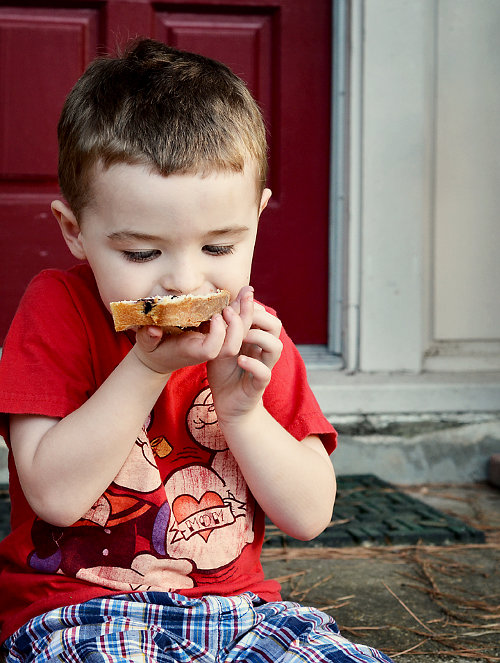 I made my first loaf of bread when I was in college; it was my sophomore year and I had just moved in to my first apartment.  Since I came from a long line of home-cooks, I just assumed I could cook too . . . even though I had not ever made a thing other than homemade chocolate chip cookies and brown sugar bars.
But, yeah, I could cook — I just knew it.  And baking?  Pshaw.  I knew I could do that too.
So, in true, hard-headed, not-thinking-things-through, college-kid fashion, I decided to host a dinner party the second week of school.  I was going to cook steaks and make bread.  And,  in true college-kid fashion . . . that was all I planned to cook.
'Cause, what else do you need?
I still remember kneading the dough and shaping the loaves . . . as well as the first bite.  PERFECTION.  Oh, yeah — I did it.
Wanna know why?  Yeast breads are easy.
I've had people tell me that yeast scares them … or that it seems like it would be too hard.  Using yeast is just about one of the easiest things ever.  Dump it in some warm water and let it get it on.  That's all you gotta do.
Promise.
So, when you see bread recipes like this Blueberries and Cream Bread, don't dismiss it because you see the word yeast in it.  Try it.  Thank me later.
This recipe is one I adapted from a Cinnamon Bread recipe that is in the very first cookbook I ever owned:  The Adair United Methodist Women's Cookbook.  Yep, a church cookbook — a collaboration of recipes from all the women who helped raise me, raise my dad and some even were around when my Grandpa needed raising.
I adore church cookbooks.  They are simple.  Homey.   Full of memories.  Each recipe has a name I know printed beside it . . faces I remember smiling at me (or frowning when I happened to be a bit too rowdy during Vacation Bible School).
The original Cinnamon Bread recipe was submitted by the pastor's wife, Sherrian.  And, incidentally, the mother of my first boyfriend.  I was 7.
And now that I have a 5 year old daughter . . . I completely understand why my mother made us "break" up within 24 hours.
(Sigh)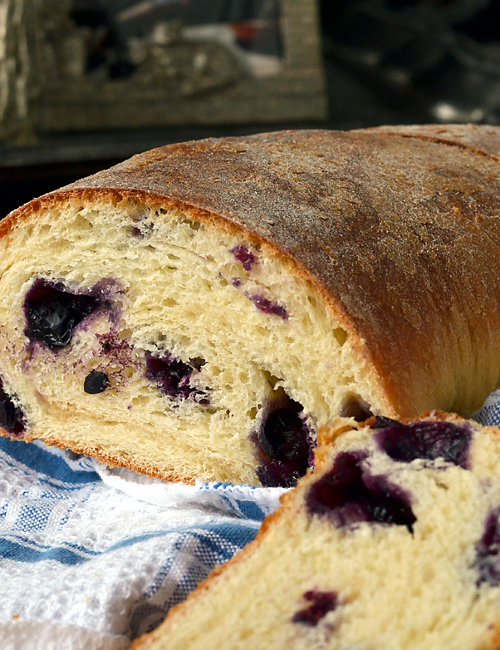 Whether you're recovering from a broken heart, need great breakfast bread, or want a coffee break treat, this bread is it.  Soft and chewy interior … perfect crust … slightly sweet… fresh blueberries that pop in the oven, releasing all of their blueberry goodness.
'Nuff said.
And, if you want to skip a bunch of steps, throw everything in the bread machine and let it do the work for you.  I used the dough cycle for mine and then pulled out the dough and shaped it.  Easy Peasy.
Oh, and, yes … there is a secret ingredient!