When I was anticipating the birth (and our adoption) of the Little Lady, I stumbled into an online world of Moms … all expecting babies due the same month as our little girl.  While I couldn't relate to their complaints of morning sickness, glucose testing or swollen ankles, it was fun to have other women who were also contemplating which car seat to purchase, what bedding to choose, and (for the formula feeders) what bottles to get.
Today, I'm still friends with many of those women both on our private forum and Facebook.  We've celebrated first steps, shared potty-training tips, cheered for new little brothers and little sisters, virtually patted each other's backs on the first day of Kindergarten, and grieved with one another during the dark days of miscarriage and infant loss.   For nearly 7 years we've been together … a diverse group of Mommies from all over the world … supporting and loving and enjoying the ride on this Motherhood roller coaster.
I absolutely LOVE my J07Ms (June 07 Moms … we're so prosaic) and am so glad that we found each other and have stuck together for all the Mom Moments in the past seven years.  Moms.com is another (NEW!) place for Mommies to gather online — for chit-chat, tips and help, or just commiseration as we deal with the ups and downs of being a Mom.
Like my lovely discovery for the day: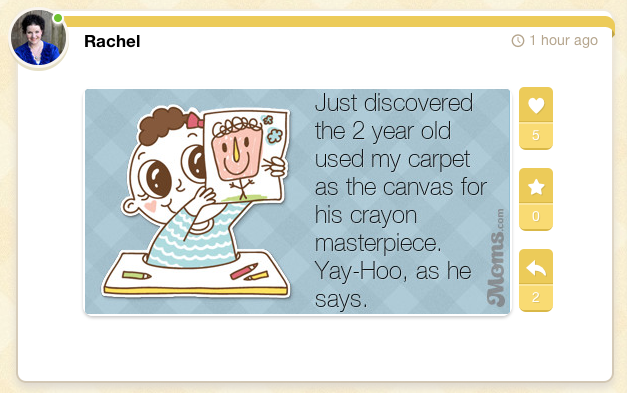 On Moms.com, the focus is just on motherhood — with OUT the labels.  You aren't a new mom or a breastfeeding mom or a formula mom.  You're just a Mom … like everyone else!
It's easy to join (there is an option to link with Facebook or join via email), and once your account has been created, you can upload your profile pic and add other information (like your kids names, if you wish …. although, the site seems to frown upon the names Barney Kneeknuckles, "Mr. Boy, and The Little Lady.  It wouldn't save my info with my children's online pseudonyms listed.  So, if you see me around there, you'll notice it looks like I don't have kiddos … but I do!)
Things to do on Moms.com:
Join and maybe WIN!
Swing by and take a peak — it looks like a fun place to gather with the other sleep-deprived women who, sometimes, just need to be around other MOMS!
Plus, once you have entered, you can come back here and enter to win a $250 Visa Giftcard!!!!
This is a sponsored conversation written by me on behalf of Moms.com. The opinions and text are all mine.