I haven't decided if I am driving around with a bunch of Mad Scientists in the back of my Mom-Van … or a herd of Barn Animals.  Either way, this past weekend I discovered just how gross life gets in the back seat.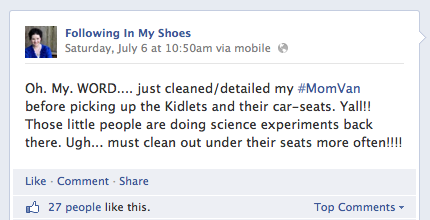 At least I'm not alone.  After I posted that status update on my Facebook page, SO MANY of you chimed in, agreeing and reassuring me your kids were the same.  Robin, from Mom Foodie, shared that she found a petrified pear around her daughter's seat.  You have no idea, Robin, just how that made me feel.  WE ARE NORMAL!!!!!
But, I can't lay all the blame on the Kidlets.  Enter "Mom's Evidence #1":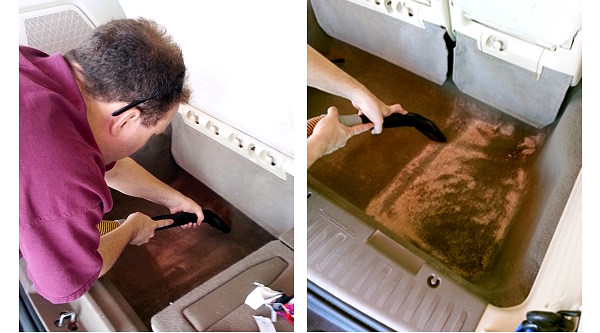 Yeah — the back of my poor van was used to haul about 1000 pounds of SAND a few weeks ago and under all that weight, as we drove the few miles from Lowe's to our house, my Mom Van became the Saggin' Wagon.  Oy.  Not embarrassing at all.
But, despite the sand and science experiments, our back-seat is always full of unpredictable fun.  Uncontrollable giggles as the Kidlets share non-sensical Knock-Knock Jokes … loud, only slightly off-key renditions of their favorite Veggie Tales tunes … very competitive matches of "I Spy" and "Banana Boat" … and mini-dance marathons where the Kidlets (fully expressive moments restricted by car seat restraints) bob their wee heads bob, flail their arms, and kick their legs in time to the beat.
(poor things — they get their dancing skills from their Mama)
It's just a wild good time.  I think the following video best describes what life in the backseat is like in this family.  Yup, sums it up perfectly.

(Mr. Boy is obsessed with this video … I've had to stop and play it for him 7 times and counting. Just while writing this post. Sigh….)
If your backseat could tell its story, what would it say?
The all-new Subaru ForesterⓇ, who sponsored this post, is built from the backseat forward, to hold your most precious cargo. Even the stinky, loud, joke-telling cargo!
[exceptional-citing quoted="the-facts" template="bubble-gray" date="" ]Subaru ForesterⓇ has always embodied the right-sized power, control and versatility that owners love. Now, it also represents a green-minded, fuel-efficient small SUV, as every 2014 Subaru Forester 2.5i model is a Partial Zero Emissions Vehicle* and built in a zero-landfill plant. Combine that with more cargo room, available power rear gate and 32 MPG highway,** and you've got a vehicle that can take every day to task. Of course, the redesigned Forester comes with road-gripping Symmetrical All-Wheel Drive and the balance and power of the legendary SUBARU BOXER® engine.
* PZEV emissions warranty applies only in certain states. See your dealer for complete information on emission and New Car Limited Warranties.
** EPA-estimated fuel economy. Actual mileage may vary.[/exceptional-citing]
This is a sponsored conversation written by me on behalf of Subaru. The opinions and text are all mine.