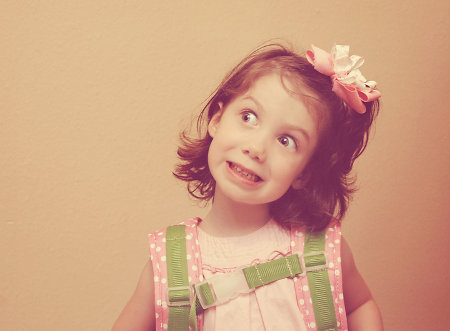 One more week till my Little Lady starts her first year of Preschool.
(sniff)
I know she's ready — she loves being around people, loves learning, loves singing … her new preschool will be the perfect, engaging learning environment for her.
But . . . but.  This is definitely a bittersweet moment (for me, anyway).  Not, of course, for the Little Lady.  Oh, no!  She is BEYOND excited and ready.
She has picked out her back-pack (pink, naturally).
Her new water bottle (pink, naturally) is washed and ready to go.
The new Bento Box (pink, naturally) is waiting for her first preschool lunch.
I believe somewhere in her new, very pink bedroom, she has her new pink dress and pink hair-bow lined up . . . the perfect First Day of School Outfit for pink-lovin' girl.
(would you be surprised to learn her favorite book is Pinkalicious?)
And, thanks to Mabel's Labels, her school supplies all now sport a (very) pink and princess-y label with the Little Lady's name on it.
Yes, this girl is ready for preschool.
Mabel's Labels
We received one of the Ultimate Back-to-School Combo packs for the Little Lady to use. . . perfect timing since her preschool requires that EVERYTHING have her name on it.  Back-pack, shoes, food storage containers — even extra clothing (a requirement in case of any accidents) must have her name.
The Ultimate Back-to-School Combo is called "ultimate" for a reason: in this set are a variety of washable (both clothing machine washer and dishwasher safe) labels and tags. . . enough to label E.V.E.R.Y.T.H.I.N.G.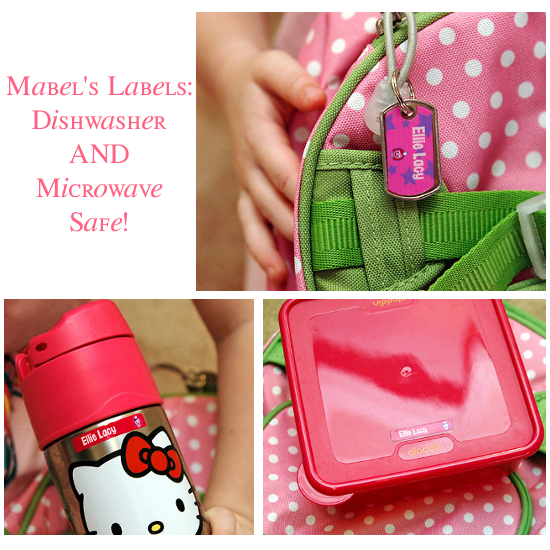 There are even SHOE LABELS!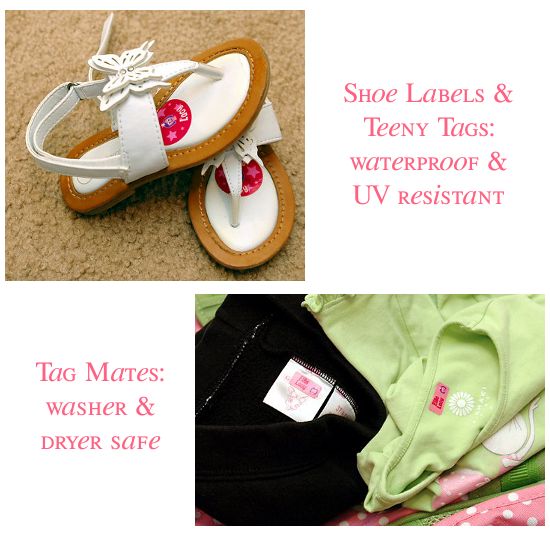 The Ultimate Back-to-School Combo comes with a total of 108 labels/tags:
50 Tag Mates™
40 Skinny-Minis™
16 Shoe Labels
2 Teeny Tags™ (one of which I used on the Little Lady's back-pack)
Available in six different color schemes and customizable with 33 different decorative elements, you can tailor the labels to your student's personality.
And, I know from my OWN set of labels, that these tags and labels hold up WELL.  My cameras, laptop, shoes, and keyring all sport a Mabel's Label tag or label . . . and have for over a year.  Not one has failed me!
UPDATE — 8/31/11:
We are now ending our 2nd week of Preschool (it's going BEAUTIFULLY, by the way) and the labels look brand new!  The Little Lady's lunch container/water bottle are washed (in the dishwasher) nightly and the labels show absolutely no wear.
Also, her tennis shoes (alas, her school has a "no open-toe shoe" policy) are labeled and none of the sticker face has worn away from her little heels.
Just thought everyone might like to know the labels ARE durable!
Purchase the Ultimate Back-to-School Combo
This particular label set (which sells for $42) is only available from Mabel's Labels through September 30th.  But, there are other options if you miss out on this combo.  You can purchase different combination sets or order single tags (such as just the clothing labels).
Mabel's Labels also offers party, stationary and household labeling products!
With Mabel's Labels, we're all set for the new school year
Now . . . if I can just get the Little Lady ready for school pictures.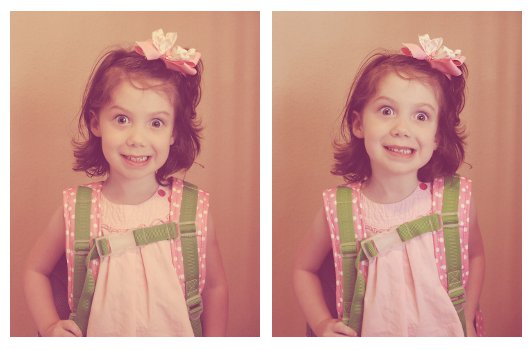 We're trying.  BELIEVE ME . . . we are trying.
(sigh)
Disclosure:  I received the Ultimate Back-to-School Combo pack to review.  All opinions expressed in this post are mine.  No other compensation was received.