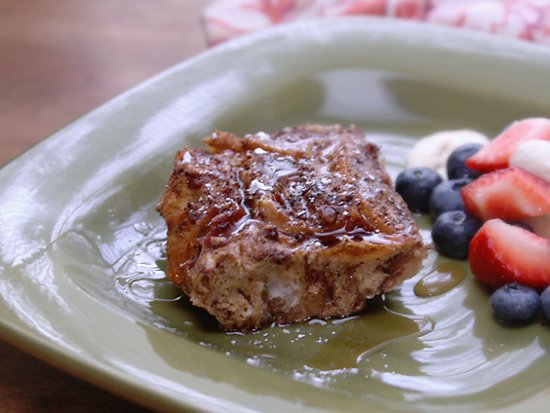 "Brinner."
That's what Hubby calls it when we have Breakfast Foods for dinner.
The kidlets just call it "Best. Meal. Ever." and I tend to agree . . . regardless of what breakfast food I serve.
There's just something about sitting as a family over eggs or bacon or waffles.  Maybe it's because we aren't able to sit together for morning breakfast; with Hubby's work schedule, it's just not feasible for us all to eat as a family in the early sunlight hours of the day.
But — dinnertime? THAT'S our family meal, and every single family member (even our toddler, Mr. Boy) loves having "Brinner" with the entire family.
This recipe creates a (nearly) one-dish breakfast that is easy to prepare and even easier to gobble up.  Baked French Toast with Bacon IN it.  Yes, the bacon gets added directly to this yummy concoction.
Why?
EVERYTHING is better with bacon in it.
When I eat waffles, pancakes, or french toast, I always combine a bit of the sweet maple covered bread with a bite of crispy bacon.  Since I'm the chef around here . . . a pregnant, hormonal one, at that . . . I get to pick how we eat our meals.
(fortunately for the people who have to eat what I prepare, THIS meal is good.)
[print_this]
[/print_this]
Like This Recipe? Vote for me!!!
The Back to School Meal Maker Challenge (sponsored by H-E-B- and Con Agra) is a 4 week competition between 8 Texas Bloggers; each week, we will feature a secret ingredient in a family-friendly dinner recipe. Each recipe has less than 10 ingredients, takes 45 minutes (or less) to prepare and will feed a family of four.

(or, in my case, a family of three and ONE preggo . . . which is really like a family of SIX given how much I can put away!)

At the end of the month-long competition, you will have a total of 32 different recipes to help you prepare quick and delicious dinners this school year!
To send a vote my way in the Facebook Meal Maker Challenge Competition, click the Meal Maker Challenge button below; yep,I am competing against 7 other Texas Bloggers for the opportunity to compete in a "cook-off," hosted by Celebrity Chef, George Duran. I would love a vote from you!

(Click the image to vote; you will have to "like" the H-E-B Facebook page to vote)
This Week's Meal Maker Challenge Deal
This week, my favorite Texas based grocery store, H-E-B, has a special on Egg Beaters:
August 17-30: Buy Egg Beater (15-16 oz.), get H-E-B Muesli (13.5 oz.) free with in-store coupon
Disclosure: For my participation in this challenge, H-E-B and Con Agra have provided me with products, promotional items and compensation. Any and all opinions expressed are my own, as is the recipe using this week's featured ingredient (Egg Beaters).