Confession Time: I. Love. Hot Dogs.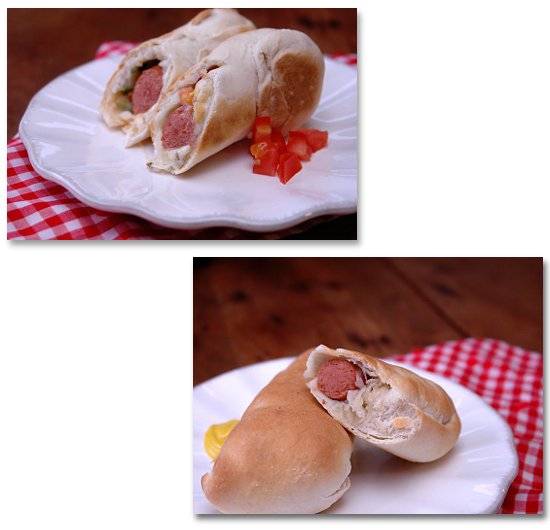 Yeah — that quintessential American kid food is one of my best friends.  I ADORE 'em.  And I love, love, LOVE that some of my favorite restaurants offer unique hot dogs (like Chicago Dogs, New York Dogs, and the Baja Dogs) . . . especially since those hot dogs have been one of my pregnancy cravings lately.
B-U-T, for our one-income family, grabbing a bunch of expensive hot dog combo meals from our local eateries just can't have a regular place in the budget.  Making these hot dogs, however, can be a budget friendly AND a fun way to get your kids involved in creating the perfect family-friendly meal.
The Evolution of Baked Hot Dogs
Now, the day I decided to try making these hot dogs, I was craving pizza dough.
(In case you didn't know, pregnancy cravings are unpredictable.)
Like any good preggo does — I combined the foods I wanted and introduced pizza dough to the New York and Southwest hot dogs, baking the dough around my favorite hot dog flavor combinations.
The result?  Just a lip-smacking, FANTASTIC, marriage of a hearty, crusty crusty exterior and a perfectly flavorful, juicy interior of meat and aromatics.
(And . . . in the case of the Southwest dog . . . cheese.  We can't forget the cheese.)
Or, as the Little Lady said in her simple language, "MOMMY!  These are SO yummy."
These recipes (or even your own variations – there are so many ways you could take these hot dogs) are so easy to prepare, it's a piece of cake to get the kidlets in the kitchen to help.   Like making "personal pizzas," I have a feeling these baked hot dogs will be a new family meal tradition.
The Recipes
[print_this]
[/print_this]
[print_this]
[/print_this]
Linked with Eat At Home Ingredient Spotlight: Hot Dogs & Sausages
Disclosure: This recipe was an original creation I made as part of the H-E-B and Con Agra Meal Maker Challenge of 2011.  I was provided with products, promotional items and compensation.  Any and all opinions expressed are my own.