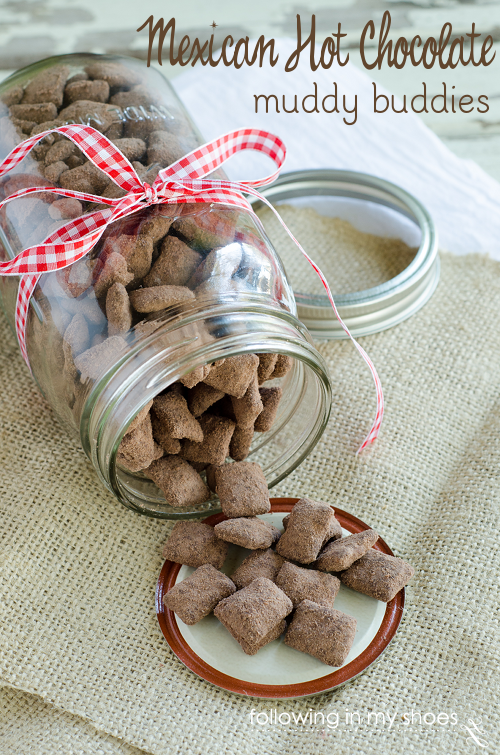 Oh, happy day!  No, happy Month… happy SEASON!!!!
It's the Holiday Season.  Thanksgiving, followed by Christmas, and then New Year's Eve.
And, yes, there's a birthday in there at some point.
Ahem…. I like Starbucks and Le Creuset. 
This is the start of my absolute favorite time of the year.  I'm ready to break out the decorations, make the Husband string Christmas lights, and start making all of my favorite holiday treats and dishes.
Yeah, I have a feeling that I'm going to be cheating my diet here and there the next few months … consuming all kinds of pure deliciousness.
One family favorite has circulated for years during this time of the year: Muddy Buddies® snack mix.  AKA the most fantastic Chex® Party Mix EVAH!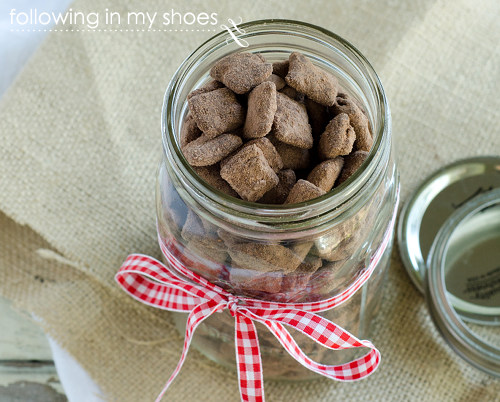 I'm not sure why Muddy Buddies are so addictive but they are.  Is it the combination of sweet and crunchy Chex® Cereal?  The fact that EVERYONE in the family (your family too … you know it!) will happily accept them, without fuss or pickyness, or is it the ease of nearly every single Chex® Party Mix recipe?  I mean we're talking 15 minutes here, people. 15 minutes!  That's all it takes (if even that long).
15 minutes and you have a holiday classic … a staple for snacking while watching Thanksgiving Day rivalry games, or Miracle on 34th Street, or waiting for the ball to drop on New Year's.
But in this case, it's a classic holiday Chex® Party Mix recipe with a spicy twist: Mexican Hot Chocolate Muddy Buddies.
I don't think it's any secret that I adore chocolate and cinnamon together — one prime piece of evidence being last year's Mexican Hot Chocolate Cake Mix Cookies.  I add cinnamon and my favorite Cocoa-Chile spice blend to my coffee, my hot chocolate, cookies, brownies … and now, the trio of spices is finding their way into my Muddy Buddies
Rich milk chocolate, crispy Rice Chex® Cereal, spicy perfection.
It's the snack that, as my Husband put it, "just has the perfect balance of chocolate and heat … just enough to make you keep wanting more."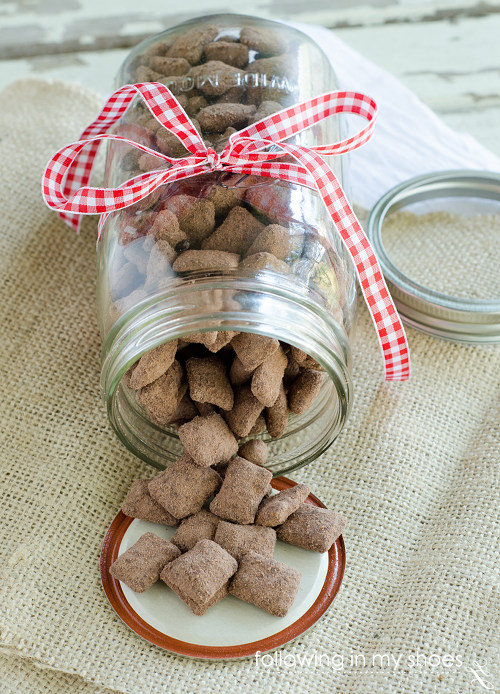 Yeah.  You're gonna want another handful after each bite.  My advice?  Make this for a crowd because you do NOT want to be the only in the house when this easy snack is around.  Otherwise, don't blame me if your little black Christmas dress suddenly feels a wee bit snug!

Mexican Hot Chocolate Muddy Buddies® Mix
Rich chocolate cake mix, the spicy notes of Mexican Hot Chocolate, and both milk chocolate AND creamy white chocolate provide the magic in this twist on the classic Muddy Buddies recipe.
Ingredients
9 cups Rice Chex® Cereal, divided into two 4.5 cup portions
¾ cup Milk Chocolate Chips
4 oz White Chocolate Bar, chopped
1 box of Chocolate Cake Mix (for a gluten free palate, use a gluten free chocolate cake or brownie mix)
1 TB Cocoa-Chile Powder
2 TB Ground Cinnamon
Instructions
Measure out the Rice Chex® Cereal and put half (one 4.5 cup portion) into a large mixing bowl. Set aside.
Into a ziplock bag, pour the dry cake mix and the 1 tablespoon of Cocoa-Chile Powder and the 2 tablespoons of Ground Cinnamon. Seal well and then give the bag a few shakes to incorporate the cake mix and spices. Set aside.
Pour the milk chocolate chips into a microwaveable bowl. Adjust your microwave to 50% power and begin melting the chocolate, stopping every 15 seconds to stir the chocolate.
When smooth, remove the bowl and pour the melted milk chocolate into the first 4.5 portion of Chex® Cereal. Using a spatula, gently fold the chocolate into the cereal until the cereal is fully coated.
Add the milk chocolate coated cereal into the ziplock bag with the spices and cake mix. Seal and set aside.
Add the remaining 4.5 cups of Rice Chex® Cereal into the mixing bowl and then repeat the melting process for the chopped white chocolate.
When smooth, pour the melted white chocolate into the bowl with the Rice Chex® Cereal, folding with a spatula until the cereal is well coated.
Pour the white chocolate coated cereal into the bag with the other cereal and cake mix.
Make sure the bag is COMPLETELY sealed and then shake the bag vigorously several times until the cereal is coated with the dry cake mix and spices.
Pour out onto parchment paper to set, discarding remaining powder. Eat immediately or store mix in an airtight container.
Notes
The Rice Chex® Cereal is gluten free -- as are 6 other varieties. If you opt out of using the Rice variety but still want gluten-free, make sure to check your labels!!
Chex® Cereal and Chex® Party Mix for EASY Holiday Treats
Have you tried your hand at making any of the TONS of easy Chex® party mix recipes that are out there?  With now 8 different flavors in the Chex® Cereal family, including 7 gluten-free varieties (make sure to check the labels to ensure you have definitely grabbed one of the gluten-free ones!), there are so many yummy options for simple and fast 15-minute snacks … both sweet and savory varieties!
You can get recipes and ideas from the Chex® Cereal Facebook Page or their Pinterest page … yeah, they have MULTIPLE boards for Chex® Party Mix recipes!

This post brought to you by Chex® cereal. I have been compensated and given free product for my time & commitment, but all opinions are 100% mine