I wasn't planning on posting anything for my Semi-Wordless Wednesday meme.
Mama's got other things to do!
(I'm helping with a "Father/Daughter Tea Party" at my church this weekend … gearing up to make about 13 DOZEN cookies, teacakes, and marshmallow pops by Sunday.  Oy ve.)
But, as I sat at my computer Tuesday night … I kept hearing strange noises.
Clicking sounds.  Things shuffling along the carpet.  Weirdness scrapping against the walls.
The hair on the back of my neck started to stand at attention, poised under the knowledge that something … was watching me.
I nearly called out to the Husband.
But I swallowed my fear and turned around to face ….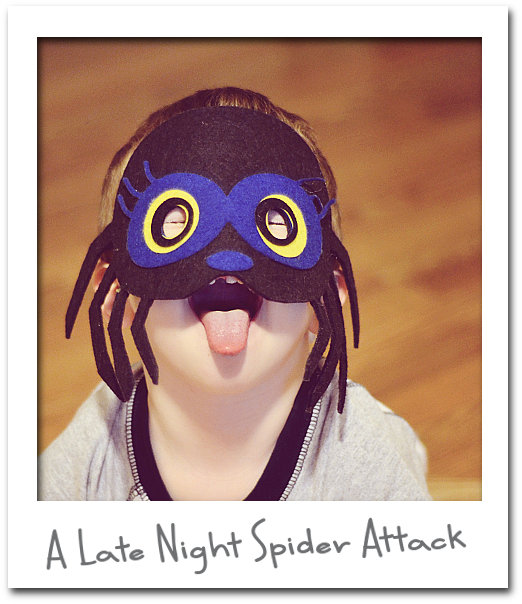 A Mr. Boy Spider.
He had sneaked out of his bed … made his way to my office … and was chomping his spider-teeth … waiting for me to notice him.
He was not happy to learn that even Spiders have to mind their Mommies and GO TO BED!
 (obviously, Mr. Boy is doing much better after being sick all weekend.  much, much better.)