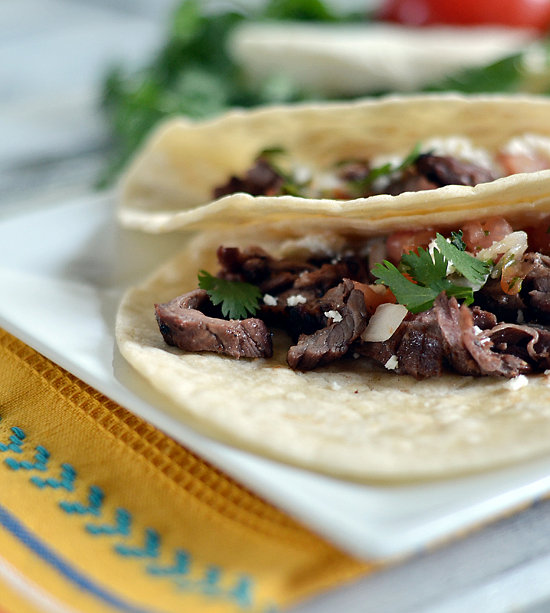 Growing up on a farm that raised cattle, we ate a lot of beef.  A lot.  Chicken and fish were rare because those had to be "store bought."  But not beef — it was our main staple, used in casseroles, hamburgers, soups, and tacos.
But these Grilled Steak Tacos, aka "Carne Asada Tacos",  are not my mother's tacos.
(Sorry, Mama D)
On  nearly every street corner in Houston, you find these little Taco Trucks — mobile restaurants that drive from site to site, looking to feed people hungry for authentic Mexican and Tex-Mex comfort foods.
My husband looooooooves getting "street tacos" from these trucks.  Adores it.  Would eat them every. single. day. if he could.
Confession time: I'm too scared to eat food from a food truck.
I know, I know — it's supposed to be some of the best food in the world, but I just cannot do it.
Instead, I had the Husband describe the flavors to me, every single note that he could taste in his beloved street tacos. . . and then, I recreated them at home.
His verdict? I did it.
These Carne Asada Tacos (carne asada pretty much translates to grilled meat) are nothing short of amazing.  By marinading the skirt steak in a base of citrus, garlic and black pepper, they become tender, perfectly bright with lime, perfectly spiced with fresh cracked pepper.  Grilling the meat adds that charcoal/smoke flavor that you can only get over an open flame.
Topped with simple onions, cilantro, fresh tomatoes and queso fresco (a Mexican cheese, similar in texture to feta), these tacos satisfy every Tex-Mex craving.
And you don't have to worry about on-coming traffic or health code violations…. or, at least this worry-wort Mama doesn't have to.
Good eats.  'Nuff said.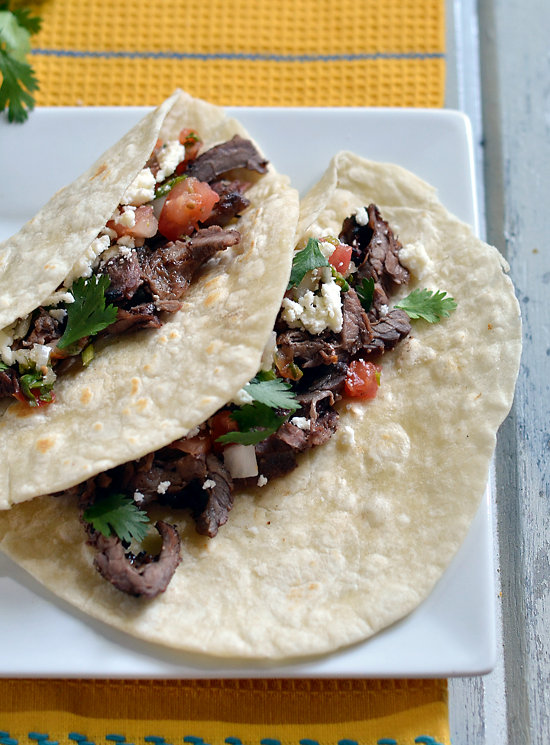 Carne Asada Tacos
[print_this]
[/print_this]
Link Up Your Tex-Mex Recipes
Have a mouth-watering recipe your family just LOVES? Link it up for our Tex-Mex Tuesday Recipe Series. Each week until "Cinco de Mayo", Lori (from My Kinda Rain) and I are featuring our favorite Tex-Mex recipes. Lots of yumminess going on around here!

'); // ]]>