A long, long, long time ago, a young, naive woman decided it was time to learn the ancient art of transforming simple threads into masterpieces of knitwear. Humbly, the young woman went before a revered, older member of the village — a grandmother who seemed to know everything about everything — to learn how to knit.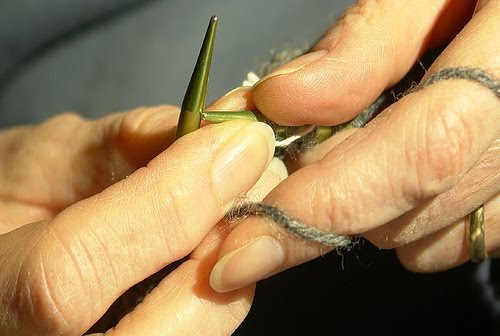 (photo courtesy of flickr — not to brag, but my hands are a little prettier than this!)
Patiently, this older woman helped the young woman pick out a pair of knitting needles, a skein of white yarn, and sat with her — for hours in front of a very hot fireplace — as the young woman fumbled about, trying to gain control of the stiff, metal needles and wily yarn. Eventually, something more than just knitting needles seemed to click with the young lady, and — like thousands of women before her — she finally understood and began to gracefully knit a few simple little soft, white rows.
Proud of her new accomplishment, and with the blessings of her knitting sensei, the young woman bought new yarn. Gorgeous yarn. Silky yarn. Golden honey yarn.
She was going to be a knitter.
* * * * * * * * * * * *
And, that was the end of my knitting journey. Well, not quite — I did try to take it up again a couple of years later. . . an attempt that did
NOT
go well (
as, of course, documented here: Teaching Myself To Knit
). After making the equivalent of a pot-holder (
with a tail
), my beautiful yarn has stayed in a whitewashed little basket — by my couch — as a "decorative item." A way to "look" as though I'm a creative knitting guru . . mistress of fiber arts — a woman who sits contentedly in her chair, with quiet music playing in the background, and makes soft sweaters, mittens, hats, and baby booties.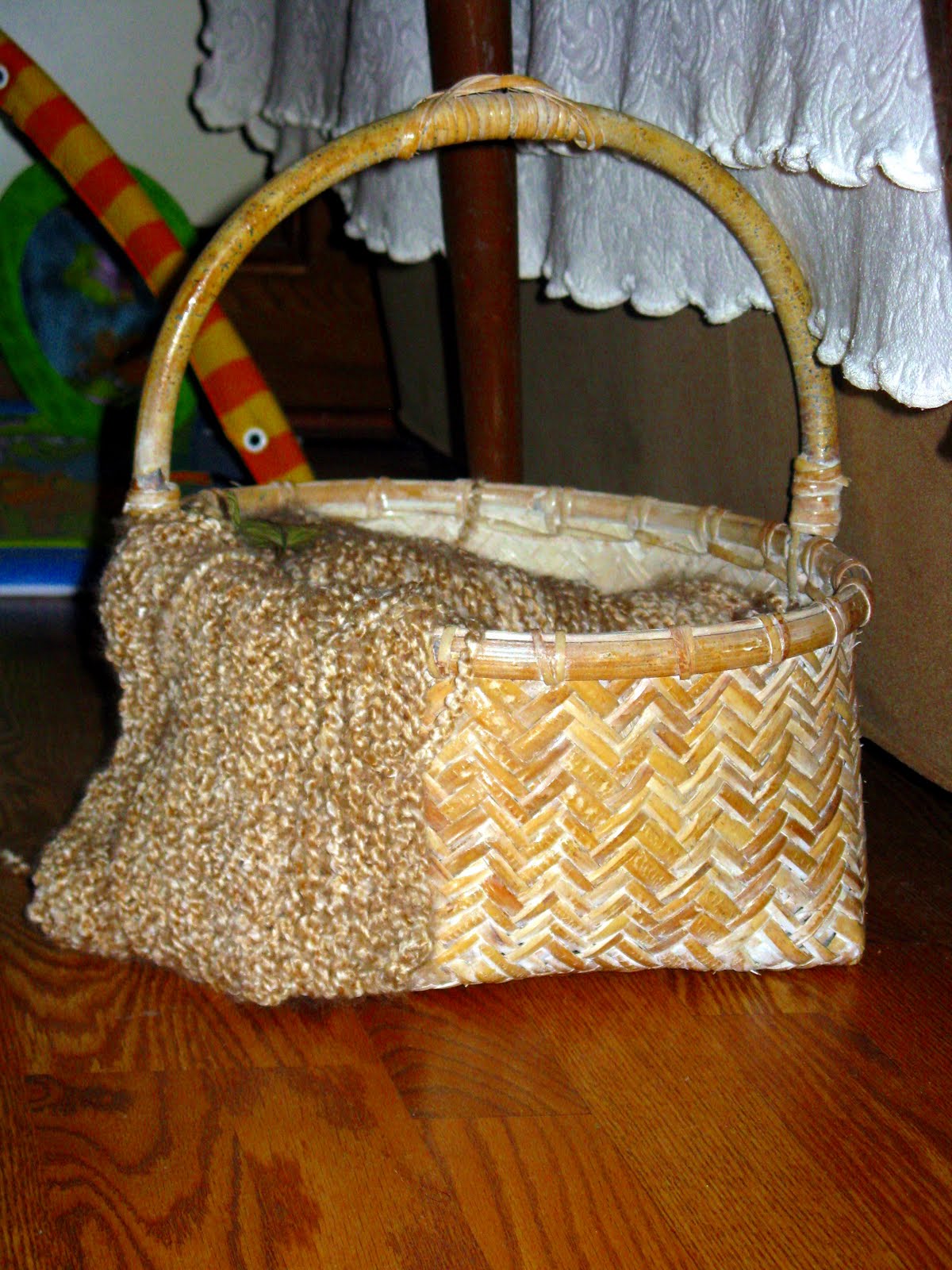 Yeah — I pretend to be that woman.
What am I really? A knitter wanna be. A "Poser", if you will. A woman with six, very dusty, skeins of beige yarn.
Why am I bringing all of this up? Why admit this oh-so-painful truth? ? ?
Because I've decided to reenter the ring. Ladies and gentlemen,
I AM GOING TO KNIT
.
Ok, ok — go ahead. Roll your eyes, sigh, and then chuckle at my foolishness. Who REALLY believes I'm actually going to finish what was started 8 years ago?
(does anyone else hear the sound of crickets?)
Well, you scoffers and mockers — I am going to do it this time. I will accomplish the task of making something . . something . . . something. Ummmm. Yeah — I have NO idea what I'll make first.
Maybe a sweater for the Little Lady. She doesn't have one of those new-fangled things.
Maybe some leg warmers for Mr. Boy. Don't laugh! They're actually making a comeback — just check out the baby aisle in your local Target.
Maybe a cap for Hubby. He's very much into hats these days — preferably ones with a Perry Ellis label, but whatever. I bet I can knit one of those too.
Or, maybe, I'll just knit a "needle cozy;" a little something to keep my knitting needles warm . . .just in case I get a little side-tracked for a few more years. At least, then, my needles won't be dusty the next time I pick them up. As for my dusty yarn? Yeah, I'll have to figure something else out for that!