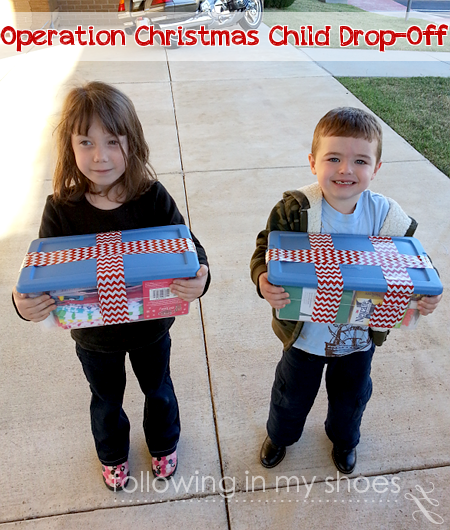 Despite feeling less than chipper, my wane Kidlets joined me yesterday as we took our two Operation Christmas Child boxes to our local drop-off point.
The Parkway Baptist Church is handling the drop-off of small, stuffed boxes all week during the official "National Collection Week" for Operation Christmas Child.  With a goal of obtaining 1000 boxes from our community, they are nearly there with 966 boxes.
(Not all the boxes could fit in the frame of this photo … and I couldn't get both kids smiling at the same time.  'Bout normal around here!)
At least, nine hundred and sixty-six children will be blessed by the people of my new town, my new community.  Seeing those boxes, piled carefully one on top of the other, made me cry . . . especially after I watched a "in-house" video the church had made.  A local girl, a "Full Circle" teen, told her story of being in a Russian orphanage — sharing a toothbrush with 20 other girls and wearing used underwear in her colorless orphan life — and getting her first "shoebox."  In it, she discovered her first gifts of any kind . . . and was thrilled by a toothbrush and toothpaste.  No longer would she have to share.  For once, she has something of her own.
How simple.  How trivial in our suburban and western world.  A toothbrush?  My daughter — who has been learning about dental habits in school — was shocked to hear this girl loved her toothbrush.  How many times a year do I buy toothbrushes for my children? Over and over and over as I try to get them excited about caring for their teeth.
But to this girl — who had experienced a life of abuse and hate in her young years — that toothbrush was the most amazing item.  It was hers.  And proof that someone — miles and miles away — cared for her.
Operation Christmas Child is more than just giving a kid a gift.  It's about giving a child hope.  Warmth.  It's a chance to let a child know there are bright moments and there is love.  And that someone cares for them.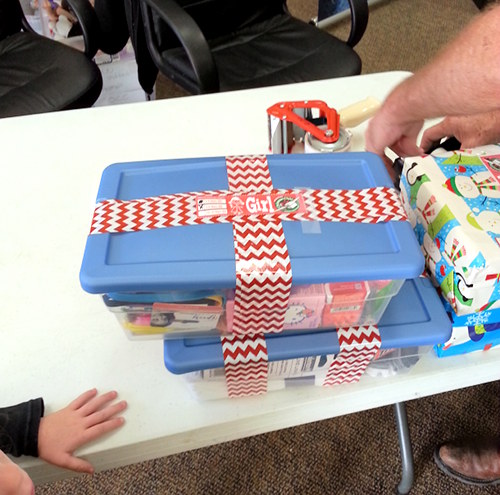 It's Not Too Late To Get Your Box Packed!
Nationally, next Monday (11/19) is the final day to drop off your Operation Christmas Child box to a location in your area.  You can do this!
How To Get Involved with Operation Christmas Child
(1)  Get a shoebox (either one of your own that can be wrapped in paper or a sturdy plastic shoebox).
My Tip: We opted for a plastic box so that the child could reuse it.
(2) Choose the gender and age of your recipient  (age options are 2-4, 5-9, or 10-14)
My Tip: If you have children in the home, match their age and gender when choosing.  They will feel more of a kinship with someone their age and get excited choosing items they themselves would like getting.
(3) Fill the box!
My Tip: this doesn't have to be expensive!  Dollar Stores, Target's Dollar Spot and other such options provide many toys and practical items that kids enjoy.  I also tried to do a mix of "fun" and practical (school supplies, items that could be used in the learning of skill, etc.).
What Went In Our Box?

Socks (two different sizes)
Toothbrush and Toothpaste (Target has packs that include stickers for the kids to apply to the toothbrush — my kids LOVED and wanted these!)
Ponchos and Waterbottles
Pens and Notepads
Small Toys
Shoelaces
A Full-Sized Sewing Kit (in our girl box)
Character Bandaids
Gum
Character Watches
Stickers
A handwritten note from us
4) Mail or Find a Drop-Off Location in Your Area
If there isn't a local drop-off for you, you can ship your box to the following address:
Samaritan's Purse
Operation Christmas Child
801 Bamboo Road
Boone, NC 28607
It's easy. Fun. And can easily be a personal or family project to experience the "giving side" of generosity.  And . . . it may just be the gift that changes someone's life.
This is a sponsored conversation written by me on behalf of Operation Christmas Child. The opinions and text are all mine.