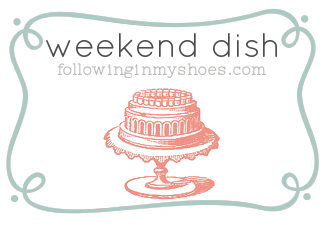 THINGS I LOVED THIS WEEK ON PINTEREST:
Since I can't have any sugar for another two weeks (remind me again why I decided to detox from sugar??), I've been salivating over a ton of different fall treats on Pinterest.
1.  These Pumpkin Cheesecake Trifles look divine!  My mom makes something similar every Christmas and I could eat a TUB of it right now.  Yes, I'm that sad.
2.  Since I'm toying with the idea of adopting the Paleo lifestyle once this sugar detox is over, I've been pinning a bunch of Paleo dishes and these Paleo Blueberry Scones look gooooood.  I've never done any Paleo baking but this looks fairly foolproof!
3.  I have decided that if I can make it all 21 days with this sugar detox, I'm going to celebrate with the sugariest thing I can find … these Homemade Snicker Bars.  Yes, yes, yes, yes, and YES!!!!
4.  If you follow me on Pinterest, you might have noticed that I went insane pinning Handprint Art.  Yup — insane.  That's what happens when you teach preschool and need little art projects that are both easy and that parents will LOVE.
Favorite Blog Reads
1. If you haven't heard of Malala Yousafzai, I'm going to remedy that now. She is the Pakistani teenager whom the Taliban attempted to murder because of her very vocal views on education for girls. Miraculously, she survived being shot in the head and has since gone on to continue her platform, write a book, and was just nominated for a Nobel Peace Prize (the youngest girl ever). Her courage and conviction are inspiring — you can hear from her directly in this interview with Jon Stewart. She is absolutely adorable.
2. My friend Trisha shared this post earlier in the week — about a DOCTOR'S NOTE being REQUIRED in order to send a lunch to school. Ummmm…. I'm sure you all can imagine what I thought about this. I still can't believe that there are school districts requiring students to pay for lunches that may or may not be healthy AND completely over-riding a parent's right to care for their child. Ugh, ugh, ugh, UGH!

Stuff I Shared On Facebook
Alrighty … I'll be honest, the majority of my Facebook shares this week were about the fact that I want chocolate and cake and bread and oatmeal and everything bad for me. (Yes, I acknowledge that I sound like a broken record).
BUT, my big conversation over on Facebook centered around Barney Kneeknuckles and his speech delay. It's been a pretty emotional time for this Mama as I try to deal with a child who WANTS to talk but physically can't express his wants and feelings. I'm more than a little overwhelmed trying to figure out private therapists, insurance and home therapies. If you have ideas, I'd love to hear them.
From The Blog
1. This week's meal plan (which covers breakfasts, lunches, dinners AND snacks) had options for both the family and for this sugar-free Mama. So far, everything on the plan has been a hit!! (yup, even my detox recipes)
2. For my weekly *iheartLunch* series, I featured some of the fall bento ideas I've used for the Kidlets' lunches. Most of my lunches this school year have centered around leftovers ('cause Mama doesn't have time for much else) but you can still make leftovers look adorable with a few decorative touches!
From Our Life
Because we have nothing else going on in our lives, we signed the Little Lady up for Girl Scouts. The Husband comes from a scouting family and the Little Lady is crazy excited to join the tradition as a Daisy Scout. She's ready for camping and cookies.
Tomorrow, we head out to meet our new troop and, since we'll be running errands afterward, I made my girl a special Daisy Bento to celebrate her Girl Scout adventure.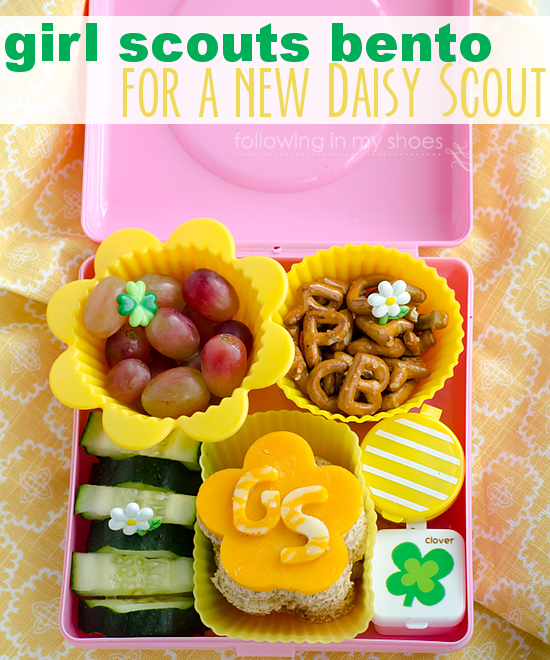 Have a great weekend, folks!!!!!