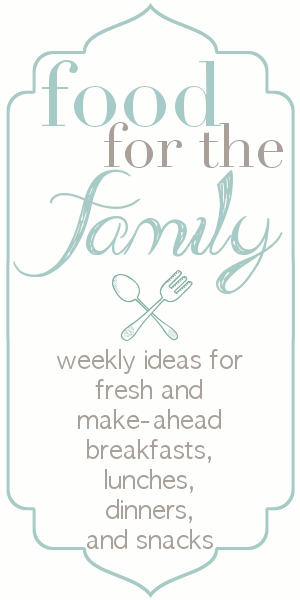 Did I mention I went all crazy and decided to do the 21-Day Sugar Detox? In October? Right when all the fall sugary goodness and treats start to make their appearance?
Yeah.  No sugar.
 
Not even fruit.  
And … no grains.  
AT. ALL.
Sometimes I question my sanity.
Technically, I tried to start last week … but … yeah.  Other than not having sugar in my coffee (!!!!!!), I failed miserably.
It's all my husband's fault; he went out of town for a trip and left me alone with three hyper, needy, demanding, "won't sleep during the night", "throw dirt all over the porch" children.
[exceptional-citing quoted="rachel" template="bubble-gray" date="" ]From My Weekend (yes, this REALLY happened): [/exceptional-citing]
Mr. Boy (coming in from the back porch): "Hey, Mom. Wanna play a game?"

Me: "What kind of game?"

Mr. Boy, gesturing vaguely: "Oh, you know. We're all just playing in our rooms."

Me: "No, you aren't. You all are outside."

Mr. Boy (flushing): "Oh. Yeah. Well … yeah, we're outside but…um… I thought we could go play a game together. In my room. That way I can distract you so you won't know what we're doing out there."

Me: DISTRACT me?!?!?!?!?!?!?!?! Um, what are you guys DOING out there that the Little Lady sent you in to distract me?

Mr. Boy (using his body as a barricade in front of the back door): "Nothing, Mom. Don't go out there. Let's go play a game and be distracted."

Me (looking out the door window): "WHY IS THERE DIRT ALL OVER THE BACK PORCH?????"

Mr. Boy: "Uhhhhh …. Happy Birthday?????"
You put me in a situation like that and I need chocolate. . . among other things.
But, it's a new week and I've planned much better this week for my meals, creating (the first week of) a 21 Day Sugar Detox Meal Plan  … AND, my lunches are nearly all ready to go.
21 Days without SUGAR?????  Bring it!
What We're Eating This Week
Breakfast
Lunch
Dinner
Snacks
Monday

Kids

: DIY Apple Cinnamon Almond Oatmeal

Mama: Yogurt w/ Cinnamon & Vanilla

Kids

: Pizza Bentos with Oranges

Mama: Tex-Mex Tuna Lettuce Wraps

Rotisserie Crockpot Chicken; Roasted Butternut Squash; Salad
Air-Popped Popcorn and Trail-Mix
Tuesday

Kids

: Puffins & Fruit

Kids

:Thermos Lunch – Macaroni Cheese Soup; Sidecar: Grapes & Apples

Mama: Roast-beef & Bell Pepper Wraps, w/ mustard sauce; Roasted Butternut Squash & blanched broccoli

Pesto Spaghetti and Homemade Meatballs* (minus breadcrumb binder), Salad, Roasted Green Beans
Veggies and Salsa
Wednesday

Kids

: DIY Apple Cinnamon Almond Oatmeal

Everyone

: Meatball Skewers with Cheese & Grape Tomatoes; Crackers (kids only); Pesto Dipping Sauce; Sliced Carrots or Cucumber w/ Yogurt-Ranch Dip
Dinner at Church
Fruit and String Cheese
Thursday

Kids

: Smoothies

Mama: Coco-Monkey Smoothie (21-DSD Recipe)

Kids

: Lunchbox Burn-Out (lunches provided by the preschool as a fundraiser)

Mama: Hamburger Patty w/ Lettuce; Cheese; Veggie Sticks

Roast Chicken Soup; Salad
Popcorn and Trail-Mix
Friday

Kids

: DIY Apple Cinnamon Almond Oatmeal

Mama: Yogurt w/ Cinnamon & Vanilla

Kids

: PB&J Uncrustable Sandwich*, Apple Slices; Pepper Strips & Cool Ranch Dip; Roasted Pistachios

Mama: Hard-Boiled Egg; Green Apple & Almond Butter Sandwich; Peppers; Yogurt Ranch Dip

Homemade Pizza Night; Salad
Veggies & Salsa
Saturday

Family

: Pumpkin-Pistachio Muffins*

Mama:
Crustless Quiche Muffins

Leftovers
Leftovers
Sunday

Family

: Pumpkin-Pistachio Muffins*

Mama: Coco-Monkey Smoothie (21-DSD Recipe)

Family

: Sandwiches

Mama: Lettuce Wraps

Paleo Pad Thai
*Make-Ahead Prep Items — I take time on the weekend, after grocery shopping, to wash and cut any veggies/fruit for the week, prep any proteins (such as the meatballs, which I make and freeze), and bake any muffins or breads.
Looking for other meal ideas or weekly meal plans? Check out my weekly menu-planning series for inspiration.