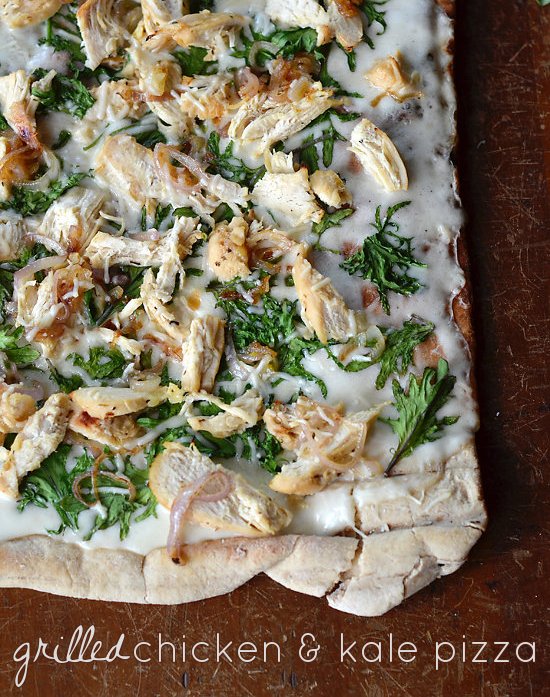 My friend Lori asked me to join her for another recipe series — only this time, we're firing up the grill.
Well, the Husband is firing up the grill.  This mommy-chef doesn't do fire.  Not. At. All.
Thankfully, the Husband doesn't mind and, in fact, likes our arrangement: I prepare everything… he plays with the fire and cooks it.  Then, he gets the first bite.
Win-win for both of us.
Another win-win is this Grilled White Pizza with Chicken and Kale.  We both adore grilled pizza.  There's just something about what the flames do to a pizza crust — it's a beautiful, smokey, toasty thing.
(cue my stomach growling from just thinking about it!)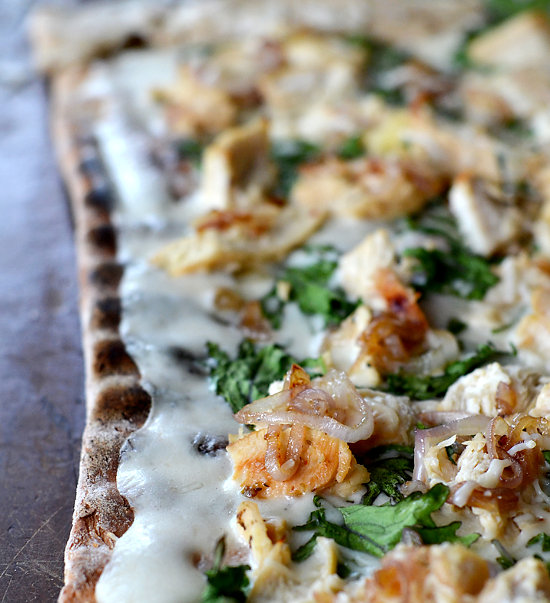 With this pizza, I can't decide which component was my favorite . . . which ingredient made this pizza the one that caused both the Husband and I to moan after the first bite.
Yeah . . . it is seriously that good.
I know the caramelized shallots (my newest ingredient obsession) are a must.  The tender baby kale is a must.  The seasoned chicken is a must.  It all cozies up with the alfredo sauce and makes a happy relationship in my mouth.
Sigh … I wish there was still some of this hanging out in my fridge.  But, no — we ate it all.  Inhaled it, really.  I can't even remember if we gave some to the Kidlets.  Surely we did — they would have pitched a fit if they didn't get food.
All I remember is the perfection of this smokey, creamy pizza.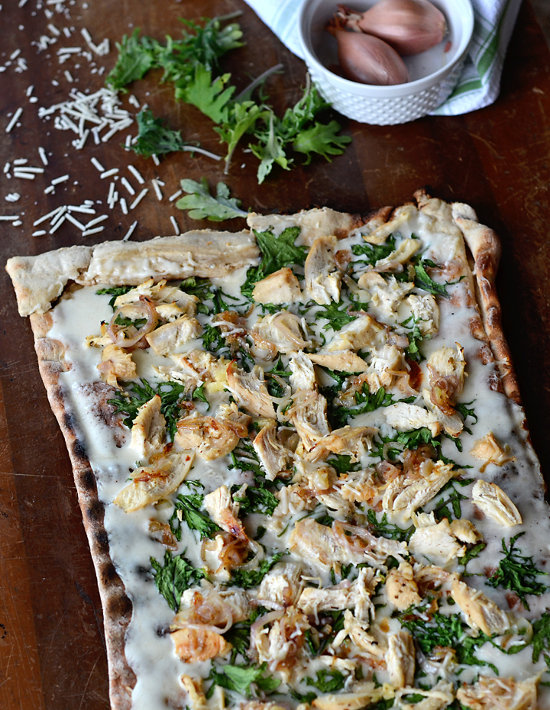 [print_this]
Grilled White Pizza with Chicken and Kale
Ingredients
Pizza Crust:

1 tablespoon active dry yeast
1 cup very warm water
1 tablespoon Italian Blend Herbs
1 teaspoon sugar
1 teaspoon kosher salt
2 tablespoons vegetable oil
2 1/2 cups flour (half stone-ground whole wheat and half bread flour)
Pizza Toppings
1 cup of Alfredo sauce*
2 cups cooked & shredded chicken breast**
2 cups baby kale
2 shallots
1-2 cloves of garlic, minced
3/4 cup of mozzarella cheese
1/3 cup of asiago cheese
Directions
For the Crust:
In a mixing bowl, dissolve the yeast and sugar in the warm water.  Let it sit about 5 minutes and then add the remaining ingredients, mixing well with a heavy duty wooden spoon.
The next step is to knead it; you can either knead it on a floured counter surface OR do it the lazy way: just knead it directly in the mixing bowl.  I usually do this because it is just simpler for me since I'm already mixing it there.
Roll it out on a floured surface.  Since you are grilling this crust, be sure to check the size and shape of your grill before you make the crust to fit your normal oven pan.
Place the crust on a baking sheet and set aside until you are ready to grill.
For the toppings:
In a small saute pan, caramelize the shallots and minced garlic in about a tablespoon of olive oil.  Once they have gotten that lovely caramel color, remove from the pan and drain on a paper towel.
For Grilling:
Place the pizza crust on your heated grill (hot enough that you can only hold your hand to it for a few seconds) and close the lid.  Allow it to cook, undisturbed, for 2-3 minutes.
Check on the crust, which should have a nice color to the side directly on the grill.  Remove it and flip it, placing the cooked side up.
Add your toppings, in the following order, to the cooked side: alfredo sauce, mozzarella cheese, baby kale, shredded/cooked chicken, shallots and garlic, asiago cheese.
Return the pizza to the grill, placing the uncooked side directly on the grill grate.  Cover and cook 2-3 minutes until the crust has an even color and your cheeses have melted.
Using a grill spatula, remove the pizza onto a baking sheet/pan.
Serve immediately.
 Notes:
*Since I only needed 1 cup, I used a prepared alfredo sauce from my grocery store.
**For the chicken, I used seasoned chicken I had cooked the day before.  You could easily use rotisserie chicken.  My chicken was simple: 5-6 chicken breasts, marinated in Lawry's Mediterranean Herb and White Wine Marinade for 30 minutes.  Dump the chicken and marinade into a large frying pan and cook over medium heat until they are cooked through.  Let rest and then either serve immediately or shred for future meals (storing in the freezer (1-2 cup portions) using freezer safe bags).
[/print_this]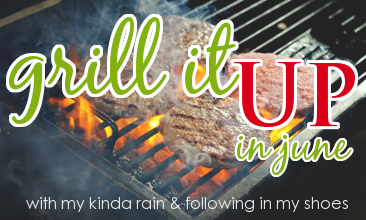 Every Friday in June, Lori from My Kinda Rain and I will dishing up our new favorite grilled recipes, AND offering a linky so you can add or find other great recipes.
What recipes will you see here?
June 8: Grilled Corn and Black Bean Pico de Gallo
June 15: Grilled Peaches and Homemade Ice-Cream with a Spiced Caramel Sauce
June 22: Grilled Bacon & Blue Burgers
And … honestly, I can't decide on the last recipe.  I'm torn between three different ideas — so we will let that one be a surprise!
Alrighty — link up your favorite grilled recipes…

'); // ]]>