So, I hinted a few times before Christmas that I had come up with the BEST gift for my husband.  And, I wasn't exaggerating.  It was, absolutely, the most perfect present for Hubby.
I gave that boy a year of pre-planned dates.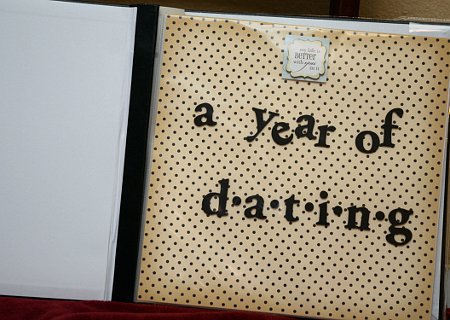 It's a simple scrapbook but inside there is one 12×12 page for each month.  And as Hubby thumbed through those pages, he found the potential for romance, intimacy, laughter, and — most importantly — time together.
Using ideas I found for date nights on various blogs, as well as ones I planned myself, we now have twelve fun dates planned for 2012.  None are incredibly costly — in fact, several are completely free!
(which made Hubby even happier)
Regardless of cost, the point of this gift was to carve out time for Hubby and I to be together.  Not time worrying about the kids or projects around the house, but time that hearkens back to those days before marriage … when you nervously anticipated holding each others hands for the first time.
When you were courting each other.
Twelve fun and, sometimes, silly dates for 2012 — I think it's going to be a very good year.
2012: A Year Of Dating
January: Ring in the New Year
February: An Anniversary Date
March: A Cowboy Date
 April: A "Love In the Park" Date
May: A Kindergarten Date

June: A "Walk On The Wild Side" Date
July: A "Red, White, Blue and YOU" Date
August: A "Bookworm" Date
September: A "You Bowl Me Over" Date
October: A "Popcorn For Two" Date
November:  A "Daddy Does Dinner" Date
December: A "You-Tube at the Spa" Date
So … Hubby's reaction?  He teared up a little.
Yes, he did.  He is excited that after years of putting our kids first and our relationship second, I am finally realizing that OUR partnership is the most important thing in our family … for us and our children.  That's why I made this gift … because it is way past time we cherished our relationship and one another … and gave ourselves a few hours each month to do nothing but laugh and love.
(p.s. In case you were wondering why 12 x 12 scrapbook pages?  The goal is to take pictures on each date and then place them there… at the end of the year we'll have visual reminders of all the fun we had!)
Update: If you want an easy way to put together your own Date Night Project, the Dating Divas, one of the resources I used, is now offering the "Ultimate Date Night Ebook" chock-full of date night ideas and plans!!!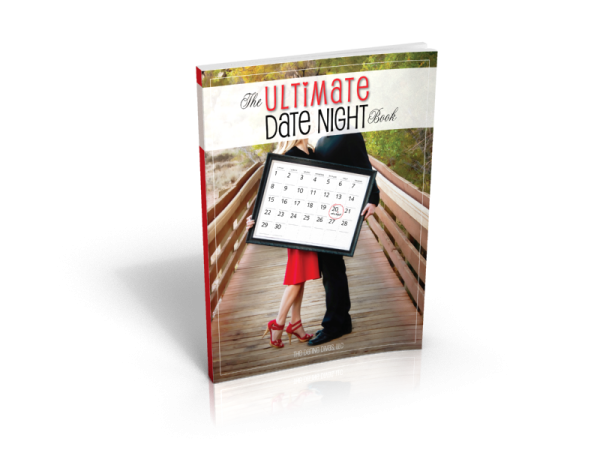 *Disclosure: this post contains affiliate links