I had other plans for today's post: today was supposed to be all about the Little Lady's Hello Kitty Birthday Party.
(The one I am freaking out over because I only have two months to get it all together and parties stress me out and my gosh what I am I going to do!!!!!!)
But, then … yesterday happened.  Sunday.
Sunday should be a relaxing day of rest for folks, but, for our family, yesterday was all about cooking a meal for our Life Group from church.  Sixteen adults with varying palates and food preferences and aversions.  All waiting to be fed by me.
It's more than a little daunting.
I started making spaghetti sauce in the wee hours of the morn, throwing tomatoes and basil and garlic into my crock-pot well before church.  But, I wasn't worried about the sauce … I was nervous about dessert.
You see, I had decided to try something new … an idea that had sprung up months and months ago while eating at the Cheesecake Factory.  I wanted to create something previously unknown in my dessert repertoire:
Raspberry Cream Cheese Brownies.
In my mouth, there are few flavor combinations so perfect as raspberry and chocolate.  When done well (and, no, I'm not talking about those nasty, waxy raspberry-chocolate creams you find in Valentine chocolate boxes), the rich chocolate and tart raspberry tango, unparallelled by any other taste.
(well, salted caramel and chocolate might come close … but that's another post)
As I creamed cream cheese and eggs and sugar, I wondered about pulling it off.  I'm a worry-wort, always scared that *this* will be the time a meal or dessert completely and utterly flops.
These brownies, I am more than happy to report, did not fail.  They were a success.
Huzzah!!!!
Wanna know the best part?  I cheated on these brownies.  While I am a Mayes County (Oklahoma) Fair Blue Ribbon Winner for homemade brownies (thankyouverymuch), I did not have the time to do scratch brownies yesterday.  Yeah — totally used a boxed mix for the brownies.
Easy peasy … and the perfect, "fool your guests", gourmet dessert.
Yum.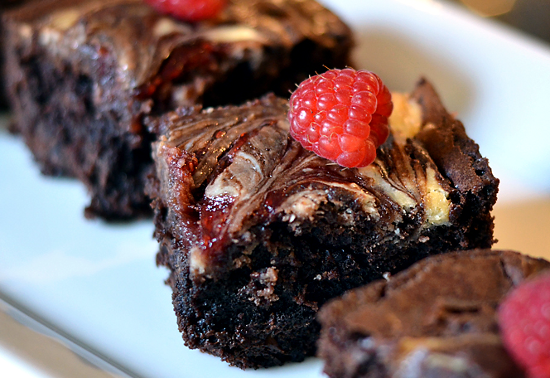 [print_this]
[/print_this]