Warning.  Self-indulgent nostalgia ahead.
As a kid, I loved Halloween but it wasn't something necessarily "celebrated" in our home.  (Probably something to do with the fact we were a Pastor's family and all.) There weren't any decorations or scary movie-athons, but we still had a few hours of trick-or-treating.
I *loved* the once-a-year chance to dress up and parade our costumes to the 5 or 6 elderly family members and country neighbors in exchange for home-made popcorn balls and wax candy lips.
(Anyone else remember those things? I loved them.)
My mom made our costumes each every year — yeah, handmade costumes for four girls!  I can remember transforming into Nefertiri (from the Ten Commandments, thankyouverymuch), a Rag Doll, Scarlet Ohara, and (of course) the Biblical Rachel.
Mom spent countless hours at her sewing machine, transforming yards and yards of fabric and tulle and thread into the best costumes a nerdy, book-loving girl could envision.  All for an hour or two of trick-or-treating, hundreds of smiles and thousands of girlish laughs.  And lots and lots of memories.
It's funny now, as a mom of three (and only three, forever and ever amen), I find myself excitedly planning and doing things JUST to watch my kids' faces light up.  I make silly lunches every morning to hear their giggles when I let them have a sneak peek.  We dance and pretend we have Tinkerbell wings and fly around the house, sprinkling invisible pixy-dust over Max the Dog and Baby Barney Kneeknuckles and the beta fish.  Who cares if the UPS man might show up and get a glance of a 34 year old woman galloping and flapping her arms like a not-so-graceful fairy?
My kids eat it up, eyes sparkling and laughter incontrollable.
These are the moments that make up for the times when they shame me in public or try to pull one over on me.
Motherhood can be fun, if we let it.
Last weekend was a fun weekend in Motherhood and a fun weekend for the Kidlets.  We started a new tradition: It's The Great Pumpkin Movie Night.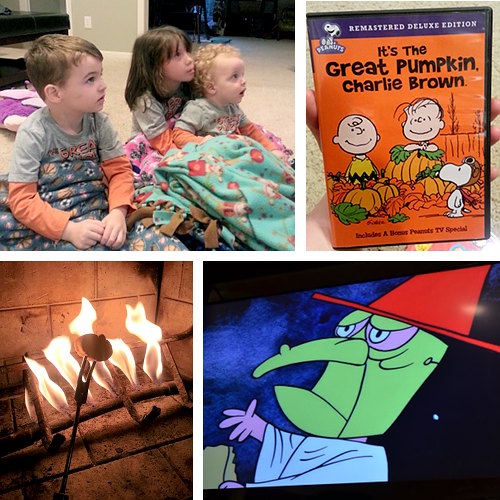 It started with matching "Great Pumpkin" shirts I found at Target.  I look for any opportunity to make my children wear identical clothing (I have no shame) and the thought of having adorable Kidlets with matching Snoopy and Charlie Brown shirts was too tempting.
Then, I stumbled upon a dvd copy of "It's The Great Pumpkin, Charlie Brown," and I was struck with inspiration for a new "October"  family night.  A new tradition.
A Great Pumpkin Event, if you will.
We spent time picking out little pumpkins to use as decorations around the house.  We raided Wal-Mart (Yes, three Kidlets and I … alone in Wal-Mart .. at 5:25 with the rest of College Station, TX.  I don't recommend it.) for pumpkin plates and cups, cilantro and orange bell peppers, and the makings of pumpkin s'mores.
Our little family was going to have a party.
The Kidlets made and gobbled up Jack o' Lantern Pizzas . . .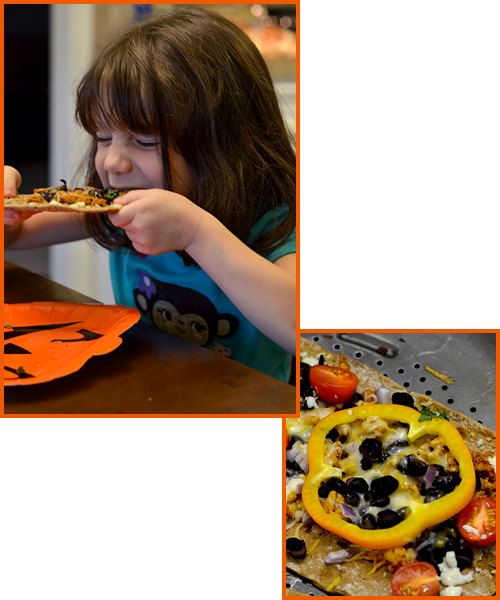 and Mommy made grown up versions for the parents.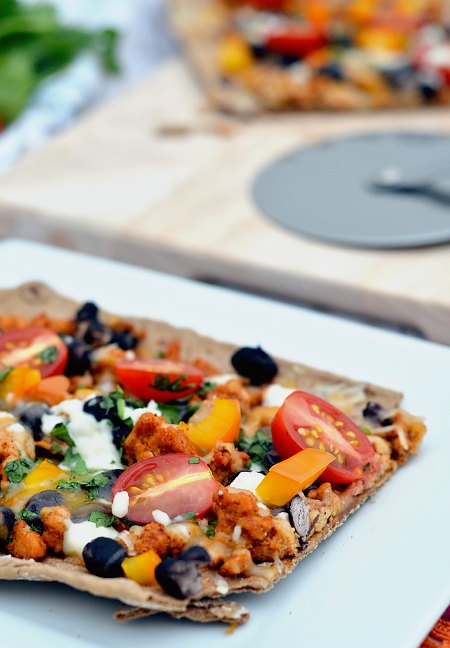 A New Taco Pizza
The flavors in this Chicken and Black Bean Taco Pizza are simple and addictive.  The crispy Flatout Thin Crust Flatbread presents the flavors of my favorite taco in a new way — whole wheat flatbread crunching with each bite.  Fresh tomatoes and bell pepper, cilantro and Mexican cheeses dance a tango as they bring a punch of flavor to the simple black beans.
And the chicken?  Perfectly seasoned with my Homemade Taco Seasoning.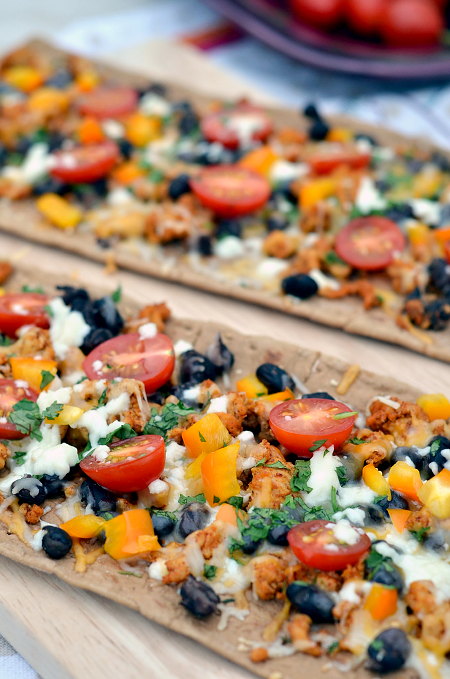 Using the Flatout Thin Crust Flatbreads was fun and they easily shave minutes off dinner prep; once topped with your pizza ingredients, the crusts only need six minutes in the oven before dinner is ready.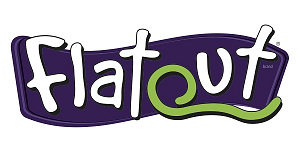 Six minutes.  I can handle that while Kidlets run through my busy kitchen, playing Spiderman vs. Spidergirl vs. Spiderbaby.
(Oh, yes — true story)
With this recipe, you can prepare everything fresh for your pizza night or you can save some time by prepping the chicken ahead of time and freezing it.  Either way, the meal is ready in well under 30 minutes.
Thirty minutes for homemade pizza and then thirty minutes for our movie.
A brief hour of Kidlet fun  … and Mommy fun.
[print_this]
[/print_this]
disclosure: I wrote this post on behalf of The Motherhood and Flatout Thin Crust Flatbreads. All opinions expressed are my own.