My husband teased me this past Sunday;  the Kidlets were all shivering and chattering as we walked to church and I was nearly skipping with childish delight.  The temperature was about 54 degrees and I was in my happy place.
Sweaters, scarves, boots, hot chocolate, pumpkins, apples and cranberries.  Everything that is good and right in the world comes with Fall.  It's my favorite time of year, aside from the the month of December,  but that's only because my birthday AND Christmas come around in that month.  Otherwise, it's fall all the way.
(Side note: wanna hear something kinda cool?  This year, my birthdate will be 12-12-12.  Yeah, I think that is awesome and wish I could think of a fun way to commemorate this "once in a lifetime" occurrence but … um … I'm lame.)
With a autumnal spring in my step, I've FINALLY started decorating for fall and bringing out some of my favorite fall recipes for our menu plan.  Finally … Fall has REALLY made its way to Texas.
If you're in the mood for cozy comfort food — whether for breakfast, lunch or dinner (or dessert … go ahead, I won't tell) — here are a few of my favorite recipes I've shared over the past few years.  Some use seasonal ingredients and some are just good ol' comfort food type recipes.  Either way … they are all just good eats.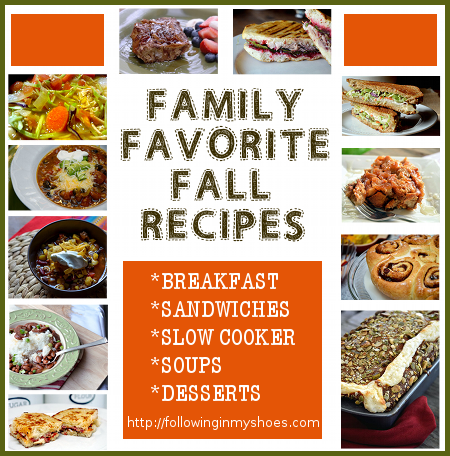 (and, yes, some of these were photographed years ago before I knew anything about photographing food… so forgive me for tight crops and horrible white balances.  But, oh — how far I've come!)
Breakfast
Orange-Cranberry Cinnamon Rolls
Cozy Soups and Slow Cooker Recipes
Spicy Pumpkin Chili (slow cooker recipe)
Taco Soup (slow cooker recipe)
Creole Beans and Rice (slow cooker recipe)
Holiday Recipes
Chipotle Cranberry Sauce (slow cooker recipe)
Hot Sandwiches
Turkey and Cranberry Sauce Panini
Fall Sweet Tooth
Apple Bread Pudding with Whiskey Caramel Sauce 
Pumpkin Bread with Egg-Nog Cream Cheese Filling
What do you love to eat once the weather cools off?