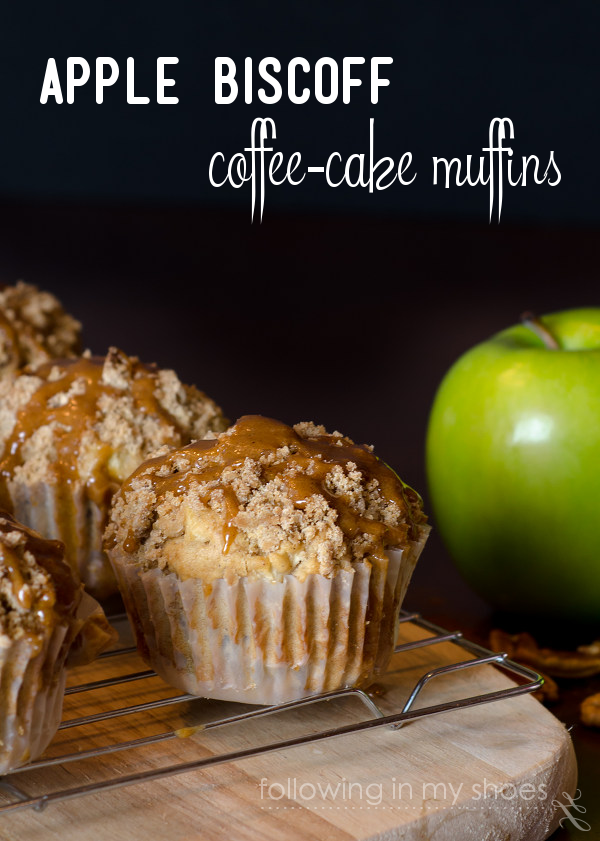 Wanna make my lil' heart happy? Take me to a European foods import store … or the Whole Foods flagship store … or even a specialty grocery that focuses solely on bringing local, organic products into my hands.
Bottom line? I love unique, specialty foods and ingredients. When I was in college, my favorite way to de-stress was to head a few blocks off campus and walk the 80 year old wood floors of a small, Oklahoma City grocery store and meat market. I'd browse the multitude of crisp, colorful vegetables stacked right next to fresh-cut flowers … the ice-cold meat counter where I could get any cut of meat and have it trimmed or diced or chopped or sliced … the tiny, narrow aisles of exotic spices and herbs … and the bakery, where crusty baguettes and sourdoughs and brioche called my name
Nowadays? I may not enjoy grocery shopping as much as I used to (for some reason, shopping with preschoolers is vastly different than shopping alone) but I still revel in luxurious and novel foods. And, Biscoff Spread? Oh. Mamacita ….
Biscoff Spread is sophisticated. Complex but simple. The most amazing thing you can put on apples or eat straight from the jar.
NOT that anyone in this household would do anything so crude as to eat it right out of the jar. No way.
(ahem)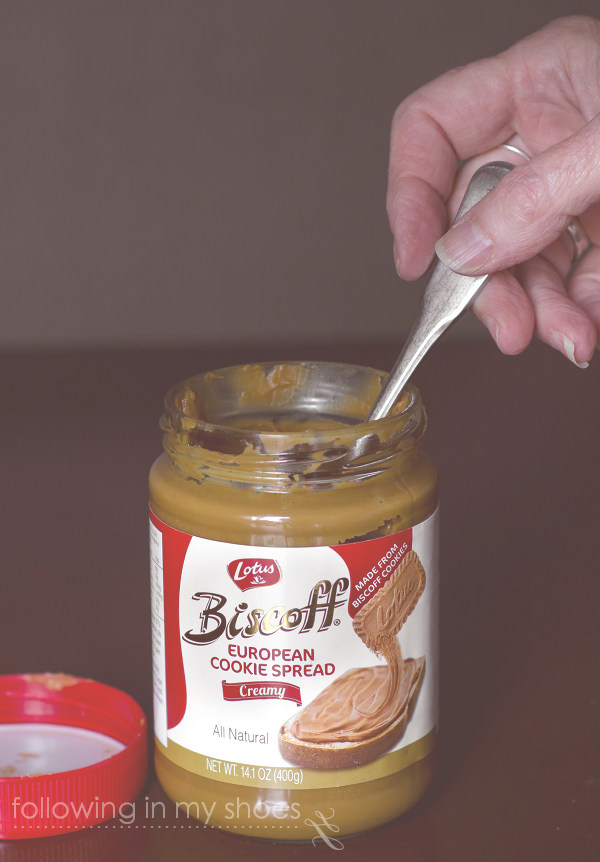 As good as it is as a spread, Biscoff is decadent when used in baking, as I discovered with these Apple Biscoff Coffee-Cake Muffins. Yes, coffee-cake muffins … 'cause, why not??? I was going all out for these muffins and coffee-cake was the way to bring it: Biscoff dances in the batter, joining tart granny smith apples and local Texas pecans … it hangs out with crunchy turbinado sugar for delightful crumble atop these succulent muffins … and, finally, Biscoff shows up in the glaze, bringing a little sophisticated drizzle to the party.
​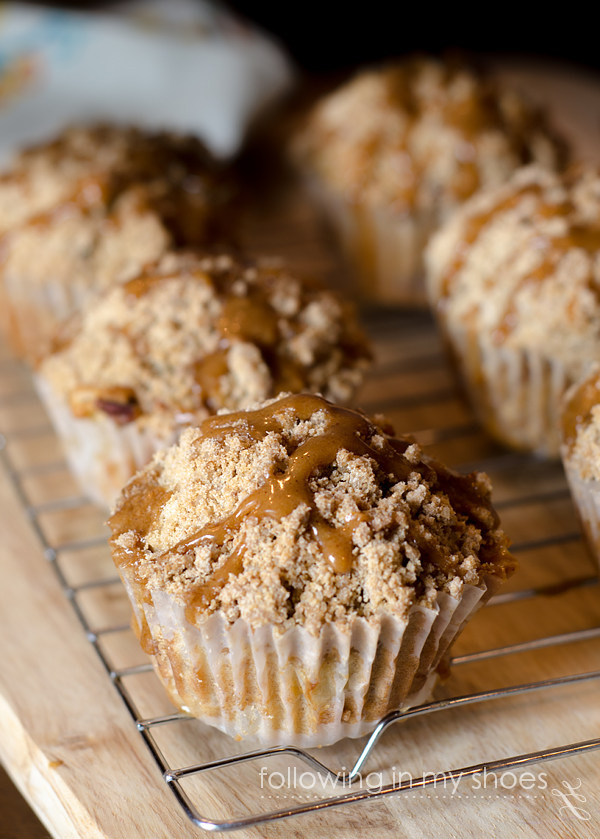 Biscoff overload? Never.
p.s. If you just happen to be one of those people watching your sugar intake, the muffins are still delightful without the crumb and glaze and are a very dignified start to the morning (or perfect for an after-school snack with the apples, pecans, and non-GMO Biscoff). But, if you want the ultimate decadent treat, go all out. You won't regret it.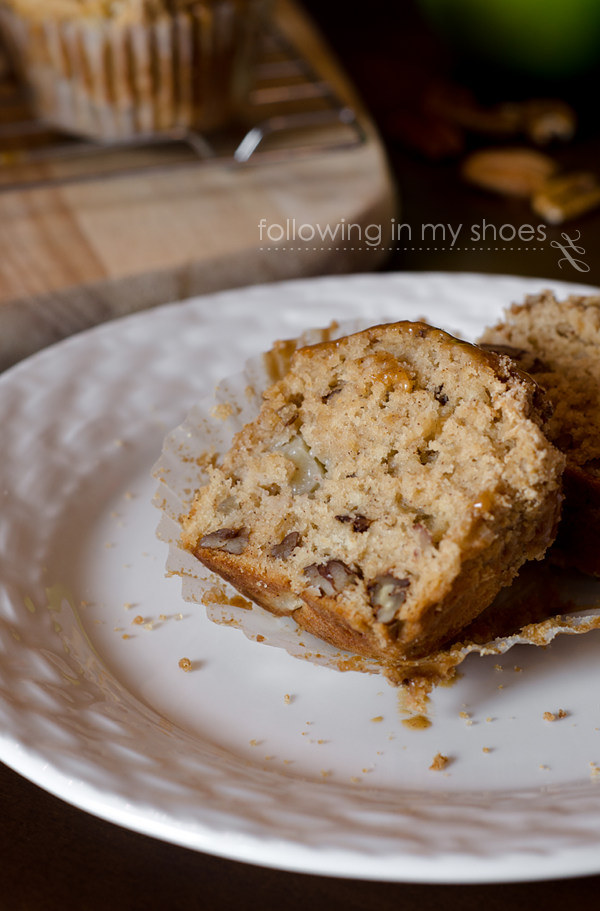 Apple Biscoff Coffee-Cake Muffins
(Makes 8-12 muffins)
Ingredients
For the Muffins
4 tablespoons melted Unsalted Butter
2 cups All-Purpose Flour*
¼ cup Sugar, or to taste
½ teaspoon Salt
3 teaspoons Baking Powder
1 Egg
1 cup Milk, plus more if needed
2 cups of peeled, cored, and diced Apples (any variety)
4 tb Biscoff Creamy Spread
1 cup finely chopped Pecans
1 teaspoon ground Cinnamon
Biscoff Crumble Topping
¼ cup Turbinado Sugar
¼ cup Brown Sugar
½ cup All Purpose Flour
½ teaspoon Ground Cinnamon
4 tablespoons Biscoff Creamy Spread
Biscoff Glaze
3-4 tablespoons Biscoff Creamy Spread
2-4 tablespoons Milk
1 tablespoon Powdered Sugar
Instructions
Preheat your oven to 375°F. Prepare a 12-cup muffin tin with melted butter or baking spray or, if desired, line it with paper/foil muffin cups and then spray the paper cups.
In a large bowl, mix together the dry ingredients. Set aside.
In a separate bowl, combine the melted butter and half the milk to lower the temperature of the hot butter. Next, add in the egg and the rest of the milk, whisking together till fully incorporated.
Thin down the Biscoff spread by warming it (several seconds in the microwave or stove top) till it reaches a liquid consistency.
In a third small bowl, mix the warm Biscoff, pecans and cinnamon until the pecans are completely coated
In the center of the dry ingredients, make a "well" and then pour the wet ingredients and the Biscoff coated nuts. Use a large wooden spoon or a spatula and fold the ingredients together. After a few strokes, add in the diced apples and then continue to fold, stopping just as soon as all the dry ingredients become moistened. Do NOT over-mix. The batter will be lumpy and not smooth like cake batter. It should be moist -- if it seems too dry and more "bread-dough-like" than batter, add a little milk and gently stir.
Fill the muffin tins with the batter, till each cup is roughly two-thirds full. Top each muffin with a generous tablespoon of the Biscoff Crumble (see below).
Bake for about 15- 20 minutes (ovens will vary) or until light golden brown and a toothpick inserted into a muffin center comes out clean. Carefully remove the pan from the oven and let it rest for 5 minutes. Then, remove the muffins from the pan and either serve warm (drizzled with the glaze, if desired) OR allow them to cool completely before storing them in an air-tight container.
To Make the Crumble
Combine the sugar, flour, cinnamon, and Biscoff Spread in a bowl, and mix until it resembles coarse crumbs. Set aside until ready to top the unbaked muffins.
To Make the Glaze
Mix the 3 tablespoons of the Biscoff Creamy Spread with 2 tablespoons of Milk until thoroughly combined. Add the one tablespoon of powdered sugar and stir till combined. If the glaze is too thin, add a bit more of the Biscoff spread (a little at a time) until a nice glaze is achieved. If too thick, add a little milk to thin it out.
Drizzle over the muffins after they have been removed from the muffin pan. Serve.
Notes
To avoid DRY muffins, measure the flour properly by spooning it into your measuring cup and then, once the flour is "heaping" in the cup, level it off with a knife.
Turbinado sugar is also sold under the brand name, Sugar in the Raw. Using it along with the brown sugar in the crumble will add a great crunch!
Biscoff Spread (an alternate spread to nut butters or chocolate spread) is available in the Peanut Butter aisle in retail, club and drug stores nationwide as well as at
www.shopbiscoff.com
; you can also the
Biscoff site
for a more comprehensive list of stores that carry Biscoff products.
The crumble and the glaze are completely optional -- these muffins are still delicious without them and definitely hold their own. But ... I prefer "over the top" coffee cake and developed this recipe with the same philosophy!!
Spread the Love
Lotus Bakeries invites consumers to share the many inventive ways they enjoy Biscoff Spread – the cookie spread made from the popular Biscoff cookies – in the first-ever Biscoff Spread the Love Challenge. From July 1 to July 28, the Biscoff Spread the Love Challenge asks consumers to get creative with their Biscoff Spread snacks by uploading photos that show their favorite ways to "spread the love."
Whether a spin on a classic snack (such as Biscoff Spread on a bagel) or a more creative twist (such as brownies made with the spread), the makers of Biscoff Spread are looking for individuals to submit photos showing how they enjoy Biscoff Spread.
Lotus Bakeries will narrow down the photo entries to the top 30. Facebook users will vote for the final grand prize winners on the Biscoff fan page. All entrants will be automatically entered in a sweepstakes to win a year's supply of Biscoff products.
The top three winners of Biscoff's Spread the Love Challenge will win:
First place – A trip to Belgium for two and a tour of the Biscoff factory
Second place – $1,500 cash
Third place – $1,000 cash
How to Enter
"Like" Biscoff on Facebook and upload a Biscoff Spread photo with a title and description. Entrants may submit one additional photo for each referred friend. Please note, all qualified entrants must submit their photos between July 1 (12 a.m. EST) – July 28 (11:59 p.m. EST). Facebook fans will vote for the grand prize winners between August 5 (12 a.m. EST) – August 25 (11:59 p.m. EST).
The top three winners will be announced on Facebook on August 30.
This is a sponsored conversation written by me on behalf of Biscoff . The opinions and text are all mine.