I shared last week about Lawry's new line of spices and marinades and their new "dinnertisements" — a fun way for you to get your kids excited about dinner!  As I have played around with some of the new marinades and spices, I have fallen in love with the Mediterranean White Wine and Herb marinade.  It is absolutely delicious and it has inspired three different recipes in our house the past couple of weeks.
and today's recipe:
Chicken Spaghetti with Lemon-Tarragon Cream Sauce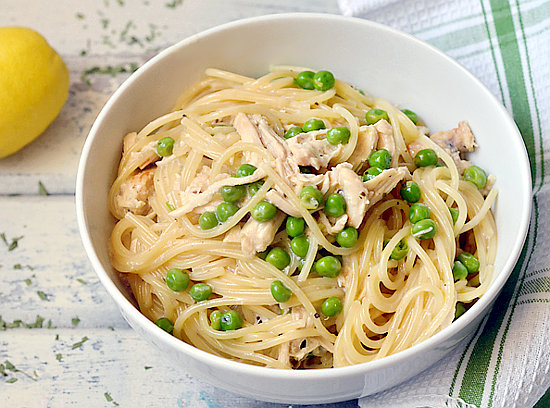 [print_this]
Chicken Spaghetti in Lemon-Tarragon Cream Sauce
Using pre-cooked chicken, this mouthwatering, delicious pasta dish is a snap to prepare; perfect for any busy or lazy day of the week.
Ingredients
2 cups pre-cooked and shredded chicken*
2 1/2 Cups of chicken broth
1 clove of garlic, minced
1 /2 Teaspoon dried tarragon
1/4 Cup of fresh lemon juice (equivalent of 2-3 large lemons)
1 (8 oz) package of spaghetti
1 cup heavy cream
1 teaspoon grated lemon zest
1 cup of frozen peas
Directions
In a large saucepan or medium stockpot, bring the chicken broth and minced garlic to a boil. Add the dried tarragon and the lemon juice.
Break the dried pasta in half and then add it to the seasoned broth. Cover and reduce the heat to medium. Stir occasionally to keep the pasta from sticking.
While pasta is cooking, steam (or boil) the peas according to the package directions. Set aside.
When the pasta is al dente**, remove from heat and add the cream and lemon zest to the pasta, stirring to evenly coat the spaghetti.
Next, add the chicken and steamed peas. Stir or toss thoroughly to ensure everything is evenly coated. Serve immediately.
Notes:
* You can use freshly shredded cooked chicken or frozen, cooked chicken. I used frozen and (after removing it from my freezer-bag) thawed it by placing it in a medium saucepan along with about a 1/2 cup of chicken broth, heating it over medium-high heat till it had thawed.
** Do not drain off the broth after the pasta has cooked.
https://followinginmyshoes.com  (recipe adapted from http://allrecipes.com/Recipe/Lemon-Cream-Pasta-with-Chicken/)
[/print_this]
The chicken for both the pasta and the pizza recipes came from one batch of chicken breasts I prepared and divided out for separate meals.  I love having pre-cut and/or pre-cooked ingredients on hand in my freezer; it makes meal prep so simple on nights when I don't have the time for a lengthy recipe.
Normally, my "go-to" cooked chicken to keep in my deep freeze is shredded rotisserie chicken.  But I am currently in LOVE with the chicken I made using the Lawry's White Wine and Herb marinade.  It was simple to prepare and made enough to be used in 3-4 recipes.  And, the flavor and quality of the meat hasn't suffered from freezing/reheating.  It's delicious!
[print_this]
Simple White Wine and Herb Chicken
Use this whole or shred it for pastas, pizza, etc.  Works well as a "freezer ingredient" for future meals.
Ingredients
5-6 large, boneless chicken breasts
1 bottle of Lawry's Mediterranean White Wine and Herb Marinade
Directions:
Place raw chicken breasts in an air-tight container or freezer bag, and then add in the marinade.
Seal, place in your refrigerator and let marinate for 30 – 60 minutes.
Place a large frying or saute pan on your stove-top, over med-high heat.  Add the chicken and marinade to the pan, cover and cook the chicken through, turning as needed to get an even light golden color on each side.
Remove the chicken from the pan.  Chicken may be used immediately as is or shredded for recipes.
Notes
To freeze: after shredding the chicken, divide in 1-2 cup portions and place in freezer-safe containers, removing as much air as possible.  Store in the freezer. Great for chicken salad, pasta dishes, pizza and casseroles.

(I divided the meat into 2 cup portions and ended up with three bags (roughly 6 cups total).)
https://followinginmyshoes.com
[/print_this]
There just also happened to be a little (but BIG) giveaway in that post. . . and today, I get to share the name of the person who won!

Congrats, Julie — I hope you enjoy your new spices, marinades and the rest of that fun foodie pack!
Psssst!
Don't forget — you can still make a Dinnertisement anytime you want to get YOUR kids excited about dinner!  I made another one for the Little Lady this past weekend to announce a steak night.  That child can put away some steak!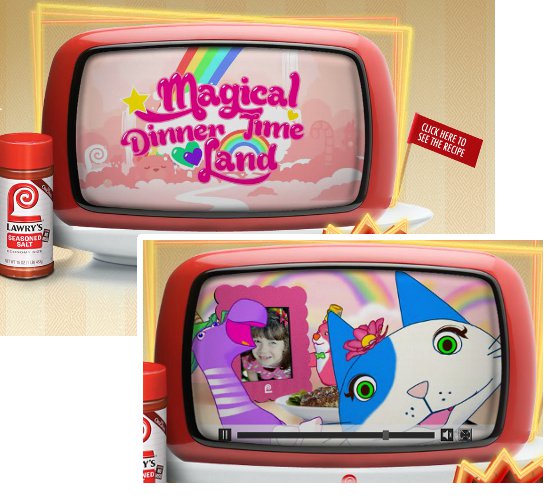 Disclosure: I am working with TheMotherhood on behalf of Lawry's Dinnertisements.  Any opinions expressed are my own.
(recipe linked with Delicious Dish Tuesday and Mouth-watering Mondays)