Last summer, a few days before we moved to our new home, I went on vacation.  Alone.  To the Riviera Maya (Cancun, Mexico).  It was my first solo trip… ever.
NO CHILDREN!!!!!!!
While there, I pretty much did not do a thing except eat and drink and eat and drink and eat. . . . and drink and eat some more.
Hands down, my most favoritest (yes, it's a word today) thing I consumed was the dessert my second night there: a churros platter with a side mug of Mexican Hot Chocolate.
Oh.  My.  Swoon… the warm, cinnamon-covered churros were nothing short of amazing but the hot chocolate?  That little mug of spicy goodness was the stuff of foodie dreams.  Hot.  Spiced.  Foamy.  And rich with chocolate.
I was heartbroken when I the last drop transferred from the cup to my lips.  My perfect dessert experience was over.
(sniff)
When I was contacted to create a holiday baking recipe for International Delight, a few ideas floated through my head as I looked over the different specialty and seasonal creamer flavors available at my local grocery store.   Would I make North Pole Cake Pops, a favorite treat from last year's North Pole Breakfast?  What about a white-chocolate cranberry tart (an idea that has been swirling in my thoughts for some time)?
Then I remembered that perfect cup of spicy hot chocolate…. and the decision was made.  I would find a way to turn one of my favorite coffee creamers into the perfect spicy, chocolatey cookie.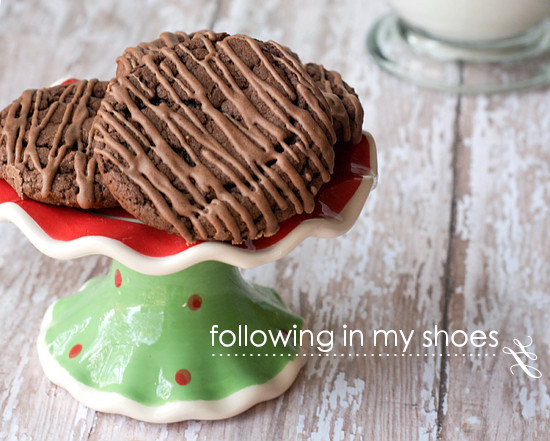 For you … in order to create the best possible cookie for you … I sacrificed myself.  7 batches of cookies.  Taste-tested by me until they were absolutely right.  Just the right amount of cinnamon and chocolate and cream and pepper and CHOCOLATE.
It had to be right — and I stepped up to the challenge.  At the end of the day, I had the. best. cookie.
And I was sick of the taste of chocolate.
(the things I do for others…. sigh)
Don't worry, 24 hours later, the aversion had passed and I was back to a state of being enamored with these cookies … as were the Kidlets, who kept trying to sneak into the cookies and the glaze.  Even Barney Kneeknuckles stole one of the cookies from his Daddy, and then side-swipped every attempt to reclaim it.
(smart baby)
By the way, there is VERY little measuring needed for this recipe … 'cause it's really a "Semi-Homemade" cookie.  The secret?  One Devil's Food Cake Mix.  That's right… a cake mix cookie.
This makes for a very fast cookie to make and bake — awesome for a last minute teacher or coworker gift.
And, since it requires little mess and fuss, it's a great recipe for little hands to help prepare…. which means Kidlets can help make your Santa's Christmas Eve cookies.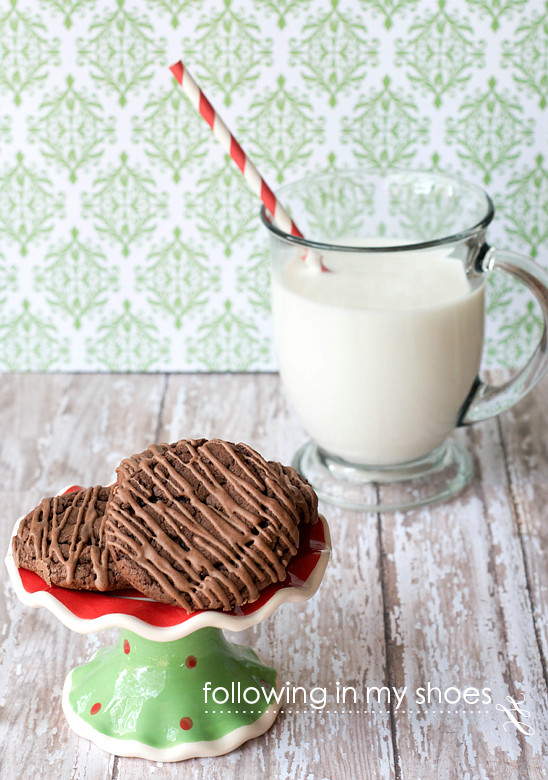 Get a Coupon, Make These Cookies And Help A Child Stay Warm
Right now, International Delight is working with the Coats for Kids Foundation to provide coats for children and teens who would otherwise not have one… and YOU can help!
For every UPC number entered via their Share Your Delight site, International Delight will donate 50 cents to Coats for Kids.  How much creamer do you go through?  I don't know about the rest of you, but I drink a LOT of coffee … giving me plenty of opportunities to make my UPC donations.
(psssst…. you can also enter UPC numbers from Horizon, Land O' Lakes, and Silk products … OR donate directly to the Coats for Kids Foundation)
To help you stock up on your International Delight, you can visit the International Delight Facebook Page for a Printable Coupon.
And, for even more scrumptious recipes, follow #IDBaking or @InDelight on Pinterest to see what other creations can be made with International Delight!
This is a sponsored conversation written by me on behalf of International Delight. The opinions and text are all mine.