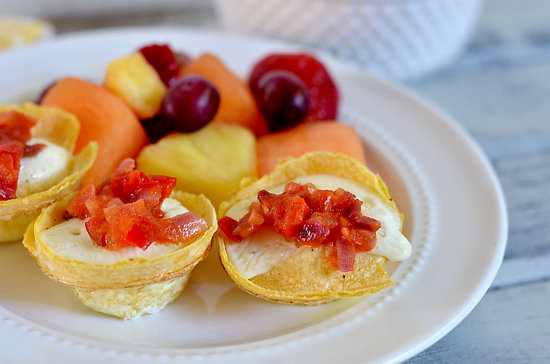 In Texas, restaurant after restaurant, fast-food joint after fast-food joint serves Breakfast Tacos every day.  It's a staple around here — corn or flour tortillas wrapped around scrambled eggs and bacon or chorizo.  You can add pico de gallo, roasted pepper salsa or a fresh tomatillo salsa.
It's simple and it's heavenly.
When contacted by LAND O LAKES about using their eggs for a "bite sized" brunch recipe, I knew that the Tex-Mex favorite Breakfast Taco was something I wanted to play with but I wasn't sure how to make it different.
Fortunately, a very good friend, raised in Texas but born in El Salvador, gave me the idea of baking the eggs and tortillas together and serving them with a cooked salsa.
"I just call it Eggs and Tomatoes," Aracely told me, as she described how to break down the tomatoes into a simple sauce.
"Do you have to take the seeds out first?", I asked after admitting that I never know what to do with tomato seeds (should they stay or should they go).
"Nope — just squeeze and crush the tomato with your hands, over the pan, and then use a spoon to break it up as it cooks."
It sounded easy enough.
And, it was.
Since I am secretly in love with bell peppers and red onions, I decided to add those to my vine-ripened tomato, adding depth to the warm salsa.  As this trinity of scarlet cooked and simmered, I felt sorry for the Husband, who was off at work.  He. Was. Missing. Out.
For the baked egg taco (or, Aracely and I decided to call this dish, Huevos on the Half Shell), I cut small strips of corn tortillas and wrapped them around the inside of my mini-muffin baking pan.  Then, opting to use egg-whites only (Mommy's trying to cut a few calories here and there), I poured the separated egg whites over the tortillas.  A sprinkling of salt and pepper and then the pan was ready for the oven.
The result is an "amouse-bouche" — a perfect solitary bite of all the flavors I've grown to love in Texas.
It's good, y'all.
(p.s. If you want to win a "foodie" prize pack, including items from Crate and Barrel and Williams-Sonoma, come check out my giveaway from LAND O LAKES Eggs)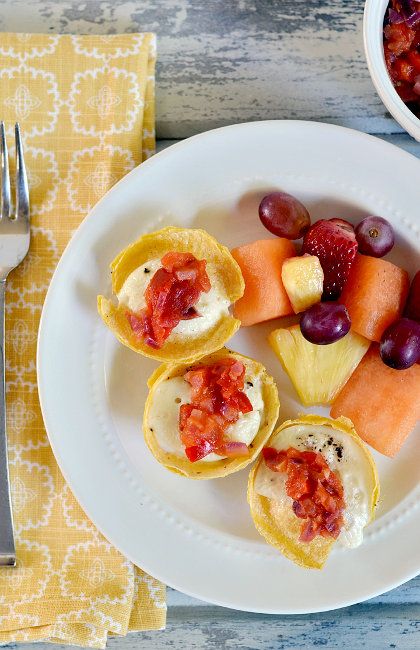 [print_this]
[/print_this]
Linked with Eat At Home.
Disclosure: I received a premium gift package from MoArk, including an On-Ice Deviled Eggs Server, Mini Muffin Tin, Two-Tier Server with Plates and a full-value coupon redeemable for any variety of LAND O LAKES® Eggs. All opinions are my own.