Today, over at 5 Minutes for Mom, I am sharing my newest obsession: Spinach Artichoke Dip Pizza.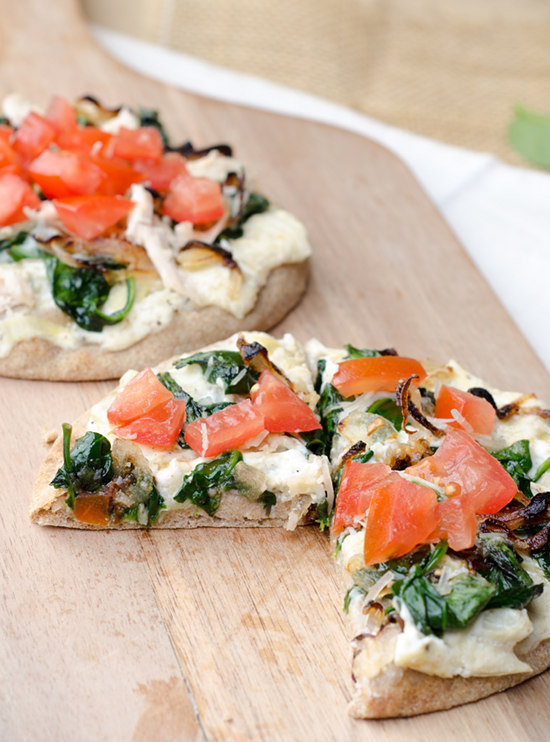 Yes, you read that correctly: Spinach … Artichoke … Dip … Pizza.
Go check it out — and if you decide you need to make it (like NOW), this is the pizza crust I used for it.
Actually, it's the crust I use for all of my pizza recipes.  Every last one.

Perfect Whole Wheat Pizza Crust
Get your palate used to whole wheat crust with this blend of stone ground flour and bread flour. Perfect pizza crust every time.
Ingredients
1 tablespoon active dry yeast
1 cup very warm water
1 teaspoon sugar
1 teaspoon kosher salt
1 tablespoon Italian Blend Herbs, if desired
2 tablespoons canola oil
2½ cups flour (half stone-ground whole wheat and half bread flour)
Instructions
Preheat your oven to 450 degrees Fahrenheit.
In a mixing bowl, dissolve the yeast and sugar in the warm water. Let it sit about 5 minutes and then add the remaining ingredients, mixing well with a heavy duty wooden spoon.
The next step is to knead it; you can either knead it on a floured counter surface OR do it the lazy way: just knead it directly in the mixing bowl. I usually do this because it is just simpler for me since I'm already mixing it there.
Roll it out on a floured surface -- either one large pizza or into smaller, individual crusts.
Add the toppings of your choice.
Place the crust on a baking sheet, pizza pan or stone, and bake for 12-15 minutes, or until the crust looks crispy and golden brown browned.
Notes
* The Italian Herbs are optional -- I typically add them but you can leave them out if you wish.