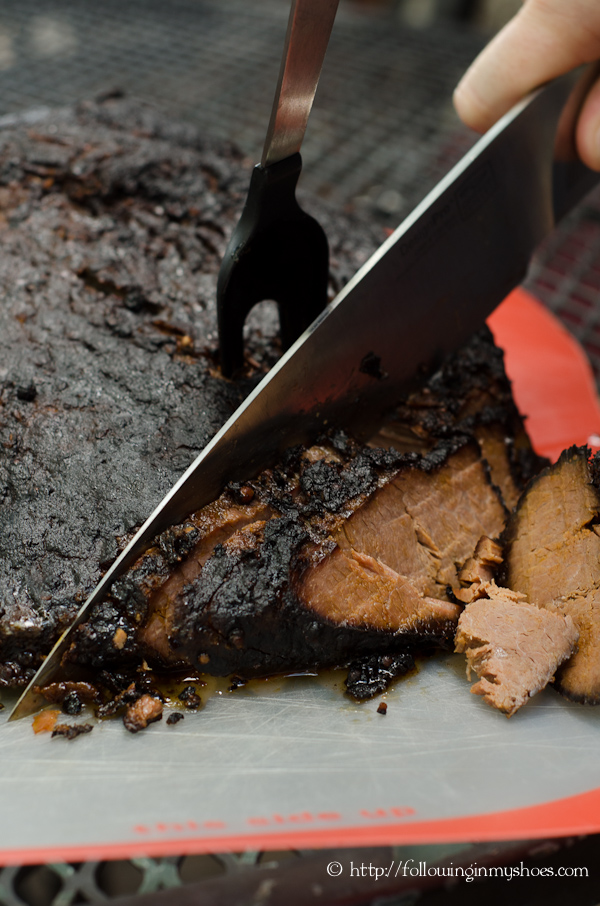 (This post is sponsored on behalf of Arby's, but all opinions and ideas are my own.)
When it comes to cooking, the Husband and I have very clear responsibilities: I handle everything that gets cooked inside the house and he handles everything that is cooked outside and requires fire of some kind or another. (Although, after that one time he nearly completely singed off BOTH EYEBROWS, I questioned this assignment. Absolutely. True. Story.) When it comes to all things grilled and smoked, the Husband is my go-to guy, and he takes his job very seriously.  When I told him, as we indulged in a rare treat, that I needed to create my own play on Arby's® Smokehouse Brisket Sandwich, he paused mid-bite, pondered for a brief second, and then assured me.  "I can do that," came out in a rush before he got back to the task of devouring his sandwich. Fortunately, smoking meat doesn't require as many flames as grilling and so, not only was the Husband able to keep his eyebrows intact, he was also able to create an absolutely delicious smoked brisket. Now, before I share the recipe, I gotta brag on my boy — he didn't just throw things together and hope for the best.  Now, this man did his research, called his father (who's brisket is PHENOMENAL), and consulted the Texas A&M "Texas Barbecue" website to learn as much as he could.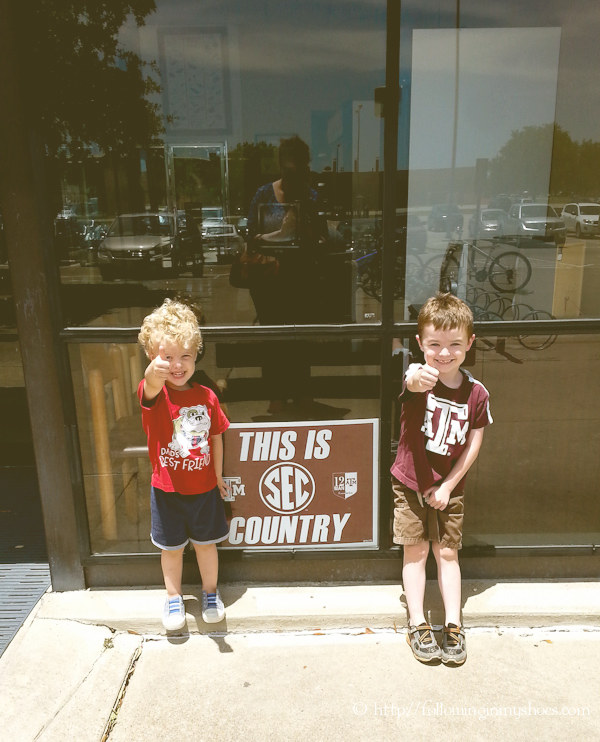 After the boys and I headed to the Texas A&M campus for a quality cut of brisket, I let the Husband do the rest of the work.  He carefully mixed his spice rub — a mixture of a smoked paprika and garlic blend, salt, pepper, and a little brown sugar — and made sure it was on just about every inch of that 7-pound cut of beef.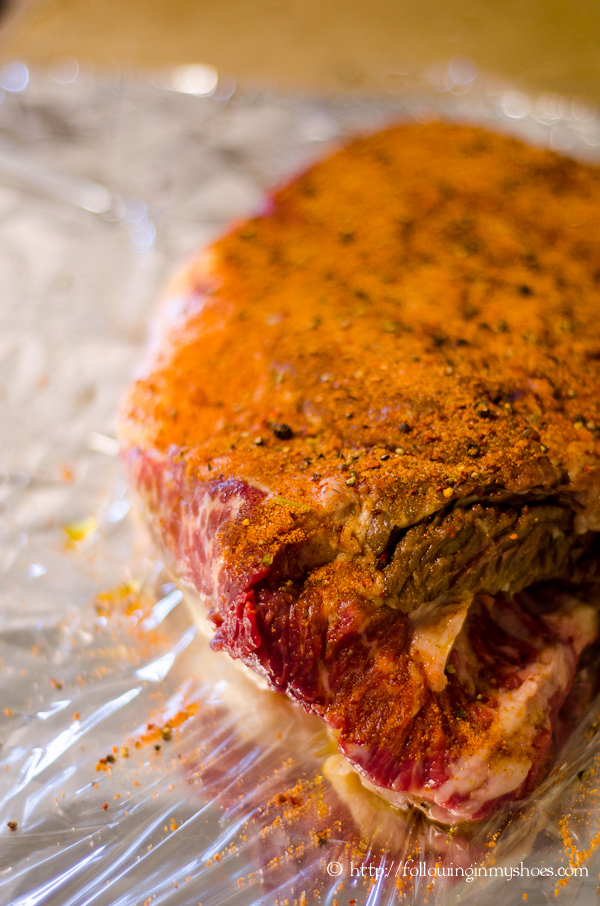 He put it in the smoker — with the mantra "low and slow" pulsating in his brain.  "It's gonna cook throughout the night.  Then," he said to me, nodding sagely and sealing the smoker door, "We'll let it rest another 3 hours." Over twelve. hours. later. … we were enjoying an absolutely tender lunch of perfectly smoked and seasoned brisket on our back porch.  A gorgeously lazy Sunday afternoon kind of lunch.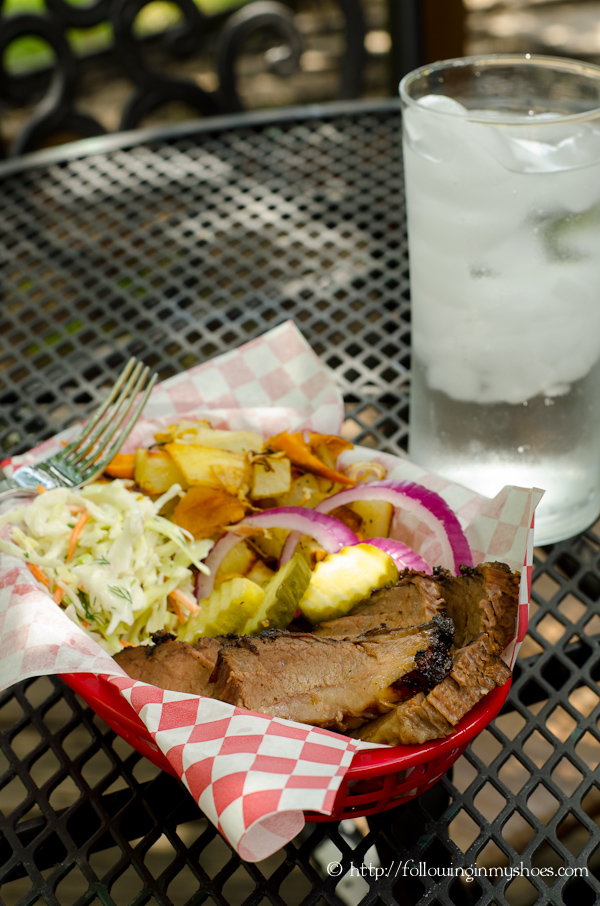 Was it the "Slap-yo-face" combination of flavors in the Arby's sandwich?  No, we chose a more subtle, classic "Texas" approach.  Perfect for us and anyone else who appreciates the beauty of a smoked brisket. Honestly, good beef doesn't need much more than that.

Simple Mesquite Smoked Brisket
Ingredients
1 7-pound Beef Brisket
1 tablespoon Olive Oil
4 Tablespoons Coarse Salt
3 Tablespoons Coarse Cracked Black Pepper
2 Teaspoons Ground Mustard
2 Tablespoons Brown Sugar
Mesquite Wood Chips
Instructions
Remove the brisket from its packaging and pat dry. Lightly rub the olive oil over the entirety of the brisket.
Mix the spices together and then rub onto all sides of the brisket, including the fat-cap. You can smoke it immediately or wrap it in cellophane and foil and then refrigerate (up to 24 hours) till ready to put it in the smoker.
Put ½ cup of Mesquite Wood Chips into your smoker and then let it heat (according to manufacturer instructions) to 225 degrees.
If the heat source in your smoker comes from the bottom, place the brisket into the smoker, fat-cap down. The fat-cap will become a protective barrier during the long, long cooking process and keep it from getting too dry from the heat source.
Before sealing the smoker, replenish the wood chips with another ½ cup of wood chips.
Let the brisket cook for 1 and a half hours per pound of meat (roughly 10 hours).
Since so many factors (thickness of the meat, smoker used) vary, use a meat thermometer to frequently check for doneness, starting around hour 7. The meat is completely cooked once it reaches an internal temperature of 185 degrees.
Remove the brisket from the smoker and wrap the meat tightly in foil. Allow it to rest 2-3 hours (resting it allows the juices to be reabsorbed into the meat -- it is a much longer process for brisket than a simple cut of steak).
When ready to serve, slice the brisket against the grain.
Notes
The particular spice blend is from Dangold. If you aren't able to find it in your local stores, a comparable substitute would be a mixture of 1 tablespoon Smoked Paprika, 1 tablespoon Garlic Powder, 2 teaspoons Ancho Chili Powder, 1 teaspoon Dried Chives, ½ teaspoon Oregano Powder, ½ teaspoon Dried Rosemary.
(This post is sponsored on behalf of Arby's, but all opinions and ideas are my own.)