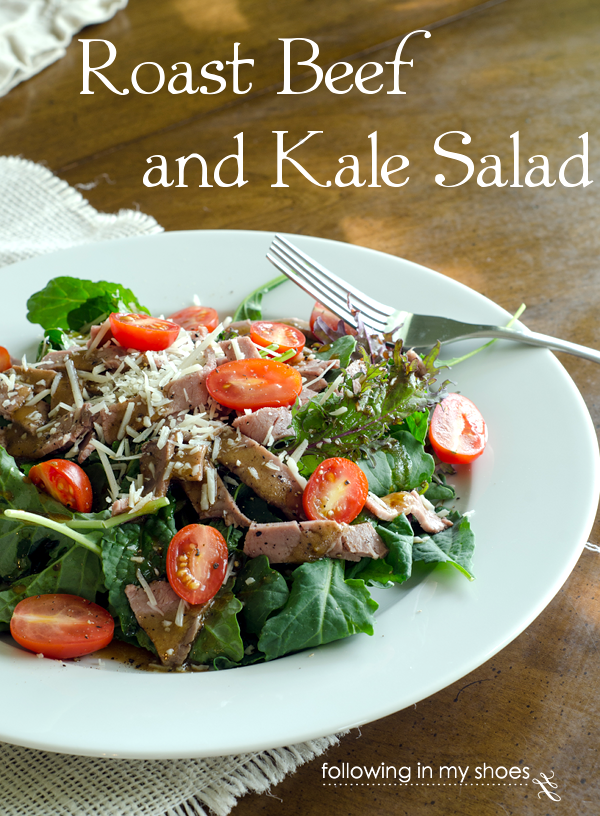 (scroll down to the bottom of the page for the recipe)
So, the 21-Day Sugar Detox is finally over. Did I celebrate with a sugary sweet concoction? Nope, not at all.
I ate a hamburger with the bun and had a little homemade maple whipped cream in a cup of sugar-less coffee. The maple cream was fantastic … the hamburger bun? Definitely regretted it. It wasn't that tasty and I didn't feel well the rest of the afternoon.
It was just reaffirmation that my body really loves being grain-free. I've not had a single rheumatoid arthritis flare in the past few weeks and many of my PCOS symptoms have lessened dramatically. PLUS, I'm down TWO DRESS SIZES and thirteen pounds.
Hallelu-yer!!!!!
(Yes, channeling my inner Madea there for a moment …. Only folks with PCOS will understand how HUGE this quick and easy weight loss is … it's usually darn near impossible, people!)
Yup, I'm officially grain-free and going to keep it that way.  I've decided NOT to focus on necessarily being Paleo, even though that's really how I intend to eat.  I don't have issues with dairy or the occasional meal of slow-cooker beans, so I'm keeping those.  Just the wheat and other grains are headed out the door.
SEE YA!
As of now, I'm the only one in the house embracing this way of living; my husband still adores rice and toast and homemade biscuits (grrrr…. one of my favorite comfort foods that has been hard to give up!) and the Kidlets are still gonna get sandwiches.  They aren't ready to make the change and I don't know (yet) if it is necessary for them.  I think we all have unique bodies and gastronomic needs and I do NOT believe that food is a "one-size fits all" kind of deal.  Paleo, grain-free, gluten-free, sugar-free, vegetarian … as far as I'm concerned, whatever YOU need to feel good and be healthy is what works for you.
Stepping off the soap-box….
The family IS, however, going to be eating (for the most part) grain-free at dinner-time.  I'm not going to start making two different meals to accomodate everyone; it's a family meal and we'll all sup together.  The only exception is when it comes to the Husband's rice.  He dug his heels in at switching to cauliflower rice …. even though I TOLD HIM it's delicious.  He refuses that change … wimp.
What We're Eating This Week
Dinners
Sunday: Smoked Bacon Wrapped Venison, Kale salad
Monday: Leftovers & Roasted Parsnips
Tuesday: Beef Taco Salad
Wednesday: Dinner at Church
Thursday: White Chicken Chili (new recipe coming up)  and Paleo Cornbread
Friday: Pizza Night — whole wheat pizza for the family and paleo pizza for mommy
Saturday: Paleo Chicken Fried Rice (don't tell the Husband but I'm sneaking in the cauliflower rice for this one!)
Sunday:  Leftovers
Kidlet Lunches
Monday: Nut-butter Sandwiches; String Cheese; Carrots; Oranges & Grapes, Triscuits
Tuesday: Corn on the Cob; Apples and Almonds; Ham; Cheese
Wednesday: Quesadillas from leftover Taco Bowl Fixings; Chips and Salsa; Fruit
Thursday: Nitrate/Nitrite Free Turkey Dogs; Yogurt; Grapes and Orange Slices
Friday: Thermos of leftover White Chili, with Paleo Cornbread & Fruit
Mommy lunches
Monday: Roast Beef and Kale Salad
Tuesday: Roast Beef and a Cream-Cheese Stuffed Pepper; Tomatoes; Almonds
Wednesday: Hard Boiled Egg; Breakfast Sausage; Cheese; Tomatoes
Thursday: Taco Lettuce Wrap, Tomatoes, Peppers, Cheese
Friday: Leftover White Chili and Paleo Cornbread
Kidlet Breakfasts
(alternating through the week)
Mommy Breakfasts
(alternating through the week)
Fried Eggs and Avocados
Coco-Monkey Smoothies (from the 21-Day Sugar Detox Book)
Paleo Breakfast Cookies
Scrambled Eggs and Tomatoes
Snacks
Fruit, String Cheese
Air-Popped Popcorn
Grain-Free Chocolate Chip Cookies from the Against All Grain cookbook, by Danielle Walker (seriously my new FAVORITE cookbook — this woman is a GENIUS!)
Roast Beef and Kale Salad Recipe
And, now for the simplest salad EVER.  I don't know that you can call it a recipe when you're just throwing things together, but I enjoyed this salad so much and did NOT want to forget about it.  So, really, this is about me … writing it down so I can remember.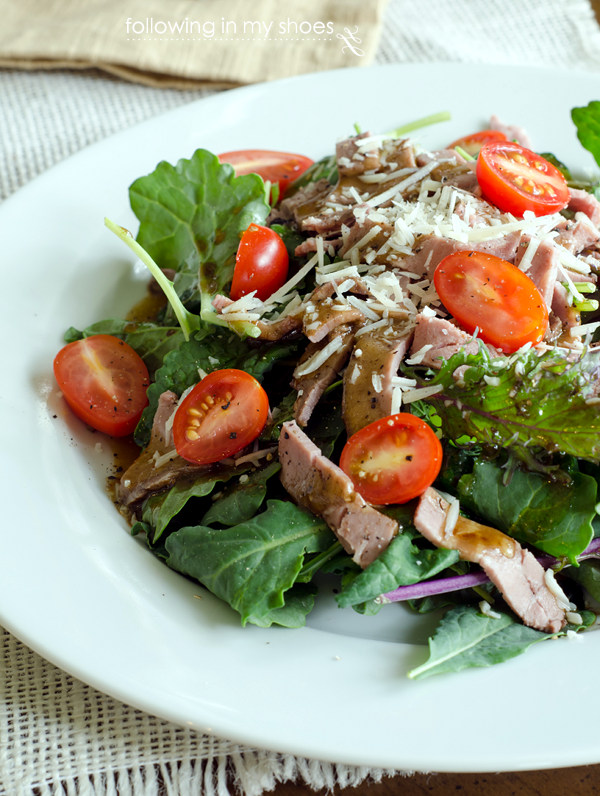 Sometimes I'm selfish like that.
(but you can try it too…. I'm not that selfish)

Roast Beef and Kale Salad
This recipe serves one; you may double or triple accordingly for your needs
Ingredients
2 cups washed Organic Baby Kale
1 slice of Nitrate/Nitrite Free Deli Roast Beef, sliced in bite-size pieces
2-3 teaspoons Grated Parmesan
4-6 Organic Grape Tomatoes, washed and halved
Cracked Black Pepper (to taste)
For Dressing
2 Tablespoons Extra Virgin Olive Oil
1 Tablespoon Balsamic Vinegar
¼-1/2 teaspoon Palm Sugar (optional ... may also substitute white sugar, turbinado, or honey)
Instructions
Pour the ingredients for the dressing into an air-tight container and seal. Shake vigourously to emulsify (blend together) the oil and vinegar.
Place the washed kale on your plate and top with the roast beef, parmesan, and sliced tomatoes.
Drizzle with the Balsamic Dressing and add cracked black pepper. Serve.