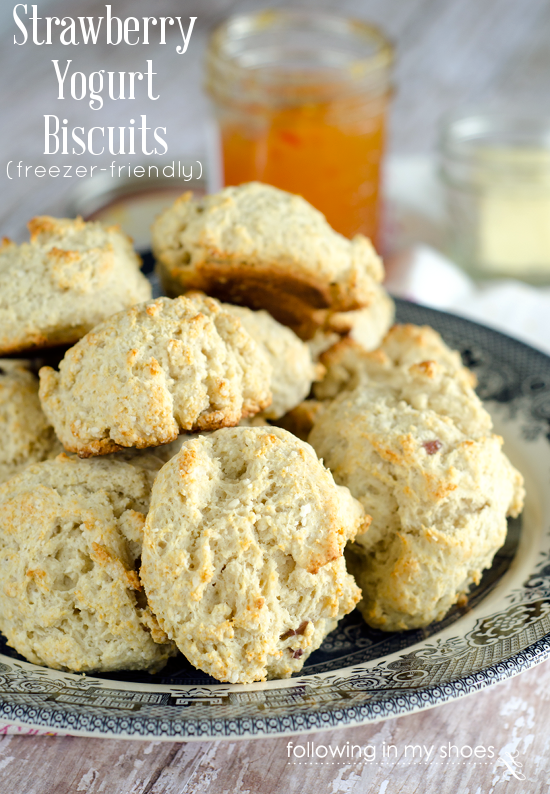 With the advent of August, I'm focusing (what feels every waking moment) on everything "Back to School." Dinner recipes, chore charts, morning routines, lunch rotations, and freezer-friendly breakfast ideas are getting pinned or jotted down on old-fashioned paper.
I just can't help it.  When I'm stressed, I turned into an over-planning, list-making crazy person.  It's just what I do.
With all three kids going to school this year (the Little Lady to Kindergarten and the boys to Preschool) and Mommy dusting off her "Teacher Hat" and returning to work (a phrase that I find so silly since I haven't exactly been resting on my laurels the past few years),  I know our mornings are going to be INSANE.  I'm not a morning person and trying to get all of us up, fed, and dressed by 7:50 am isn't going to be easy.
WHICH … is why filling my freezer with ready-to-go breakfast items is a priority right now.  Yes, I could just push my cart down the freezer aisle at the grocery store and grab frozen waffles, biscuit, or kolaches (aka "pigs in a blanket"), but when I know that I can make those same items at home but healthier, more affordably, and in a wider variety of flavors … well, the choice becomes clear.  It's time to get busy.
We love biscuits in this house — whether as a side for chicken or topped with cream, Southern-style gravy.  And while I love a good, rolled out and cut buttermilk biscuit, I also love the ease of drop biscuits.  Same great flavor — tender, tender crumbs — but ready for the oven in about 5 minutes.
These Strawberry Drop Biscuits take normal drop biscuits up just a notch.  Instead of using buttermilk or plain yogurt for this recipe, I decided to use some of our favorite whole-milk Strawberry yogurt.  The yogurt — as it will for any biscuit or quick bread recipe — does its job of making a very light and moist biscuit, while the strawberries give the perfect touch of sweetness to a normally savory biscuit.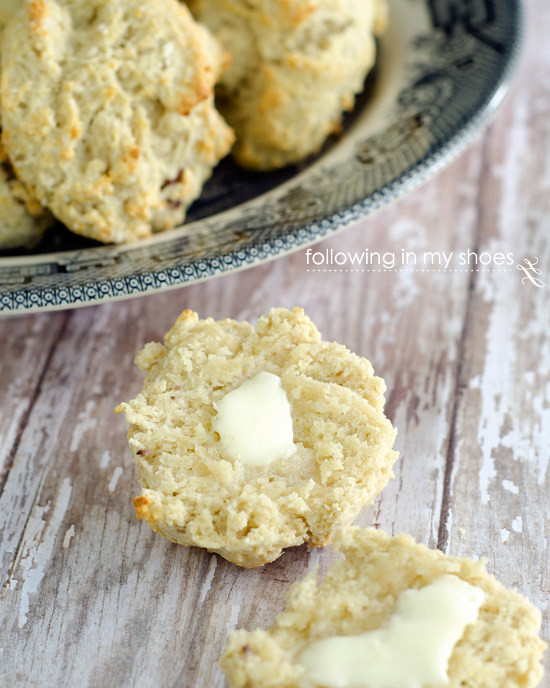 The Kidlets LOVE these Strawberry Drop Biscuits — topped with butter or peanut butter, and I love that I can flash-freeze the dough and then store them in the freezer for quick biscuits on a school morning.
THAT, folks, is what we call a "win-win."

Strawberry Drop Biscuits
Ingredients
2 cups All Purpose Flour
1 teaspoon Salt
3 teaspoons Baking Powder
1 teaspoon Baking Soda
5 Tablespoons Cold Unsalted Butter
1 Cup Strawberry Yogurt*
Instructions
Preheat your oven to 450 degrees.
In a large bowl, mix the dry ingredients.
Cut the cold butter into small pieces and then mix the butter and dry ingredients with your clean hands (squeezing and crumbling) until all of the butter is completely blended with the flour mixture.
Add the yogurt and blend with a spoon until it just comes together. Do not over-mix or you will over-work the gluten, which makes for tough biscuits!
Line a baking sheet with parchment paper and then drop slightly rounded tablespoons of the biscuit dough on the sheet.
Bake for 7-9 minutes or until the biscuits are golden brown. Serve immediately.
To Freeze
After dropping the dough onto the parchment lined baking sheet, place the cookie sheet into your freezer.
Allow the dough to freeze at least an hour before removing the frozen raw biscuits and sealing them in a freezer bag (removing air from the bag as you seal it).
To Bake After Frozen
When you are ready to bake, you can remove as many biscuits as you'd like from the bag and place them on a parchment lined baking sheet.
Put them in a pre-heated 450 degree oven and bake until golden brown. Since they will be baking from a frozen state, you will need to add at least 5 additional minutes to the baking time. Serve immediately.
Notes
*I prefer to use whole-milk yogurt; the brand I used for this recipe was Liberte, which is a whole-milk and cream yogurt with few added ingredients (aside from the strawberries!). It took two individual containers to equal 1 cup.