And leave the world of mini-vans and multi-passenger vehicles, I know what I want: a cute, little red car.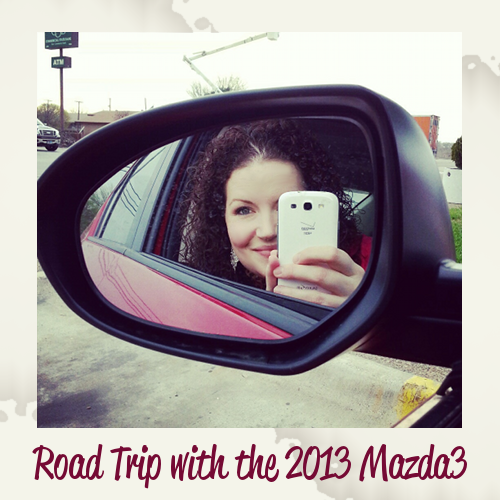 Well, I could settle for champagne .. or black … or silver.
But I definitely want it to be little, cute and chock-full of safety features.
Last month during my trip to Dallas for Blissdom, my friend Lori pulled into my drive-way with a sleek, red, 2013 Mazda3; the lucky girl was given it just for the purpose of our road-trip.  No Mom-Van full of Cheerio dust and lost socks for us.  Lori was taking us down I-45 in style.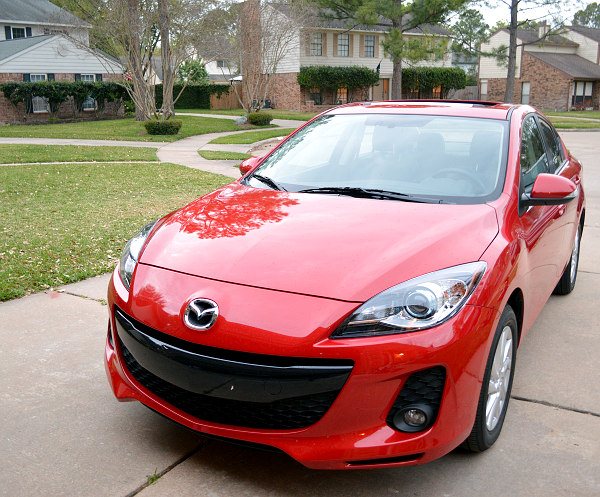 Now, Lori pretty much hogged the wheel of our the Mazda3 (we were in the "S Grand Touring edition", by the way) the whole weekend, bragging about the Blind Spot Monitoring System (which beeps and blinks anytime another car pulls into your blind-spots) and showing off the SkyActive Technology that enabled this car to average 40 mpg as we cruised down the highway.
And, of course, I watched her push all the buttons for the Sirius XM Radio, the heated seats and the sunroof.
All of those fun, "extra" features that we all wish our cars had.
The one time I was allowed to get behind the wheel (she gave up that seat a little begrudgingly), I pushed the start-button (that's right; no key needed to turn this car on) and found myself smoothly gliding out of Dallas, getting turn by turn directions from the on-board navigation system.
(I'm a fan of not getting lost.  Just sayin'.)
Now, compared to my mini-van full of carseats and strollers, I felt like I was in a small car — but, Lori showed in her review that this car was more than adequate to handle her three children and their plethora of baseball and softball equipment, making it a great and affordable family car for the 5-passenger crowd.
All I know is that for two Mamas on a road-trip, we had plenty of leg-room, plenty of cup-holders, and plenty of storage for our mountain of suitcases, camera bags and laptops.
To find out more of the features and to hear Lori's perspective (since she was the primary test-driver for this car), check out her review … or head over to the Mazda site for a full listing of the standard and available features for the Mazda 3.
And, if you're really feeling like treating yourself to something fun, swing by your local dealership and ask for a test-drive.
You'll get a kick out of pushing that start button.
Promise.
*disclosure: I was not compensated or provided a vehicle in exchange for this post; I'm just helping Lori spread the word about her new favorite red car.  Any and all opinions expressed are my own.