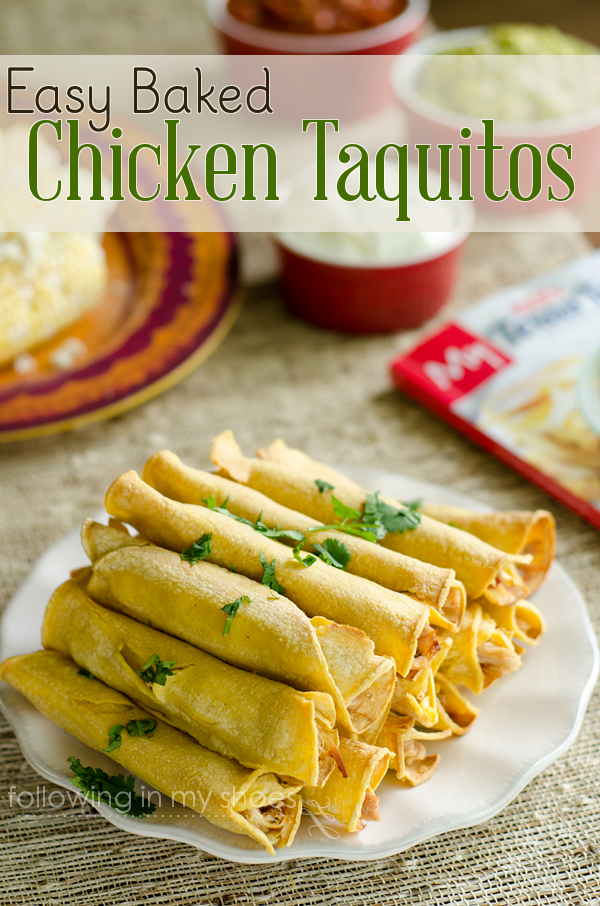 There are a lot of things I enjoy doing with the Kidlets but grocery shopping is not one of them.  Bathroom breaks every ten minutes.  Everyone gets hungry the moment we walk into the store.  Little voices clamoring for every kid-marketed breakfast and lunch product.  And heaven forbid, I leave the shopping cart too close to the shelves of food … if I do, Barney Kneeknuckles takes it as the green light to being grabbing everything in sight.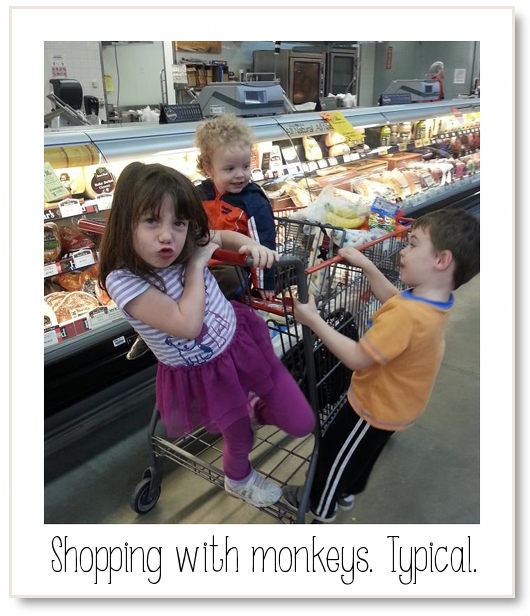 But, I put up with it all because (1) I love cooking and (2) I love H-E-B, my favorite Texas-based grocery store.  There is an amazing selection of staples, fresh produce and unique "Primo-Pick" items … bags of soft, just-made Tortillas … bulk bins of fragrant spices, whole grains and nuts … and then there is the huge selection of local, Texas meats, dairy products and produce.  I just love, love, love this store.  Since moving to Texas over eleven years ago, it has been the only grocery store that gets my business.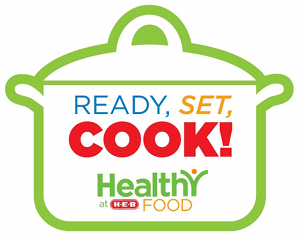 I also appreciate that H-E-B works year round to promote healthy, family meals.  Through programs like the Ready, Set, Cook! Challenge, H-E-B is driven to help families get back to the dinner table, helping them plan meals that forgo the drive-through and instead focus on easy, delicious and healthy recipes.  And, in the end, someone is going to win a nice prize.
Enter the Challenge and You Could Win!
Cooking from home just got more rewarding! Enter the H-E-B Ready, Set, Cook! Challenge for your chance to win free groceries for a year!  We're challenging you to cook at home one additional night per week and get creative with new and healthy recipes. This year's challenge will feature your family favorite recipes done light from our new My Texas Table cookbook! As part of the challenge, try delicious new healthy recipes from our new cookbook, My Texas Table and our weekly in-store newsletter, My Good News.

Simply register for the challenge and begin a tracking your progress. Log your progress each week of the challenge for your chance to win!

Grand Prize: Free Groceries for a year*, $1,000 to upgrade their kitchen and a shopping tour with an H-E-B Dietitian!

2nd Place: $1,000 H-E-B Gift Card
10 prizes: $100 H-E-B Gift Card
20 prizes $50 H-E-B Gift Card
30 prizes: $25 H-E-B Gift Card
Easy Chicken Taquitos
The cookbook that's being used for the challenge? I was sent one — and, let me tell ya, this book is FULL of classic family-favorite recipes that have been transformed into healthier versions.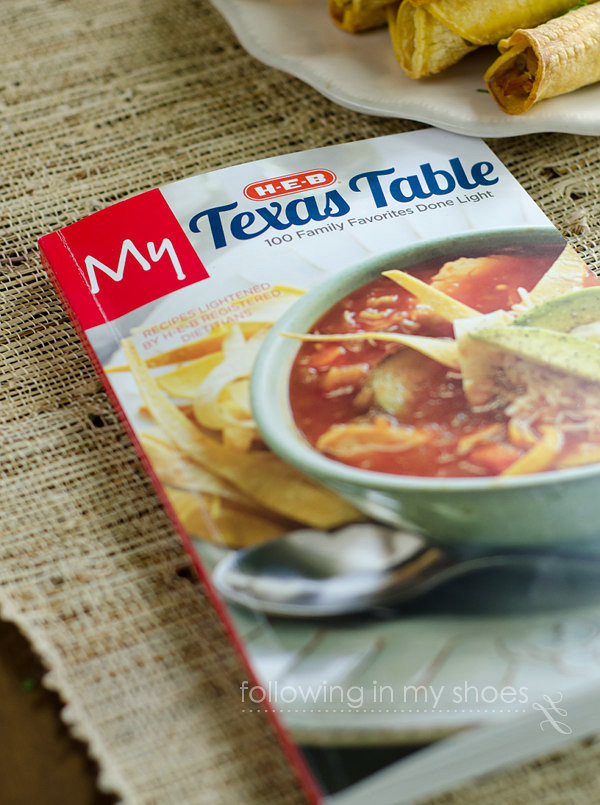 I have bookmarked so many of the different recipes in the book, but chose the Chicken Flautas for my first "Texas Table" meal.
Flautas? Or Taquitos? In the My Texas Table cookbook, this corn-tortillas based recipe was referred to as "Flautas" but, traditionally, Flautas are made with flour tortillas and Taquitos are made with corn.  Hmmmm….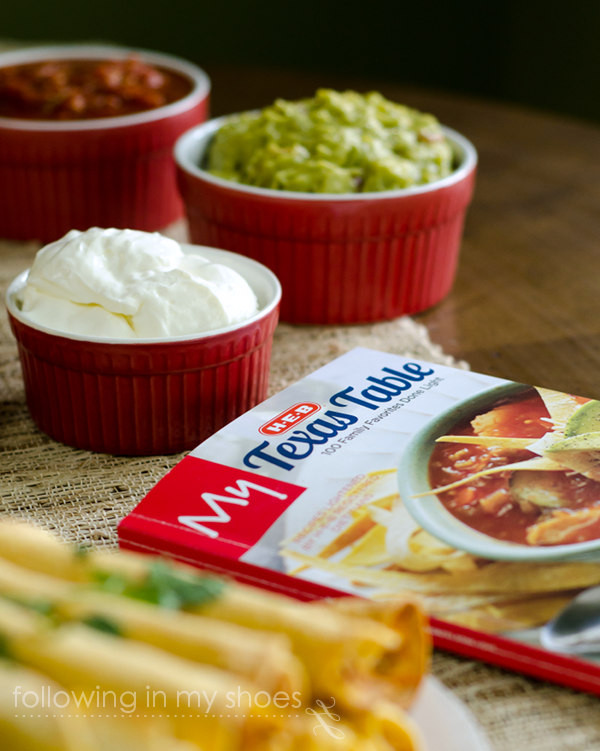 For my adaptation of the recipe, I've decided to switch the name. Corn = Taquitos. Flour = Flautas.
I'm just a rule-follower.
Regardless of rules and names, these delicious Baked Chicken Taquitos are easy, yummy and fun to eat! And, thanks to changing the cooking method of the chicken (from boiling on the stove-top to using a slow-cooker), you can prepare and/or freeze the filling ahead time for even faster prep once you're ready for a Tex-Mex dinner.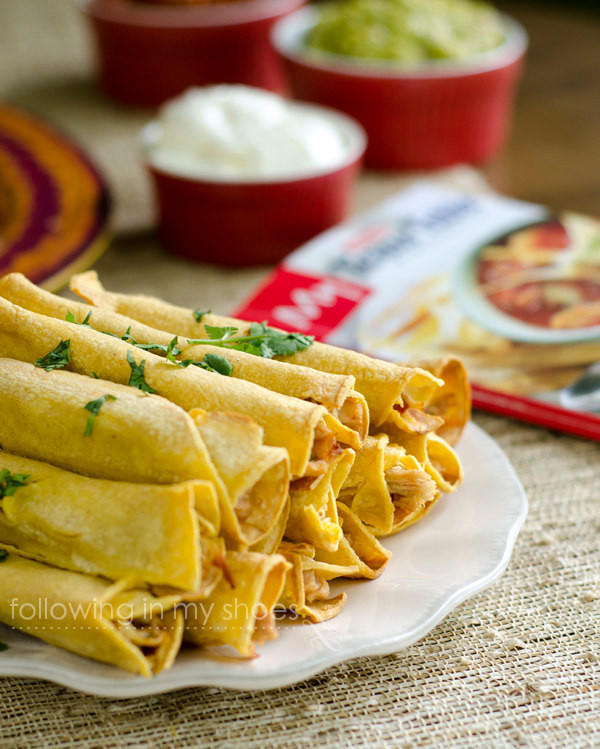 Easy Baked Chicken Taquitos
The chicken filling mixture can be prepared ahead of time and either stored in a refrigerator or freezer until you are ready to assemble the taquitos.
Ingredients
1.5 pounds of boneless/skinless Chicken thighs*
1 teaspoon of Ground Cumin
2 cloves Garlic
1 12 oz can of Diced Tomatoes and Chilies
1 teaspoon Salt
30 Corn Tortillas
Cooking Spray
Optional Condiments
Cilantro
Salsa
Guacamole
Sour Cream
Instructions
To Prepare the Chicken Filling:
In a crockpot, add the chicken, cumin, garlic, diced tomatoes and chilies, and salt. Cook on low 2-4 hours or until the chicken is cooked and easily shreds.
Taste and adjust seasonings as needed.
Remove the chicken from the crockpot and use forks to shred the meat.
Once shredded, add 3-4 tablespoons of the cooking liquid (from the crockpot) to the meat.**
To Assemble and Cook the Taquitos
Preheat your oven to 400 degrees.
Remove the tortillas from the package, put them on a microwave-safe plate and cover with a damp paper towel.
Microwave 2-3 minutes to make the tortillas warm and pliable.
Working with one tortilla at a time, spread 2-3 teaspoons of the chicken filling along the edge of a tortilla, and then tightly roll up it up, using a toothpick to hold it in place (if necessary).
As each one is rolled, place the taquitos on a baking sheet or casserole dish and lightly spray the tops with cooking spray.
Bake 8 minutes and then remove from the oven and spray again with the cooking spray.
Bake an additional 5-8 minutes or until the tops are crisp and golden.***
Remove the toothpicks (if used) and serve with chosen condiments.
Notes
*You can use any cut of chicken meat, but I used skinless/boneless thighs because (once the skin is removed) there isn't a huge difference in fat content between them and breasts, but the flavor difference is huge. **Adding some of the cooking liquid to the chicken filling will help as you assemble the taquitos to keep the tortillas pliable.
***Ovens will vary and may affect the cooking time.
*I was provided with a copy of the My Texas Table cookbook and compensated for my assistance in promoting the Ready, Set, Cook! Challenge. All opinions are my own.