My kidlets love stickers.  LURVE 'em.  They put them on paper, on clothes, on dolls, on their own faces… and all over our wood floors.
(joyful parenting, Rachel, joyful parenting)
And now, they have a new toy/suit case to slap stickers on, but this time, the sticker-fest is Mommy-Sanctioned.
We received a Melissa and Doug Trunki luggage system — the main component of which is Trunki kids suitcase (AKA riding toy) that kidlets can ride at home or while parents are scurrying through an airport.
(well — maybe not scurrying through an airport … unless you want your kid to fly off as you run breathless to the gate, screaming "We're here!  We're here!"  Oh, wait — are we the only ones that barely miss flights?  Oops.)
The lightweight, animal and bug-themed suitcases are interactive — in addition to being able to use it as a riding toy, kids can use their imagination and a supply of Trunki fun face stickers to create unique "creatures."
Ours ended up a hermaphrodite.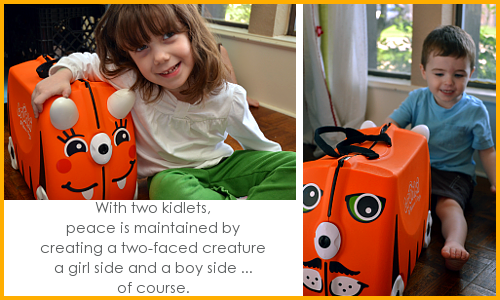 Naturally, as soon as they had finished plastering stickers everywhere — and using the alphabet stickers to put their names on their respective "sides" of the suitcase, the Little Lady and Mr. Boy were eager to take the toy for a test drive.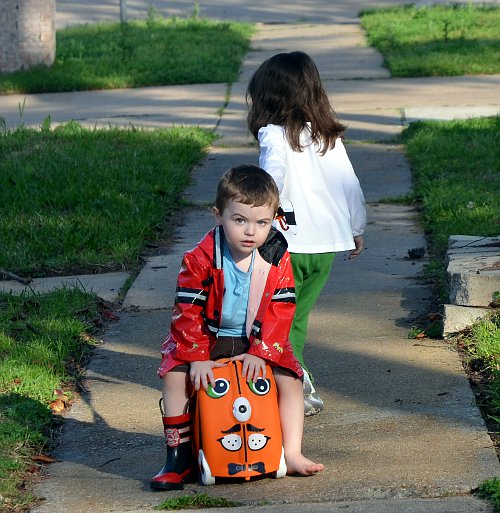 Mr. Boy (who insisted on "dressing up" for the occasion) packed water and a blanket into the Trunki tote bag — you know … in case we got lost in the front yard.  The Little Lady — who was more concerned we would get bored outside — packed 50 gazillion toys into the Trunki suitcase.
They're all about being prepared for any situation.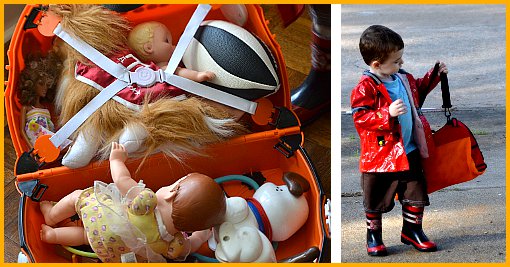 Trunki kids suitcases are ride on toys, luggage, and pretend play pals in one! Trunki is the greatest travel innovation since the wheelie bag! Trunki allows children to scoot along on their luggage through the airport or train station. This lightweight, sturdy, carry-on sized suitcase serves as luggage, riding toy, and transport for kids on the go! At home, Trunki may be used as a convenient kid-friendly storage bin too! Features include a tow strap, carry handles, secure catches, integrated wheels and stabilizers to prevent toppling over. Holds up to 75 lbs.

Trunki Saddlebags: Saddle up with a padded seat made of durable fabric, designed for comfort and fun when strapped onto your Trunki. Squeak the horn, keep your important things handy in the zippered pocket and pack extra items in the "hidden" compartments. Have more fun when you get where you're going when your saddlebag transforms into a handy shoulder pack!

Trunki Tote Bags: Keep travel necessities instantly accessible with this amazing pack-and-go tote. It is easily secured inside your Trunki with self-stick closures. When traveling by plane, the large zippered compartment makes it easy to access up-in-the-air activities. On land, the outside pocket and shoulder strap will help your child prepare to get going!

*Trunki suitcase is sold separately from all accessories. Suitcase Was $39.99 Now $31.99
My Observations:
My children have had hours of fun playing with this, pleading to take it everywhere and eager to show it to their friends.  It is light-weight enough for them to handle and have I mentioned they adore the stickers?
Things to Note:
The Trunki opens easily for an adult or child with good fine motor skills, but younger children like Mr. Boy (who is 2) may have difficulty sliding the locks up and down. In addition, these locks can be locked in place with "keys," which also proved a bit difficult for him to use.
The wheels on the suitcase do not pivot, making it difficult to turn corners.  If you allow your children to pull each other (as I did), you'll probably have to help them move the Trunki suitcase  if they need to go a different direction.
The suitcase's shoulder strap converts to a pull-strap, but when used for pulling, there isn't a handle — you just grab the end of the canvas rope.  I would prefer if there were a real handle as it would be easier to hang on to.
Attaching the saddlebag is easy, but does require "twisting" the item.  The instructions provided amounted to one picture, which for this sleep-deprived, caffeine-addicted mommy wasn't enough to keep the assembly from being confusing.  But, again … I'm sleep deprived these days.
Most kids are probably going to need help with sticker placement — because of the Trunki's surface, the stickers don't permanently adhere at first … you have to apply quite a bit of pressure.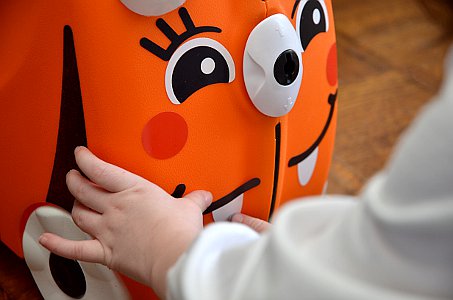 Melissa and Doug Trunki Giveaway NOW CLOSED
One reader will receive the complete Trunki set of his/her choice:
Suitcase, Tote Bag, Saddlebag, and Stickers!
(there are six different Trunkis from which to choose)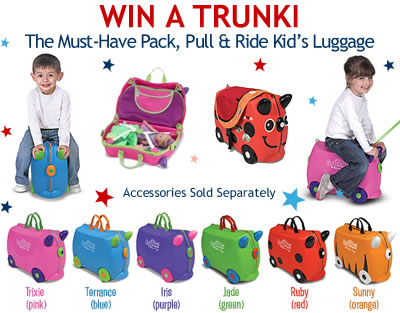 To Enter (mandatory):
Please leave a comment on this post letting me know which of the six Trunkis you would choose if selected as the winner!
Bonus Entries
The following entry methods are completely optional and not required for entry into this giveaway.  If you choose to complete any or all of the bonus entries, please leave a separate comment on this post for each additional entry.
Subscribe to Following In My Shoes via an RSS Reader.
Follow me on Twitter
Tweet this giveaway (for your convenience, you may use the "tweet" button located at the top of this post;  this post may be tweeted a max of 2 times daily — please leave the URL of your tweet in your comments below)
Giveaway will end March 17th, 2012, at noon CMT.  Winner will be selected using the "And The Winner Is" random selector; winner will be notified by email and will have 48 hours (from the time the email is sent) to confirm his/her win.  Prizes will only be sent to a Continental US address and only one prize per household can be claimed. 
Disclosure: I received the Trunki Luggage System to facilitate this review and giveaway.  No other compensation was given and all opinions are my own.